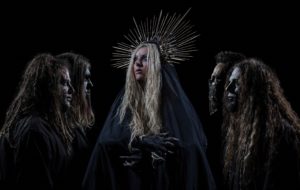 IN THIS MOMENT have revealed their dark take on Phil Collins' classic track, 'In The Air Tonight' in visual form over on their YouTube channel – https://youtu.be/azeh1ZbxWwI.  The band, fronted by Maria Brink, breathe a dark new life into the track, which is featured on their forthcoming sixth studio album, 'Ritual', set for release via Atlantic Records this Friday 21st July. 
Maria tells us; "We can't reproduce what [Phil Collins] did in a million years.  It's one of the best songs ever.  We did our own interpretation and made it a little more sinister, like our ritual."
'Ritual' also features the album's lead track 'Oh Lord' – https://youtu.be/XqdYHnulCms – and 'Roots' – https://youtu.be/65mEt_RvQDs – and can be pre-ordered at https://roadrunnerrecords.lnk.to/itmritual.  All digital pre-orders come with instant grat downloads of all three songs.  Exclusive pre-order bundles, which include custom IN THIS MOMENT branded rosary beads are also available at the band's webstore – http://www.inthismomentofficial.com/ritual.
Produced by longtime collaborator and multiple GRAMMY® Award nominee, Kevin Churko (Ozzy Osbourne, Five Finger Death Punch), 'Ritual' sees IN THIS MOMENT pushing their dark sound forward with a provocative sense of metallic blues and doom.  Highlights also include 'Black Wedding,' a walk down the aisle of musical madness that sees Maria Brink sharing the mic with legendary Judas Priest frontman, Rob Halford.
"When fans hear ['Ritual'], I want them to feel the music, whether they take away sadness, anger, or happiness," tells IN THIS MOMENT's lead guitarist, Chris Howorth.  "As a kid, I remember listening to records and putting them on repeat over and over again. I'd love for the world to listen and absorb this as a piece of work."
IN THIS MOMENT are currently holding their ritual in the form of a major North American tour, featuring support from like-minded bands, MOTIONLESS IN WHITE, VIMIC, LITTLE MISS NASTY, and STARSET.  For complete details and ticket information, please visit inthismomentofficial.com/tour.
IN THIS MOMENT is Maria Brink – Vocals, Chris Howorth – Guitar, Travis Johnson – Bass, Randy Weitzel – Guitar and Tom Hane – Drums.
For more info on IN THIS MOMENT, point your mouse at www.inthismomentofficial.com, www.facebook.com/officialinthismoment or twitter.com/OfficialITM.