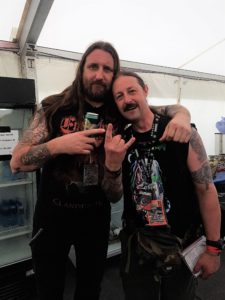 Orange Goblin have been stalwarts of the UK metal scene for over two decades now.  They have a reputation not only for producing great music but also for championing worthy causes.  Ben Ward spoke to Gary Trueman about a charity cycle ride, new material and who he would like to see play Download in the future.
First up tell us about this cycle ride then?
"It's become an annual event now originally organised by Alex Milas then editor of Metal Hammer and Rod Smallwood the Iron Maiden manager who organised this charity bike ride.  It goes from Alexander Palace in London to Download festival every year, 164 miles over the course of two and a half days.  It raises a lot of money for very worthwhile charities like Nordoff Robbins, Childline and Teenage Cancer Trust.  Ove the course of the five years we've been doing it we're hoping this year to break the half million pound barrier.  It's the third time I've done it and it's called the heavy metal truants."
It was quite a colourful ride this year as you had The Lounge Kittens with you this year.
"We did yes and we had my fiancé with us for the first time.  In the past there's been a lack of female participation but I think there were seven women in total.  It's great.  I know it's difficult for the organisers to take any more submissions for doing it but it would be great if we could see it grow over the coming years and include more people."
Andy Copping and his hat on a bike?
"Maybe one day I don't know.  I haven't discussed this personally with Andy but he's always very receptive and full of congratulations for us when we arrive.  It's a great cause and a lot of good people doing a lot of hard work.  The training starts in February/March.  It's no disco, you have to prepare yourself for it. "
Moving on to Orange Goblin.  The band are around 22 years old and still hungry for the music and still hungry for Download festival.  How was it out there?
"It was great.  This is the third Download for us.  This year to be invited to play the main stage is a huge honour.  Obviously with the band being 22 years old we're no spring chickens and grew up in the era when Donington meant Monsters Of Rock and all of our heroes like Iron Maiden and ACDC played that stage.  For us to get the chance to do it this year is a dream come true.  It's like a heavy metal Mecca.  Even though the branding has changed it's still Donington to us and we love it."
I think the phrase scream for me Donington is legendary even outside of rock.
"I did do that today, getting the crowd to scream for me Donington."
You're also headlining Stoner vs Doom?
"Yeah, it's a new thing that the people that organise Hammerfest and Hard Rock Hell are doing.  Last year they did a thing in Sheffield called Doom vs Stoner and we were fortunate enough to be invited to be a part of that.  It was a great line up with bands like Candlemass and Angelwitch.  This year they wanted to do it again and because we went down so well last year we were one of the first bands they spoke to and they invited us back."
What about new music on the horizon?
"It's actually happening.  It's been three years since Back From The Abyss and a lot has changed since then.  We had a couple of years of being a full time band and unfortunately it didn't really work out for us.  The music we play doesn't necessarily pay the bills so we had to go back to our day jobs.  So now touring isn't going to be a priority but new music is.  If we're going to keep doing these festivals we're going to have to come up with some new product.  A few weeks ago we got together to rehearse for about the first time in twelve months and some ideas started spinning out.  The plan is to write an album and record it in December and have a new album out in May."
Music has moved on a lot over the years with so much crossing over.  That said there's still a metal heart in things that all of those bands still look up to in a way and cite as an influence.
"It's been a slow progression and because we've been around for so long all of a sudden we started noticing bands saying we were an influence.  Back in the day we would have laughed at that.  We took our influence from the likes of Sabbath and Motorhead, by ripping off so many people we created something unique of our own."
Which band would you most love to see play Download 2018?
"If I got to choose my dream line up would be Judas Priest headlining with Scorpoins, Iron Maiden, UFO, Blue Oyster Cult, Status Quo and Rainbow.  Obviously it's not going to happen but I'd love to see a proper old school festival."