Junior & As The Sun Sleeps – The Meze Lounge, Newport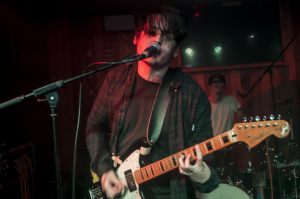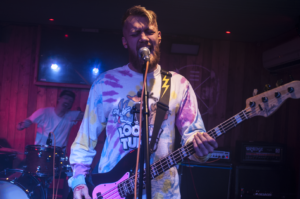 With 2017 quickly becoming the year that is ushering in a renewed fondness for all things pop punk, tonight's show, that pounded away aside a dingy back alley in Newport, did nothing to dispel that theory.
From the other end of the M4 in Swindon, As The Sun Sleeps were one for the immediate inclusion on your playlist. Drawing comparison from Zebrahead, the six-string finesse of Sum 41 and making effective use of the tried and tested duo-vocals, these guys really know how to keep hold of the evening's scant crowd and keep them bouncing.
The Cardiff lads, Junior, well and truly took their headline slot and grabbed it by the balls. Even if this wasn't strictly a hometown show for them, the crowd that finally gathered marked out with aplomb. Opening with the melodic 'A House That's Not Quite Home,' it immediately brings the chemistry between three boyos in to the fray, but there is a distinct air of the boys keeping something under wraps. When the opening synths of new single 'Veronica' chime up, these flood gates open and it finally feels like the show begins, and they put on a clinic; from here, the trajectory only goes one way. There were three blokes on the stage and they sounded absolutely massive.
A beer drinking and limbo competition later, 'They Don't Make Them Like Kelly Kapowski No More,' bought in the finale of 'Fall To Pieces,' avec a mystery luchador on a mic. Those who knew these guys, expected this evening to turn out like this and those who didn't would no doubt stick Junior on their list of bands to watch out for, if they had one.
Review & Photos By Rhys Heal