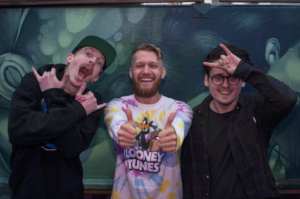 Welsh lads, Junior, are used to sharing venues with both musicians and sports entertainers alike. Rhys Heal speaks to them during their British mini-tour.
Who are Junior and what do you do?
Mark: We are a three piece pop punk band, (although we like to not limit ourselves to just pop punk), we are from Cardiff and we are made up of a professional wrestler [Mark], a founder of a not-for-profit organisation [Si] and another really, good guy [Matt]. I like to think that between us we have a lot of stuff going on.
Does Matt do anything special?
Mark: Matt IS special! Matt: Over the last year in particular we have been doing our best to conquer the world together and making the worlds' collide. There's that, and I also record the entrance themes for other wrestlers, so that's also been the last year for me. Mark: If you're a wrestling fan, he's written themes for Marty Scrull and Pete Dunne; so really, Junior runs the music industry inside the entire wrestling business! Matt: Who was it that said 'This is what it's like when World's Collide…?' Was it Powerman…? Mark: 3000? Matt: I think you'll find it's 5000. Si: …and that is how you sum up Junior!
OK; WWE UK Championships, up in Blackpool, Mark comes out to a Junior tune. How did that feel?
Matt: It felt incredible. It was weird, as it was a context which he had seen before (as we've seen Mark wrestle, including in his house), and we've seen him come out to Fall To Pieces before but when he came out, and it played on the massive speakers, and to a crowd that big, I thought, 'this is cool!' As I said, two worlds, colliding and it was just a wicked experience. A real surreal experience even. Mark: We were all over Twitter and saying things like 'this is the Mandrews entrance music and here it is' and it just lit up. It's also interesting seeing how many wrestling fans start enjoying our band; we do try and not make it too corny, or your typical 'wrestling' band and it kind of works in our favour. I hope to think that wrestling fans do end up liking our band as there is an interesting cross over there. It's a pretty cool situation that we are in.
So, from that perspective, I'm assuming you're all well into 'sports entertainment?'
Matt: Absolutely and it must be said that Si performed the Stone Cold Stunner of the century.
So what was that all about, then?
Si: I think that must have been one of the coolest shows that Junior have played. It was an Attack Pro Wrestling show and the musical headline was Junior. We played a few songs and then, the wrestling would start and then we would play the interval. Our set gets shot down by the heel and then Mark takes off his bass and goes in to a match. Matt and I end up interfering in the match… Matt: That dastardly Pete Dunne tried to get a baseball bat in to the ring… Si: I then got to throw a cake in Pete Dunne's face which, when you think about it and how big that guy is… In terms to size stature and in terms of status, it's pretty damn hilarious. Mark: He then he Stone Cold Stunner'd Damian Dunne and the place erupted! Si: Graduating was pretty good but the Stone Cold Stunner is the top.
You're writing stuff for Junior; what goes in to the process?
Matt: I do a lot of demo'ing anyway, so the usual process is that I'll cover the bare bones of any song ideas, then the guys will come along and work on it for however long. Usually Mark and myself will go over it together and sort of talk it out and talk about any ideas that we have, then we bring it to the practise room. Si then provides his input, and then that is what makes it a Junior song. I have a bit of a bad habit of writing in styles of whatever I am listening to at the time; if I'm, say, listening to Angels And Airwaves, I'll write an Angels And Airwaves type song, if I'm listening to Sum 41, I'll write a Sum 41 type song… and then 'Veronica' comes out. However, Mark then brings it back down to Earth just before it goes in to the practise room. When Si joins in in the practise room is when it becomes a Junior song as that where it all comes together. Mark: I think the biggest step in our music career so far is going from our very first demo EP, 'This Town Sucked Anyway' to 'Juniorland' because I joined the band. I also think it is because we are more of a complete 'act' since the EP. There's been lots of things since 'Juniorland' that we have kind of been tested on because I moved to America for about six months. For a while, we didn't know how long we were going to be out there so we tried writing songs from two different countries. Si and Matt would write the skeleton back home then they'd send it to me and it would go back and forth. All I can say is thank God I came back here as it is a whole lot easier. Also Matt has also moved to the street, around the corner from mine, so we are all close.
OK; 'Veronica.' What happened there?
Matt: Where did it all go wrong? Why are we all sad now? Veronica was a funny one and we actually had it quite a while ago. It was demo'd with various versions of it maybe a year ago? So Juniorland was out, the EP was out [Junior/Fierce Morgan split EP] so we were wanting to know what we could do next. We all thought it was a cool song and we all wanted to make it a full bang but it wasn't all quite there. We did it in the practise space, literally two or three times and it just clicked. It immediately felt like it was going to be the next single. It was also one of the songs where we then integrated a backing track which made it sound way bigger. That's where it all started, we then went in to the studio and it all came together. Mark: I also think that that song was the most we have practised a song before recording it. We had played it live at shows and on tours quite a few times beforehand. It is quite different from our usual 'happy' stuff, but I like to think that the world of 'Juniorland' will have experiments inside all the different places that are inside it, as pretentious as that sounds. I think we have something that is lacking in the British pop punk scene and that is that we are quite a self-aware band; so I think if we do something that is a little bit different to everything else that we have done, I feel like we are evolving. We keep making jokes that this was our 'Vamp-core' song… Matt: Coffin spilled, we've got out… bats bats bats… Mark: It is quite funny and even a little bit fun to dive in to something a little bit different. The next will be our grime album. Matt: Yeah; Stormzy has had a couple of calls with us and he's been all 'I love Vamp-core!'
Asking Nixon Newell to be in the video and to hit things; how did that conversation go?
Mark: Yeah, Nixon is one of my pals. We initially asked her to be in the 'Fall To Pieces' video; we were actually going to base the entire video around her. We were actually going to have a female protagonist, fighting-off-all-the-boys type of thing. However, I think she had a wrestling show that day and she had to pull out. This situation was actually ideal as I now think it was better than she didn't do the 'Fall To Pieces' video. It was so much better and she was even more, super up for it this time around. I actually think she was in a mood that day because she was all 'I want to break stuff!' and she had a great time smashing stuff. I will embarrass her now; she did swing and miss a few times. Matt: Which was so funny. Mark: She killed it and we were psyched to have her in it as well.
So what is 'Veronica' about?
Mark: Yeah Matt, who IS Veronica about? Matt: Veronica is about bringing people together… nah, originally it was about one specific person but it then turned in to a song about toxic people in general. It became a track about people who exploit other peoples' vulnerabilities. Initially it wasn't supposed to be about a person and I feel that a big problem about pop punk is that it is quite sexist and there are a lot of songs about how much middle class white guys hate girls. Veronica was meant to be about more than that, it was more about the intent behind the actions and it then became a bigger thing. At first it became about a character that was screwing everybody over and it got more sort of surreal and more than about one specific figure. Mark: As Matt was saying, Pop Punk is a genre that is pretty much dominated by middle class white men and I know that it is very rich of us to sit here and say all of this as middle class white boys… Matt: It's a shame that we write a song like that, we don't want it to reflect any of these messages that have been a constant in such an insular genre, and it almost becomes what we didn't want it to become. Mark: It's such a cliché; a guy, complaining about his ex-girlfriend. This might have been what we were about when we were younger. We don't want to write about that stuff anymore. Matt: As I said, it is very important for us to have this self-awareness. Sure, this might have started as a song about a girl, but there's a reason that it's a song about a girl. It's nothing to do with the fact that she's a girl. Mark: To go back to the self-awareness again; there are a lot of bands in pop punk, they don't bother thinking about the bigger picture and it shouldn't be a norm in any music genre to complain about girls. It shouldn't have been made a cliché in the first place.
It seems that British pop punk is coming back in to the fray in a big way; would you agree with this?
Mark: Absolutely. Matt: Yes, sure. To me it because it's quite immediate from the surface level down and it doesn't take much to become invested in a really good pop punk song. It's a pop song, and people like a good pop song. People also seem to be in to throwbacks at the moment… Mark: 2017 is the year of the Hipster and the nostalgia. Everybody over the age of 30 is starting to appreciate things ranging from board games to professional wrestling again. Everybody seems to be in to something that reminds them of when they were a child. It sounds bizarre, but this seems to go side by side with pop punk. People seem to be going back to their childhoods' and seem to be enjoying what they did when they were younger. Si: I think the surge in the popularity in British wrestling is also to do with this. It's really nice that the wrestling and the pop punk worlds' do go hand in hand. It's almost as though as rise in old school wrestling fans will lead to a rise in fans of pop punk. We're in a great position as people go to wrestling shows, and they hear our music. Matt: It can be seen with something like nu-metal as well. It's immediate. Mark: You always hear people of my parents' generation talking about how things always get repeated. We always thought when we were kids that the current thing was cool, then it was uncool but now we know that it will most likely be cool again in a few years time. This all sounds pretentious and this is going to sound just as pretentious; we don't want pop punk to define what the band is. We're all in to lots of other genres and we know that we're not going to be in a pop punk forever, we will evolve. Look at Blink 182 as a pop punk band; people think their self-titled is the best album that they have ever released and that album was not pop punk at all really. If in a year or so, we chose to mix it up a bit, we wouldn't be afraid to. We're going to get to that point that we will want to try something a bit different.
Si, you said earlier on that you're the founder of a not-for-profit organisation; could you elaborate on that?
I run a non-profit organisation called 'Heads Above The Waves' to help people with depression and in particular self-harm, and we focus on trying to find creative ways to deal with bad days. Music plays such a huge part in this; it plays a huge part with other people that I work with, it plays a huge part in schools and a huge part in the lives of people we talk to on a day to day basis. Music has that power to really speak to people. This is, again, going to sound cliché but we have had a number of people come up to us during our shows and tell us how much of an impact Junior has had on them and how it has helped them and that is really beautiful. For me, it was bands like Blink 182 and The Wonder Years who played a big part in turning my life around. It had a really good influence on my life. It's amazing that we are able to do that for people as well. Heads Above The Waves have a little shop in Cardiff; if you're reading this, come on by.
Junior – 'Juniorland' and new single, 'Veronica' is out now – musicofjunior.bandcamp.com

Mark (Andrews), Nixon Newell, Pete Dunne and Marty Scrull are involved with a number of independent wrestling promotions in the UK. Mark is also involved with World Wrestling Entertainment.
The Head Above The Waves shop can be found in Castle Emporium, Womanby Street (Cardiff).
https://www.facebook.com/musicofjunior/
By Rhys Heal