Overdrivers – Burbure, France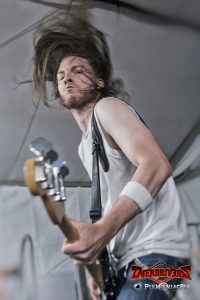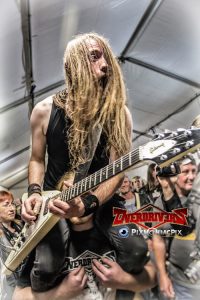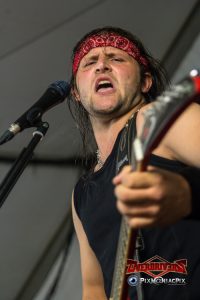 Staying with friends in Belgium for the weekend meant that I luckily had the perfect opportunity to drive with them to the rural town of Burbure and finally catch French rockers Overdrivers play to a sizeable and enthusiastic crowd in a marquee in a field which would play host to the town's own annual festival the following day.
With a few of the members of the band hailing from the picturesque town of Burbure it was a great turn out for the local lads who seemed to attract a very dedicated and diverse following and tonight's show feels more like an intimate family gathering.
It would be lazy of me to compare them outright to the sounds of ACDC and Airbourne (who are of course legends in their own right) but technically that is the perfected sound and vibe of this very passionate and talented band. They came here to rock like fuck and that is exactly what they do!
Bound in bandanas, sneakers, denim and cut off vests the guy's wardrobe seem to complement their sound and valiantly pay homage to their crystal clear musical influences. Adrien Desquirez is the confident and bold lead singer who spearheads the band's sound with his strong competent voice sometimes sounding a little like a young Brian Johnson with a French gravelly accent, whilst his loyal cohorts Anthony Clay (Lead Guitar), Sebastien Lorquet (bass) and Florian Morgano (Drums) provide a flawless fun and lively rock and roll backdrop which threads perfectly together.
The crowd lap up the opportunity to headbang and sing the words back to the band with a modest mosh pit breaking out down the front and songs like 'Rock Your Life', 'Big Mary', 'Girls Gone Wild' and my personal favourite 'Rock In Hell' – which just screams radio play – are the definite crowd pleasers for tonight.
For good measure the band are joined on stage by their friend Charlotte Piriou who helps to further please the wanting crowd with a superb cover of 'Highway To Hell' which really shows them in their absolute element. Anthony plays guitars on the shoulders of a crowd member making his way through out the marquee much to everyone's amusement and truly embodies the spirit and freedom of a young Angus Young as the rest of the band look on from the stage in a chaotic whirlwind of hair, sweat and cheesy grins.
These guys gig extensively locally and are renowned for putting on a great show meaning their reputation always proceeds them from what I hear from tonight's crowd – with the formula of the set not really altering that much (in the vein of its not broke don't fix it perhaps?) I for one would definitely like to see how much more they could succeed if they could spread their creative live wings outside of their local setting and perhaps in 2017 we may even see the band grace our UK shores?
One thing for sure is that Overdrivers are destined for bigger things and would easily and quite rightly win the hearts and respect of any rocker worldwide and on my very personal recommendation to you dear reader – they are certainly worth checking out!
Review By Nickie Hobbs
Images By O'Live Photographie
https://www.facebook.com/photographie.olive/