Butcher Babies & Sumo Cyco – Craufurd Arms, Milton Keynes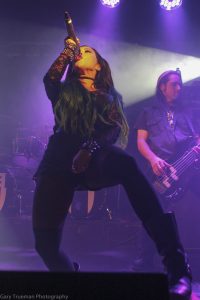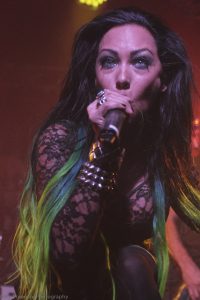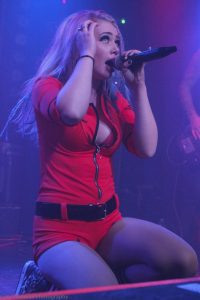 It's my first time at the Craufurd Arms and first impressions are good. I get to park ten feet from the front door, the bar staff are excellent and the décor although wearing is spot on with some fantastic wall art of musical heroes adding much to the atmosphere.  The venue itself is out the back and soon starts to fill just before Sumo Cyco hit the stage.
It's an oddity of promoting that female fronted bands tend to get lumped together even if they are a genre or more apart. So it is with the high energy pop infused Canadians Sumo Cyco who in Skye Sweetnam have someone who seems to have a nuclear reactor powering her.  Here's the thing though.  While the music may well be a fine blend of rock, metal, punk and even reggae it is the pop roots of Sweetnam, or Sever as she is known here that gives this band that extra bit of oomph.  The vocals are crushing one minute and sweet as candy the next, the stage moves are pop princess with an attitude and the lesson is never ever dismiss a genre for what it can give nor an artist because of their history.  Tonight Sumo Cyco are quite superb and all the better for all the sum of their many parts.
The Butcher Babies also know a thing or two about suspicious music fans and those looking to knock bands down. Thankfully that's now a thing of the past for the LA quintet as two strong albums and years of touring have proven them to be one of the best live acts around.  With solid musicianship in the engine room and the duelling vocals of Carla Harvey and Heidi Shepherd at the helm the Butcher Babies are a metal battleship with enough firepower to destroy any venue.  With the luxury of playing a headline set they treat us to some little insights into just how good they are.  We get some nicely placed clean singing, a point made to those that cite them as nothing more than screamers.  Then there's the banter with the crowd, most of it from Shepherd who is more than up for starting a circle pit and mixing it with the moshers near the end.  Most of all though this is a band on the up, they look like they're loving every moment and that raw enthusiasm rubs off on the Milton Keynes audience.  Based on tonight's show the Butcher Babies look like a band destined for much bigger things.
Review By Gary Trueman