Fields of the Nephilim with special guest Nergal – 02 Academy Islington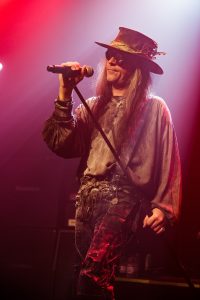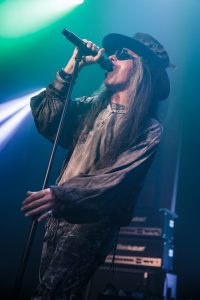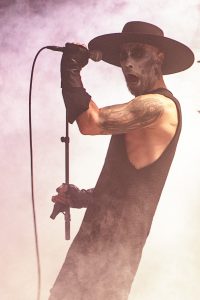 Carl McCoy is a man who needn't say anything for his presence to be felt. Arriving on stage in silence, his mystic persona needs no voice to fill the venue. Piercing through the dry ice, 'Dawnrazor' opens the night. The flood gates of goth open next, with the intertwining guitar melodies of 'Moonchild'. By now it's clear that things are a little on the metallic side. 'For Her Light' follows, another song that reaches out into the mist pulling in the goths like moths to a light bulb. The romantic 'Love Under Will' confirms that McCoy has still got it, with the subtle nuances in his gruff yet sensual voice conveying all of the song's emotion.
Things get a bit heavier with 'From The Fire', proving the band can switch styles with ease, keeping the dark otherworldly atmosphere they're known for. The brooding 'Zoon' follows filling the air like rough silk. 'Prophecy' takes things up a notch with its energetic sound, before the sombre yet entrancing 'Vet For The Insane' hypnotises the audience. 'Psychonaut' marks the end of the main set with its jangling guitars and frenetic bassline.
'Earthbound' opens the encore, before the most special moment of the night comes when the gothic icons are joined by another legend, Nergal of Behemoth. Together they perform 'Penetration', with the screaming guitars as well as Nergal adding an extra kick to things.
With this warm up show, Fields of the Nephilim treated fans to an intimate experience, and proved that unlike some goth bands they've still got it. Not only was Nergal's appearance important for himself, but also in celebrating the Nephilim's far reaching influence across genres, particularly extreme metal.