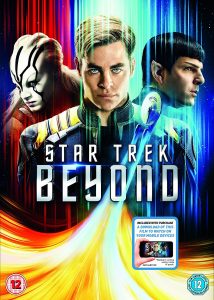 Star Trek Beyond
(Universal Pictures)
The third instalment to the Star Trek reboot does not disappoint. A slightly lighter film than its predecessor 'Into Darkness", we follow the Enterprise crew separated after a crash landing on an unknown, hostile planet. Teaming up Simon Pegg and director Justin Lin was a great move, resulting in the film gaining more of a 'trekkie' essence, something that the previous two movies were missing. The creature effects on the villain Krall (Elba) thankfully do not overwhelm his character but enhances his performance. This complex design is a great juxtaposition to tough girl Jaylah's (Boutella) precise black and white features.
'Beyond' is a little more action driven including certain scenes/elements that I did find unnecessary. This gives it a 'Guardians of the Galaxy' feel which may come across as a little forced or even misplaced. The separation of the crew provide opportunities to explore various story lines and inter character relationships, such as Spock (Quinto) and McCoy (Urban). The script echoes the original 1960s series, including specific narrative elements and even the classic captains' log opening done justice by Chris Pine. It is clear that the cast are committed to keeping the series alive, with well-paced delivery and strong performances. However, this does give it the feel of a long episode rather than a fully rounded film, with the story lacking a little in depth. Some will love this and some will consider it too safe!
It is a nostalgic follow on from 'Into Darkness', bringing back the magic and humour of the original TV show. The computer and practical effects are well balanced and beautifully produced (minus some small questionable CGI creatures). A classic Sci-Fi and a great way to celebrate Star Trek's 50th birthday.
By Alice Bizarre