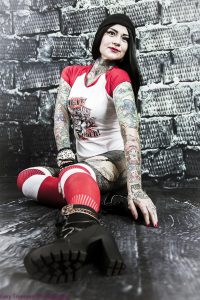 Bringing the passion of her Latin soul to everything she does is Aima Indigo's trademark.  Whether it's on stage, in front of a camera or designing clothes and jewellery, everything she touches has an aura of intensity about it.  Here Aima talks to Gary Trueman about her stagecraft, her Mexican heritage and her fiercely held views on animal rights as a vegan.
Your stage performances are often described as Gorelesque, a mixture of Burlesque and horror.  Do you think that's a good description?
"I don't actually consider myself any genre. I'm just a circus freak. I like exploring many different aspects of performance and don't want to be limited so I kind of just create shows depending on my mood and that expose different parts of my persona or interests. things I do get a lot of pleasure out of is  either shocking people…or making them laugh. I enjoy provoking some kind of emotion or reaction through my performances."
What can people expect to see in one of your shows?     
"People can expect to see passion and energy when they watch my shows. my shows all have some kind of flow or story behind them. I pay attention to detail and pride myself with high end costuming and maximum visual effort. I am as wild and passionate off stage as well as onstage the only difference being I sometimes wear more clothes in normal life – sometimes.  It is pretty much a dream come true that I get paid to just be me.   And I'm pretty bonkers ! "
People might think it's a niche market but you're getting a lot of work so who do you tend to get booked by?       
"I get booked for a lot of world wide shows. For fetish events, circus theme nights, parties where they want a shock factor and tattoo show though I tend to accept less of those nowadays.  I get a wide variety of different projects come my way which is fantastic as I get to perform all over the world."
You're passionate about animal rights and you're a walking encyclopedia on veganism How long have you been vegan?
"I've been vegan for about two and a half years, before that I was a vegetarian from a very young age.  As soon as I discovered the truth about being a vegetarian and how it's equally as bad as eating meat I changed and went vegan overnight."
You have your own vegan clothing range with some very explicit slogans on them.  How did the clothing range come about and what its aims and goals are?
"Basically I've always hated fur.  It's always been a massive angry passion of mine.  I see no need for it.  I hate the way the mainstream music and fashion industry glorify fur as if it's something to be proud of and that it makes you more beautiful.  I don't believe any animal should be murdered especially for some kind of status symbol.  So I started it off for myself and made the designs for me to wear.  I made big slogans to show my utter disgust at people who parade around in real fur.  And people wanted to buy them.  Other people supported it and it just snowballed from there.  So I ended up with a clothing label because there are lots of other like minded vegans who are passionate about trying to stop animal exploitation. "
Veganism is obviously a whole way of life so what about make up?
"From a very early age I didn't buy products tested on animals.  I always make sure that any money I spend doesn't support any of the parent companies like Unilever and L'Oreal which aren't cruelty free.  It's a lot easier to get vegan make up now than it was.  It's everywhere.  With cruelty free you have to be careful because there are a lot of fine lines between what the law classes as cruelty free.  Veganism is a whole way of life – absolutely."
With food some things that are vegan are surprising, Marmite for instance.  Are there foods out there that you eat or avoid that might surprise people?
"There was controversy for a while with Oreos.  They're a really popular vegan treat but they're technically not vegan because they contain palm oil and we know that the deforestation is having a devastating effect on the Orang Utang.  You have to try very hard to avoid palm oil because it's in almost everything.  Some people don't know that coconut water isn't vegan.  Some brands use chained monkeys as slaves to pick the coconuts.  There are companies that try to sell themselves as cruelty free or vegan but their parent company isn't.  For example Alpro because they're owned by a dairy company.  They've also glorified the use of animal products on social media when 90% of their customer base is vegan."
And you have a jewellery range too?
"Yes, I have a jewellery company called Purple Poison Jewellery.  I started that doing the tattoo shows about ten years ago.  Back in the day I was one of the only people making custom plugs.  I made a lot of tattoo inspired fun jewellery.  I got ripped off a lot with straight copies of my designs so I stopped making that.  When people copy your designs exactly including ex customers surprisingly it makes you want to not give a fuck about making it any more.  I'm now focusing primarily on my clothing label and I will probably add vegan jewellery to that."
Let's talk about your Mexican heritage.  Some of our shoot was based on Adelita.  Explain who she was and how important she was.
"Adelita is a very important person in Mexican history.  She was the first woman revolutionary fighter during the revolution.  She is an icon through Mexican culture.  After she led the way many other women joined her so that there were women fighting on the front line during the Mexican revolution.  She's very important.   Mexican women fought the revolution with their men, they didn't just send them off to war. They said I'm coming with you.  The Mexican attitude has always been fierce loyalty towards the man and country they love"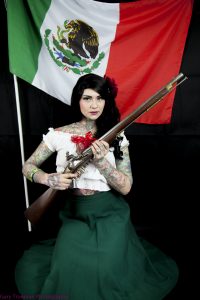 You're clearly very proud of your heritage.
"Absolutely.  I have such a strong Latin personality and I'm a very strong woman.  I think that comes from my Latin blood because my mother was like that.  It's a trait that people know, you don't fuck with Latin bitches.  Latin girls run shit and that's how it is.  I'm fiercely proud of being Mexican and if I see anything anywhere, on the TV or the street depending on how it's being portrayed  then yeah, I'm fiercely proud."
Not a fan of Trump then……and that wall?
"No! Mexico is up in arms about it.  We've never had a very good relationship with America anyway to be honest.  America has always supressed and exploited Mexico.  Trump has definitely done a disfavour to America."
You're obviously very heavily tattooed and have appeared in various related magazines over the years.  How did you first get into tattoos?
"I started listening to heavy metal and reading the heavy metal magazines when I was about thirteen and there were just boys covered in tattoos.  I thought they were hot so it always appealed to me to be able to customise your body.  At that age I was already experimenting with the way that I looked and the way I dressed.  I was already starting to become a bit different so to speak.  I just saw it as another way of expressing myself other than clothing.  I was very rebellious as most teenagers are and I wasn't going to be told what I was going to look like.  I was never going to work in a fucking bank and didn't give a shit about that.  I wanted to look like how I wanted to look and no one was going to tell me what I was going to do with my body.  I always wanted to be heavily tattooed and I always wanted to look like this."
What was the first tattoo you got.
"My first tattoo was Tinkerbell across my hips.  My parents had said if you get a tattoo we'll throw you out.  So for the six months in the build up to my first tattoo I used to come home with fake piercings and tattoo transfers and say look what I got then when they got mad I rubbed it off.  When I got a real tattoo it took them about six months before they realised it didn't wash off.  So I was pretty clever.  They'd been seeing the same tattoo and not clocked on that it might not be a transfer this time."
Did you know what theme you wanted to run with.
"Yes.  Always happy and fancy lands where the baddies always lose and there's always rainbows and strawberries.  I love that child like imagery.  That's always been the dichotomy of me as a person because I'm very child like but also a very strong sexual woman as well.  I was getting Care Bears and cupcakes tattooed twenty years ago.  I was definitely ahead of my time with that."
What's the best and worst reactions you've had to your tattoos?
"I was always considered heavily tattooed because I had a full back piece and several others at the age of eighteen, nineteen.  Back then that was considered extreme.  Back in the day there used to be a fight to look different because people would judge you, people would beat you up in the street.  You got s lot of criticism and a lot of negative attention.  It was hard back then but that's what made it worth it because you knew you weren't a sheep and you knew that you were doing your own thing.  I kinda miss those days when I used to have freak shouted at me out of car windows four hundred times a day.  Now it's mainstream and people love it and I get complimented a hundred times a day.  It's gone from one extreme to the other in the level of acceptance.  It's good and bad but it has bred a whole new side of the tattoo scene which isn't the one that I was 'so called' born into.  It's a very different tattoo scene to what I grew up in."
What would be the one thing you'd love to see happen in the world in the next twenty five years?
"I'd like to see factory farming demolished if not abolished.  As a result I'd like to see world hunger and famine finish.  All of our crops are being used to feed livestock instead of humans.  I think that the world is changing, people are waking up to the fact that animals are suffering for no good reason and you can lead a happy, healthy and fulfilling life without exploiting them."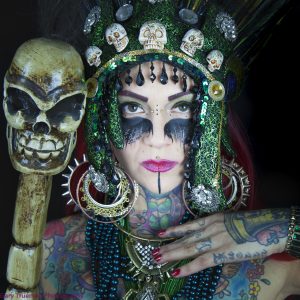 Aima Indigo – Mi Vida Vegan – Facebook
Purple Poison Jewellery – Facebook
Interview by: Gary Trueman