ZAND follows recent tours with Peaches, Scene Queen, VUKOVI and Bob Vylan as well as festival slots at 2000trees, Slam Dunk Festival and Reading & Leeds Festival with their UK headline tour through late October, these dates follow their first ever US headline tour thats starts this Monday (the 11th)
One of the most original, exciting voices in the UK music scene right now, ZAND has released their brand new 'SEWERSTAR' EP today. Listen to the new EP in full – HERE. 

Listen to new single L.E.E.C.H.E.S HERE

ZAND who has recently been a Kerrang! Magazine cover star, featured on Alt Press and praised by NME for their collaboration with Jeremy Corbin for the 'Save The Leadmill' campaign, has had a jammed back summer with appearances on main stage at Slam Dunk Festival, and at Reading & Leeds Festival. This Monday is the start of their first ever headline tour of the USA followed by a headline tour of the UK this October. Full list of dates below.

ALL confirmed and announced upcoming ZAND shows:
11th September – Madame Lou's: Seattle, WA, USA
12th September – Doug Fir Lounge: Portland, OR, USA
14th September – Café Du Nord: San Francisco, CA, USA
15th September – The Echo: Los Angeles, CA, USA
16th September – SoulBelly BBQ: Las Vegas, NV, USA
19th September – Globe Hall: Denver, CO, USA
22nd September – 7th Street Entry: Minneapolis, MN, USA
23rd September – Beat Kitchen: Chicago, IL, USA
26th September – Kung Fu Necktie: Philadelphia, PA, USA
27th September – DC9: Washington, DC, USA
28th September – Elsewhere Zone One: Brooklyn, NY, USA

UK HEADLINE TOUR:
21st October – AATMA: Manchester 
22nd October – The Garage (Attic Bar): Glasgow 
24th October – Headrow House: Leeds 
25th October – The Victoria: Birmingham 
26th October – Old Church: London 
27th October – The Moon: Cardiff 

This next chapter of ZAND's story, stands as a testament and also a taster for just how versatile the artist can be, and how bold and weird they are willing to go. 'SEWERSTAR' wound up as a conceptual piece, playfully examining the different dynamics of 'human nature and animalistic desires' along with the depths in which they may go – light or dark. Pre-occupied by exploring the notion of 'sin' with individually complex and often hectic alter egos created by ZAND, the narrative is set in a hellish underground sewer realm inhabited by gremlin-esque reptilian humanoids, who 'run society amok'. Each track tells a different character's story, with each narrator – often more of an anti-hero than a hero – encapsulating a 'star of the realm' in their own right, hence the EP's title. 

The early single 'I Spit On Your Grave' fizzes with the rage of ZAND's earlier 'ugly pop' days, where the artist tells the story of a murder fantasy about multiple abusive men, while 'Religion' playfully twists the language of the church to, ironically, celebrate lust with a literal gay angel. Meanwhile, the stomping 'DTF' inverts expectations with a knowing wink, tapping into the feeling of not being DTF at all: just 'down to f**k myself' – and the pulsing 'Leeches' fuses synth-pop with the eerie vibes of industrial in a gothic take on a classic EDM club banger.  At the opposite end of the spectrum is 'Battery Acid', a more sensitive ballad bringing together soft strummed guitar and Gregorian chants. While it's the biggest outlier sonically on 'SEWERSTAR', it's less of a radical departure than it might appear on paper. "A lot of people don't realise that my bread and butter is actually the sad slow shit," ZAND says, referring to a previous more acoustic-led project from when they were younger than they've since put behind them. "But obviously, I don't want to be held to that."

"[Battery Acid] was inspired by [the time] I was in an abusive relationship with someone who was very invalidating of my queer identity, but it's like 'I'm leaving you for this girl who actually treats me right because you're a terrible person," they continue. "That didn't actually happen in real life. He just kept getting obsessed with the fact that I was bisexual and was always accusing me of cheating on him with other people. The song is a 'What if I did?' kind of thing, like, 'Fuck you'."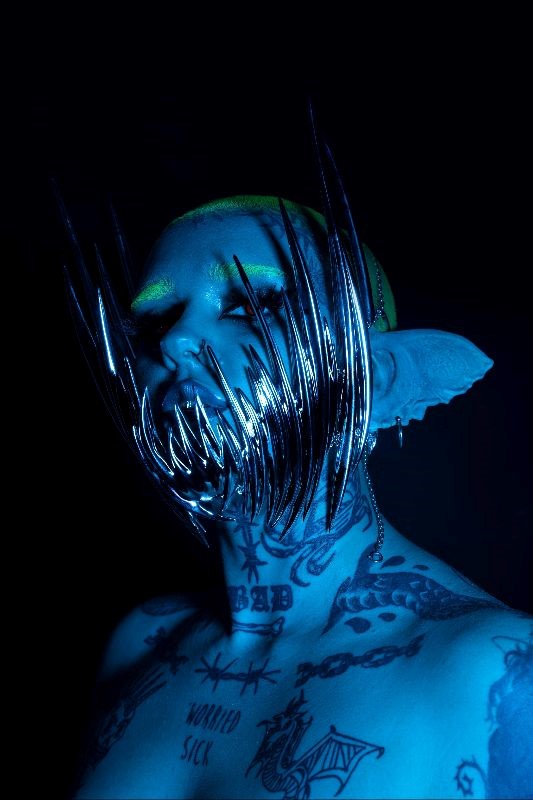 There's plenty of that approach to be seen across the EP, where ZAND often presents themself in a larger-than- life manner, exaggerating certain aspects of their personality with the line blurred between what is fact and what is fiction. "Everyone postures in their art," they reason. "I like the idea of alter egos and stuff, being like, 'What if I did this in another life?' I'm expressing multiple facets of myself, that may or may not be blown up or exaggerated. It just doesn't have to be that deep or serious. One song I might be doing some cartoon character voice, another I might be shrieking my arse off."

In a way, ZAND's modus operandi is rather simple: being wildly and weirdly individual. A lot of the time, it's not particularly serious. "Sometimes I just want to be dumb and write a song about having a wank," they say. "I think to myself, 'What can I do to sonically make this fucking unhinged?' It goes so much further than just the subject matter, it's all about the sonic elements and the production and the sounds that I pick and choose coming together."

Even if it doesn't take itself too seriously, it's clear how much thought has gone into every lyric and beat and synth. "I want every song that I write to be a curated experience," ZAND concludes. Ugly pop has no ceiling, and when this artist could zigzag in any direction imaginable, the possibilities for them look endlessly exciting.

'SEWERSTAR' EP track listing:
DESCENT
Deliverance
Religion
Battery Acid 
I Spit On Your Grave
DTF
L.E.E.C.H.E.S.