To say someone is inspirational is an expression often over used. The same goes for the word brave. Both apply in full to Paula Woods in the most real way. She has graced the covers of publications as a model, danced podium and met many a rock star. Paula was diagnosed as having Multiple Sclerosis a few years ago and but has resisted her illness and ongoing disabilities with amazing courage. Gary Trueman payed a visit to her Nottingham home where the conversation turned to her early life, her love of dogs and why being in a wheelchair won't stop her from doing what she loves.
What first sparked your interest in the rock scene and alternative community?
"I lived in Liverpool and I'd go to the Krazy House. I met bands and people in there and I loved the music. I wanted to be a part of it."
What sort of age were you when you started going more alternative style wise?
"I have an older sister who's a bit of a rock chick so I used to copy her. I was 15 when I first went to the Krazy House."
You went on to do modelling and dancing. How did you first get into doing both of those things and which came first?
"The modelling came first I think because of the tattoos and I wanted to do tattoo modelling. The dancing was when I moved to Nottingham and went to Wildside. After being in LA and seeing what it was like there I thought it could do with some sexy girls dancing."
For those that don't know what is Wildside?
"It's a classic rock night in Nottingham at The Old Salutation Inn. It's on the first Saturday of every month. It has podium dancers and it has a lovely vibe. If you like your old school vibe you'll love it."
So you're in Nottingham, you're modelling and dancing and going to lots of gigs too, so tell us about some of the people you've met.
"I've met so many people. I met Lemmy, he was great. I met Anthrax, Slayer, Poison, Motley Crue, Def Leppard, so many. And also Diana Ross, Beyonce and Lou Reed."
That's some list! There are a few pop people on there too. How come you got to meet them?
"I was doing merch for a guy who worked with a lot of the 80s bands and brought them over to the UK. It was a gentleman that then saw the potential for me to do wardrobe from doing merch and asked me if I'd be interested in doing that."
You've got quite a striking look which you change up regularly. You've done tattoo modelling and featured on tattoo magazine covers. So which was the first tattoo you got and which is your favourite?
"My first one was awful. It was on a wall in Liverpool when I was 18 and now I've covered it up. My favourite ones are probably my neck ones because I remember seeing punks with them when I was younger. I thought I wanted to be like that when I was older."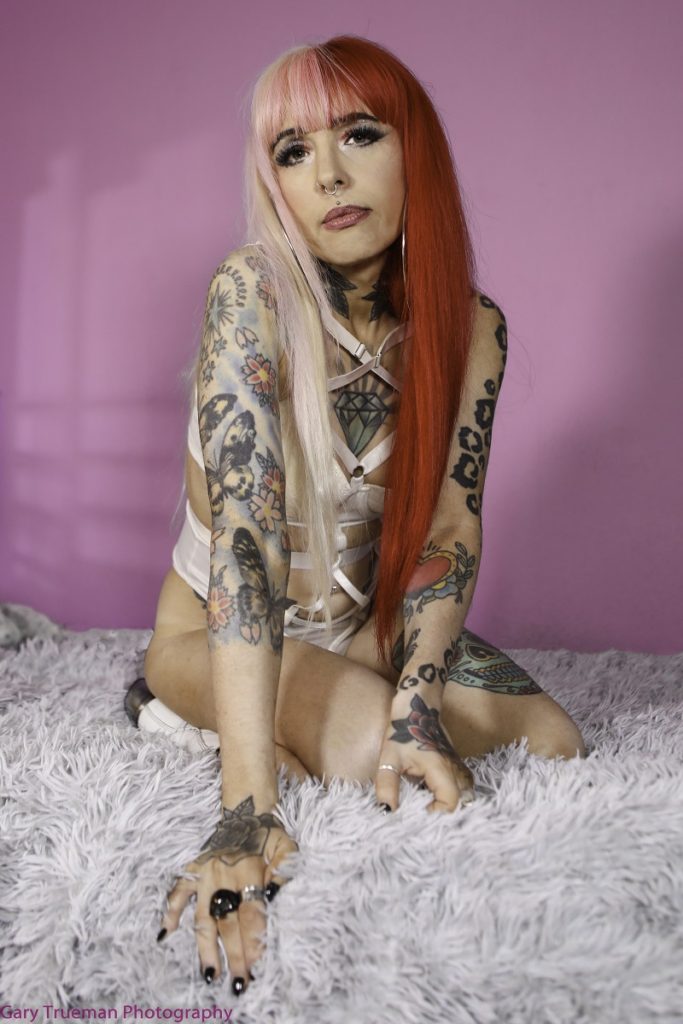 You've just had your hair done and you've gone for a red and white theme which looks fantastic. Have you always kept the basic length the same and played around with the colour?
"I trained in hair and make up for TV when I was younger. I worked on a few TV programmes. So I was always into changing my hair and make up and having fun doing that. I get bored very easily hence I keep changing my hair."
What products do you use on your hair and is there anything you'd never put on it?
"I only use vegan products and my hairdresser does it for me. He knows I'm vegan so uses specific products because of that."
You're a qualified make up artist so what brand do you use the most?
"I use a lot of Kat Von D."
You're shooting in lingerie and rock chick styling for this feature. Is that a common theme for you for shoots? And when you're not in front of a camera how does your going out clothing differ from your every day wear?
"It depends on where I'm going. I like the 80s fashion look at the minute so I'm in tight jeans and an old metal t-shirt with a bullet belt for going out. I wear a lot of Wicked Lester clothes. I like a lot of the new young designers. I like stuff that is studded and not real leather but the fake leather, a Judas Priest kind of style."
You run a charity event called Dogtallica. Would you like to tell us a little bit about that?
"I used to do voluntary dog walking at Mucky Paws Dog Rescue but when I turned ill I couldn't do that any more. I still wanted to raise money for the charity so I thought I'd put on a gig because I know a lot of musicians and a venue. I thought I could help the charity that way. I've always had dogs from when I was little and I've always rescued them as well."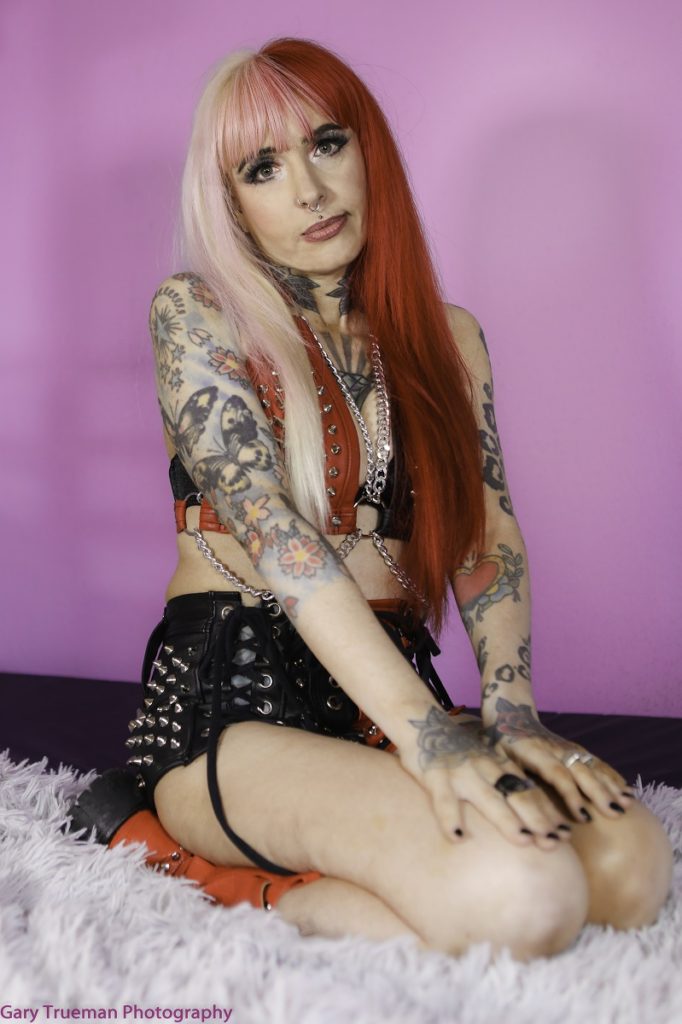 You touched on the fact that you can't walk the dogs any more now. You've become very ill. You have MS which has impacted your life enormously although you're giving it a big middle finger most of the time. You're still doing as much as possible. When did you first find out you had MS and what were the symptoms before you knew what it was?
"I found out in December 2015 through a consultant after I'd had two MRI scans. I'd been having serious back pain. It was on December the 15th I was told I had Multiple Sclerosis."
That must have been devastating. Were you aware at that time what the progression of this illness would be or what it could be?
"I wasn't a hundred per cent aware. I had to look into what MS was because I didn't really know much about it and all of a sudden I had it. I had to read up on it and see what my change of life would be."
The MS has gradually progressed over what is roughly eight years, and it's accelerated in more recent times. What have the knock on effects been?
"It has given me severe depression which I'm fighting. I have a lot of passion and don't like to give up. I'm a fighter. Why should my disability stop me from doing what I did before? Obviously I can't dance anymore because I can't physically do that but I can still dress up and pose for photographs. And I enjoy that."
It's important for people to understand that just because you're disabled doesn't have to change the person you are isn't it. That it doesn't change how you should dress or what music you can listen to?
"Absolutely. I think be who you want to be. Don't think that because you're in a wheelchair the world is over. Every type of person has the right to express themselves and be who they want to be. Be who you are and don't let your illness destroy you."
You're in a wheelchair now and you still go to gigs and even festivals. Do you get treated with respect?
"People are really nice but sometimes do forget that you've still got a brain and a sense of humour. 99% do help you because they care which is nice.
Does wider society treat you better or worse than gig goers?
"I think because people have hearts and they see you in a wheelchair they automatically think they have to be nice to you. They kind of feel sorry for you even if they aren't aware that they are like that."
Can there be a tendency for people to literally talk down to you because you are physically sat lower than them unless they're seated as well?
"Most people don't want to offend. Most people are respectful, especially in the alternative scene. I do get some people who speak to me like I've lost my brain as well."
Accessibility has to be better at gigs now by law. And festivals have been making great strides forward too. Download have notably been pioneering platforms for wheelchairs on all of their stages as well as people who sign for the deaf. You also have special ground cover paths to help cope with wet weather. You go to Download. What do you think they do well and is there anything they could improve or have improved?
"I think Download are brilliant for people in wheelchairs because they have nice big high platforms. You get a perfect view of the main stage. You are looked after and the staff are nice to you. I've never had a bad experience there. I've been going there for a few years now and never missed a band I've wanted to see. I think it works well for someone in a wheelchair and they've really thought about it. They keep improving it from one year to the next. I thought this last year it was easier to get around than previous years. It was less spread out for wheelchairs. I go to Bloodstock as well and that's easy to get about because it's smaller in size."
You're getting back into modelling and you have Dogtallica that you run. Is there anything you'd like to achieve in the future that you haven't done yet?
"I always want to improve. I've talked to people in the industry asking if they'd have me in a wheel chair? I said that to Andy Copping and he said why not, if you can do your job then your disability shouldn't affect that."
If you could go back in time 30 years and give a 16 year old Paula one piece of advice what would you say to her?
"I'd say be careful who you get with as boyfriends because I've met a lot of arseholes. I'd say be a bit more sensible."
Studded top by Wicked Lester Clothing
Mucky Paws Small Dog Rescue – Facebook
Interview and photos by Gary Trueman