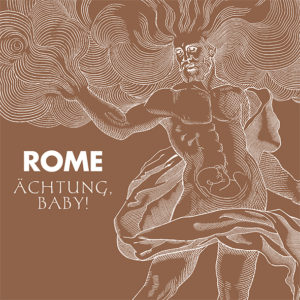 Dark Folk Act ROME Announce New Split 7" Ahead Of New Album
"Ächtung, Baby" Featuring Primordial Frontman Alan Averill Is Set For Release On May 29th 2020
Jerome Reuter, frontman for Luxembourgish folk noir outfit ROME has had a busy twelve months. Following on from last year's duel releases, "The Dublin Sessions" and "Hinter den Mauern der Stadt" he appeared on the new Me And That Man record "New Man, New Songs, Same Shit, Vol.1" alongside Slipknot frontman Corey Taylor, Trivium frontman Matt Heafy and Shining (NO) frontman Jørgen Munkeby.
Despite a hectic schedule, Reuter recently completed work on two upcoming releases; the split 7" "Ächtung, Baby", set for release on May 29th and new full length album "The Lone Furrow" which will be released on August 29th, both through Trisol Music Group.
Though to this day, the dark folk band remains one of the best kept secrets of the European underground, Reuter is well respected as a songwriter's songwriter, whose work has been known to inspire and influence a variety of musicians from all across the musical spectrum. For this first single from the upcoming album "The Lone Furrow", which will feature a range of interesting guest appearances, ROME has teamed up with metal legend Alan Averill of PRIMORDIAL, whose vocal timbre and delivery complement Reuter's vocals perfectly.
The title "Ächtung, Baby!" (Ächtung being German for "ostracism") with its MOTÖRHEAD-style umlaut, is a tongue-in-cheek reference to U2's 1991 hit album "Achtung Baby", although it is needless to say that ROME's musical world is considerably darker in nature. The B-side "Any Other Grey", is not your average B-side waste management, but a full-fledged rebel anthem with a yet surprisingly nonchalant vibe.
Reuter had this to say on the upcoming split:
"Alan and I have been friends for a while, so I am really glad to finally get this collaboration out into the world. I love this song, actually! And I think our voices work really well together! The dude sure can sing."
Considered one of the most important figures in the neofolk genre, Luxembourg's ROME have spent the last fourteen years exploring and pushing their musical boundaries. The music unites American folklore with Chanson and the angst-ridden tristesse of English Post Punk – 'Chanson Noir', as leading man and sole permanent member Reuter, once called it. Looming above all this is his distinctive, deep voice. A voice you want to believe knows all about man's true nature and purpose.
Part of a long tradition of lonesome guitar heroes, outcasts moving about restlessly, pursued by their dreams and demons, dedicated to a life beyond the pale. Reuter takes musical nods from Jacques Brel, Johnny Cash, Townes Van Zandt, Tom Waits, Leonard Cohen, Michael Gira, Nick Cave – architects of melancholy like these have left their footprints in his artistic expression.
The protagonists of ROME's lyrical world are history's forgotten heroes and outsiders, most notably of the 20th century: Anarchist rebels (as on 2009's "Flowers From Exile"), the French resistance (on 2010's "Nos Chants Perdus"), Southern Africa's struggle for freedom (on 2014's "A Passage To Rhodesia") or revolutionaries and underground fighters such as those on ROME's ambitious 2011 trilogy "Die Aesthetik Der Herrschaftsfreiheit" inspired by the works of Peter Weiss and Pablo Neruda among others.
Their 2018 album "Le Ceneri Di Heliodoro" "("The ashes of Heliodoro") saw Reuter tackle new terrain and touchy subject matters such as Europe's dissolving unity, or its relations to the US and the fragile fraternity of its nations. Following on from "Le Ceneri Di Heliodoro", Reuter pushed on, releasing the aforementioned "The Dublin Sessions" and "Hinter den Mauern der Stadt" in 2019.
With a new album not far behind the stunning split, some surprises on the horizon and even in troubling times, ROME continue to push on.