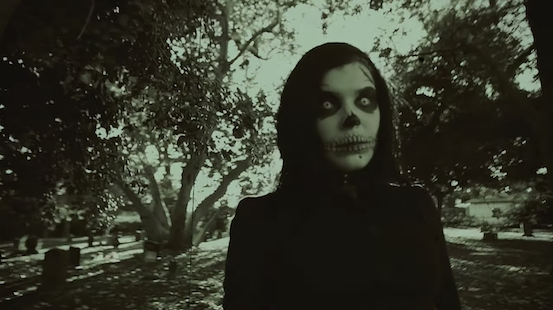 Wednesday 13 Releases New Lyric Video For 'The Hearse'
No rest for the wicked! The Duke of Spook and his band of ghouls, WEDNESDAY 13, has returned with a new lyric video for latest single, 'The Hearse,' taken from current album, 'Necrophaze,' out now via Nuclear Blast.
"The heaviest track on the record, and maybe the heaviest track of my musical career," Wednesday 13 tells us. "'The Hearse' is a beast, with the double kick drum mania provided by drummer Kyle Castronovo. I'm a big fan of the movie 'Christine.' I wanted to write a song about a haunted car, so this was inspired by that, mixed with the old rhyme from the 'Scary Stories To Tell In The Dark' book."
WATCH THE LYRIC VIDEO FOR 'THE HEARSE' here: https://youtu.be/rRE2gnzWH6I 
[youtube width="800″ height="600″ video_id="rRE2gnzWH6I "]
The horror-fueled track is the latest standout creeper from 'Necrophaze,' which features previous singles, 'Zodiac,' 'Bring Your Own Blood' and 'Decompose.'
With all touring postponed, WEDNESDAY 13 is currently plotting their return to the road later this year. Stay tuned for the new plans in due course.
More from "Necrophaze":
"Monster" (Feat. Cristina Scabbia) Lyric Video – https://youtu.be/FE_m7Ya9c6s
"Decompose" Visualizer – https://youtu.be/mdqrNZOwzzc
"Bring Your Own Blood" Visualizer – https://youtu.be/B1iZ6KHx7KQ
"Necrophaze" Visualizer – https://youtu.be/qY7i3Y04ejo
"Zodiac" Trailer – https://youtu.be/AFhqlXv1nCw
"Necrophaze" Commercial – https://youtu.be/Btc7dTOff-Q
Pick up 'Necrophaze' here: http://www.nuclearblast.com/w13-necrophaze
And 'Necrophaze' special bundles here: https://theoraclemanagementmerch.com/collections/wednesday-13
Heavily influenced by real life night terror occurrences of Wednesday himself, historical serial killers, and a slew of 80's horror films, the ideas behind 'Necrophaze' are bizarrely familiar, frightening, and a hell of a lot of fun. 'Necrophaze' was recorded and mastered with Michael Spreitzer, producer,/recording engineer and long time guitarist of DEVILDRIVER, and is the first WEDNESDAY 13 record to feature an array of guest spots, including performances by Alice Cooper, Roy Mayorga of STONE SOUR (who provides an eerie, authentic, 80s inspired synth soundtrack-score to the album), Alexi Laiho of CHILDREN OF BODOM, and Cristina Scabbia of LACUNA COIL. Also making an appearance on the album is Jeff Clayton: member of legendary punk bands ANTiSEEN & GG Allin's MURDER JUNKIES.
For more information on WEDNESDAY 13
https://officialwednesday13.com/
https://www.facebook.com/officialwednesday13
https://twitter.com/officialwed13
https://www.instagram.com/mrmotherfucker13/
https://www.youtube.com/WedinHollywood