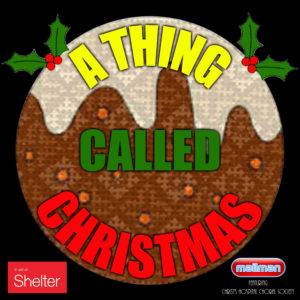 Mailmen Release Charity Christmas Single
UK Based Outfit Release 'A Thing Called Christmas' And Are Donating All Proceeds To Shelter
UK based singer-songwriter Jamie "Stan" Stanley, AKA Mailmen, released brand new single 'A Thing Called Christmas' on December 13th with all proceeds set to go to homeless charity Shelter.
 Stan had this to say:
"'A Thing Called Christmas', the 12th 2019 single from Sussex based act Mailman, is the perfect antidote to the UK's year-long obsession with politics and all things Brexit. It's catchy, upbeat, tongue in cheek, not too cheesy and pays homage to some of the greatest Christmas hits of all time. 'A Thing Called Christmas' is being released in aid of Shelter UK. Let's help Shelter UK fight the housing crisis."
 Sussex UK based singer-songwriter and producer Jamie Stanley (aka: Stan / Mailman) has been writing, recording and performing his music for as long as he can remember.
 In November 2011 he was lucky enough to share a stage with Billy Bragg, Chumbawumba, Peggy Seeger, Steve Knightly and Leon Rossiter at Occupy London where he performed his song Fear of Foxes to the 600+ crowd gathered on the steps of St. Pauls. In December the same year, the studio version of the song appeared on the début Mailman EP 'Long Walk Home' , released independently on iTunes and most other online stores. The 2nd EP 'The Karma Sessions: Volume 1' came out in February 2012 and is available exclusively on Bandcamp, as is the 2015 follow up 'Vol. 2'.
 The début Mailman album 'No News Is Good News' was released in 2014 on SJE Records. The follow up 'Yang Yin' was mastered by award winning engineer Mandy Parnell (The XX, Bjork, Brian Eno, Aphex Twin, UNKLE and many more) and released independently in July 2018.
 Album track 'Nothing In The Way' was BBC Introducing's 'Track of the Day' on the BBC Sussex & Surrey drivetime shows, as did the follow up, 'Owe It To My Heart'. Mailman and 'Yang Yin' were briefly in the running to be shortlisted in three 2019 MPG Awards categories alongside the likes of Arctic Monkeys, Manic Street Preachers and Tori Amos. The shortlists evaded him this time, but Mandy went on to win the 'Mastering Engineer of the Year' category for her work throughout the year, including on 'Yang Yin'.
 Mailman is now partnered with AWAL to release S3ASON in March 2020.