News: Massive Wagons 'Fire It Up' And Announce Remastered Release Plans Launching With Fan Favourite BUCK
Massive Wagons first full length album 'Fire It Up: 2018 Remastered Edition' (Fire It Up was first released in 2011) will be available to buy and stream in digital format for the first time on November 29th Following it's physical release last year to great reaction from press and followers, it was clear a digital version was needed to sate the insatiable hunger for Wagons music, old and new!
To commemorate this glorious release we commissioned a lyric video for the fan favourite song, BUCK. Out today.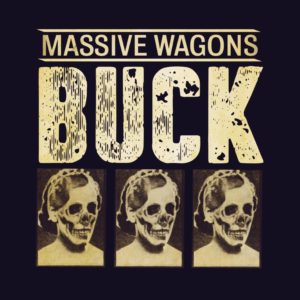 Here's what the track Buck is all about:
"We've lived in and around Lancaster all our lives, writing songs was very new to me when we were putting our first album together, I'd never been in a band before, so in a good way all my inspirations and ideas could be poured into Wagons, I was always looking for interesting topics to write about, if the truth be told it was my Dad that came to me and said 'I watched a brilliant documentary last night about a murderer from Lancaster called Buck Ruxton, killed his wife and maid, it could be the new Mr Crowley' he said, I laughed it off for a while but then started to read about him, what a tale! And right on our doorstep, no brainer I thought! I tried to write the lyrics around the tale with different lines from each involved and their point of view, Buck, his wife, the police etc, and the song became a solid track in our live performance for years, and I'd say collectively it's our favourite from that album, as times gone on it's been forgotten somewhat or merely undiscovered by new fans, so we thought it deserved a redirection, hope you dig it.' – Baz
[youtube width="800″ height="600″ video_id="HJVROZdo41I"]
BUCK is available for Download and Stream now from all online platforms
Spotify: https://open.spotify.com/album/4gQyzYgtpBMAc8Jca4NTM7?si=32Ymaqo6Tg6mtPLAEgrMMw
To celebrate the release of BUCK we have launched an exclusive T-shirt design for pre-order only available here >>> https://www.massivewagons.com/product-page/buck-mens-ladies-tees-pre-order
Fire It Up: 2018 Remastered Edition will be available via all online and streaming platforms on November 29th 2020
Catch Massive Wagons in on of their last shows of 2020:
Friday 15th November: Monsterfest – Inverness
Saturday 16th November: O2 Academy – Headlineshow – SOLD OUT
Sunday 17th November: Cornwall Rocks – Cornwall
Saturday 7th December: Gorilla – Headlineshow – SOLD OUT