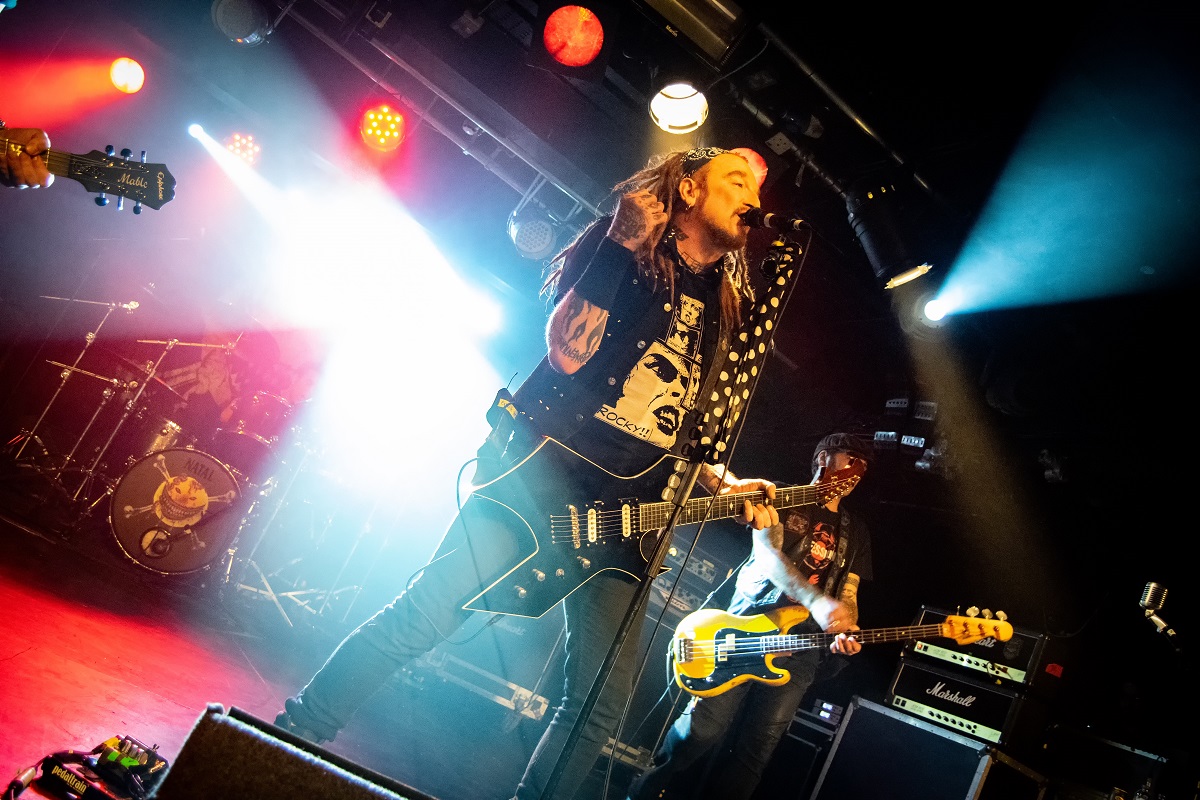 The Wildhearts / The Professionals / Janus Stark
Sub 89, Reading 06/10/2019
It's a night of punk rock royalty in Reading's Sub89, and that's just the support acts. First up we have Janus Stark, with ex English Dogs frontman and ex Prodigy live guitarist Gizz Butt showing a level of energy that belies over 30 years of experience. It's a short yet energetic set of classic Janus Stark tracks from 1998's 'Great adventure Cigar' and a treat off the forthcoming album 'Angel In The Flames', closing with the stomping anthem 'Every Little Thing Counts' the crowd shows they haven't forgotten them as they happily sing along and raise their fists to the air for the chorus. It's loud and raucous just as it damn well should be.
Next up The Professionals bring out not just 3 Colours Red guitarist Chris McCormack and The Men They Couldn't Hang's Tom Spencer, but ex Sex Pistol Paul Cook. Along with an extensive back catalogue of hits from The Professionals there's also the obligatory couple of Sex Pistols hits to keep the crowd going. What they lack in the fire and pace of the other bands playing they more than make up for in experience, stage banter and professionalism.
It's already been a gig worthy of Sub89 and its lively Sunday night crowd even before The Wildhearts take to the stage. There's no doubt in anyone's minds though as to who the headliner of the show is. Its classic Wildhearts and Ginger, CJ, Ritch and Danny (who it was great to see up and moving around the stage after so many shows seated) are on top form. 'Diagnosis' is the first song of a diverse set list and kicks off proceedings sending the elated crowd into a frenzy. Ginger surveys the gathered punters and talks to them like old friends before effortlessly launching into each song with an ease, swagger and confidence most frontmen can only dream of. 'I Wanna Go Where The People Go' appears early in the song list and 'Caffeine Bomb' and 'Vanilla Radio' bring out the nostalgia in the room with many of the mature audience singing their hearts out and raising their beers with glee. The lights have barely gone down after the last song 'Action Panzer' before the singing starts for the encore, the whole crowd singing 'Don't Worry 'bout Me' like one beautiful chorus in unison all wanting the same outcome, and they're not disappointed. For the observant the setlist has been mixed up again, no 2 nights on this tour have been exactly the same. In short this has been a Grade A performance on the back of the recent release of a Grade A new EP.
Review By Mark Bestford & Nickie Hobbs
Photos By Alienation Photography
www.facebook.com/alien8n
[pp_gallery gallery_id="13294″ width="150″ height="150″]