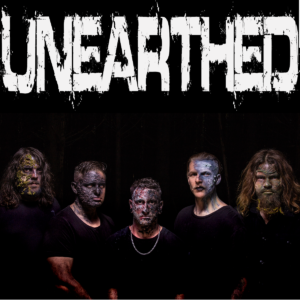 Australian Deathcore Mob Eviscerate The Crown Release New Single
Sydney Quintet Set To Release "Unearthed" on September 27th
Sydney deathcore quintet Eviscerate The Crown are set to release their new single "Unearthed" on September 27th!
The band had this to say on the track:
"Unearthed is about being reborn and pushing through the darkness that life can throw at you. You can either lay down and accept your fate, allowing it to swallow you whole or you can stand up and fight, keeping the darkness at bay. The track takes listeners on a journey of light and dark shades, times of hardship and success, fully encapsulating the hardship of getting out alive! Will you make it out alive?"
A video for the track can be found here: https://www.maniacsonline.com.au/blog/premiere-sydneys-eviscerate-the-crown-debut-heavy-new-single-unearthed?fbclid=IwAR3Hz33cYZS65tTFjjQVukHZa-3B9a4plzFJs4Zb01eIeCa4W6ZlP2yZYNc
Hailing from Sydney, Australia, melodic deathcore outfit Eviscerate The Crown bring together a blend of brutal breakdowns, catchy rifts and melodic tension. Coming together from the northern coastal outskirts of Sydney in November 2017, through vocalist Liam Carroll, guitarists Ben Simpson and Alexander Myers, Bassist Neil McNaughton and Drummer Samuel Shergold. In mid-February 2018, Eviscerate The Crown released their debut EP The End of Suffering.
Since then Eviscerate The Crown have fortified a respected name for themselves in the Australian metal scene as a consistent and quality live band, whilst playing with other Australian and New Zealand such as Lycanthrope, Isotopes, Acolyte, Set On End, Aversions Crown and American heavyweights Suffocation and The Faceless.
Eviscerate the Crown so far in 2019 has toured Japan with Suffocation (USA), The Faceless (USA) and Aversions Crown (Aus) along with local Japan Bands World End Man and Gotsu-Totsu-Kotsu.
They have also announced upon their return to Australia they will be heading back to the studio to record their next EP.