IDestroy have come a long way from Bristol, and are showing they're willing to take their music to the other side of the planet. South Korea to be precise. Mark Bestford caught up with Bec, Jenn, and Nicola at Rebellion Festival to discuss the future, the top secret album, and what Bec really thinks of Queen.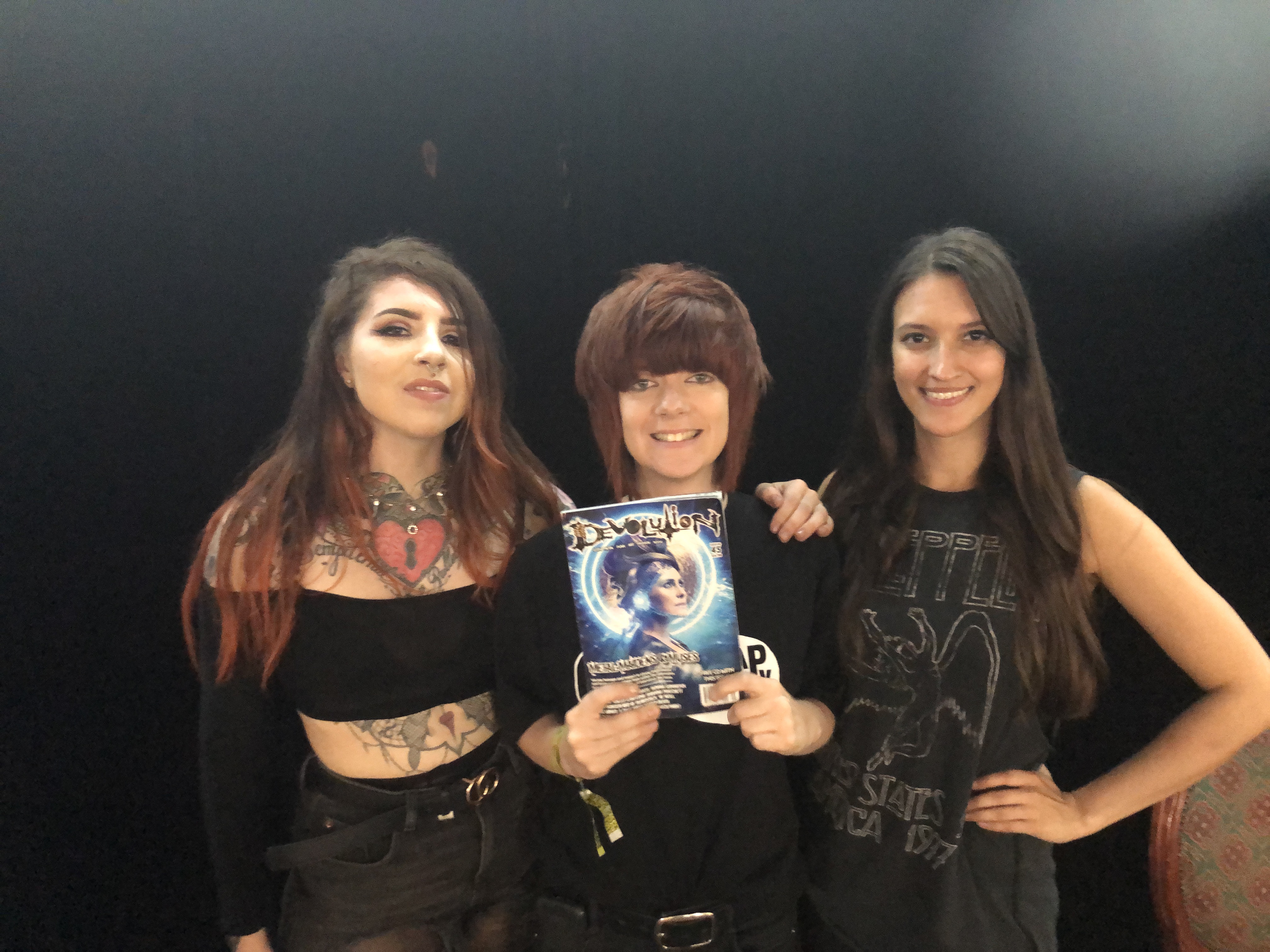 What's the greatest song of all time?
Bec "That's an impossible task."
Jenn "Killing In The Name Of by Rage. The feeling behind it just makes you nod your head. It gives you energy. Riffs, all the riffs."
Bec "Fair enough, I would have said Toto, Africa, it's a bit of a tune."
Jenn "That is a classic."
Nicola "I'll go with Bohemian Rhapsody. Because it's Bohemian Rhapsody really."
Bec "I literally think the song sucks, sorry."
Jenn "You don't like Queen?"
Bec "No."
Jenn "Wow, learning stuff."
So how much longer will iDestroy be around?
Jenn "Why did iDestroy break up?"
Who is your dream line-up, living or dead?
Jenn "We had this conversation."
Bec "In Dominoes."
Jenn "I can't remember what mine was. Stevie Wonder, Jamiroquai, Basement Jaxx, and Flea."
Bec "It would be the funkiest band ever."
Jenn "That would be so cool"
That's a really eclectic band
Bec "I reckon I could make a really cool punk band. I'd have Beth Ditto on vocals, Janet Weiss, from Sleater-Kinney, on drums. On bass I'd probably put someone random in there like Michael Shuman from Queens Of The Stone Age. Just to mix things up."
Nicola "The singer from 21 Pilots, Tyler Joseph, he'd be my frontman. I'd have Travis Barker on drums. John Frusciante on guitar, although he might leave the band. Bass player, Billy Sheehan."
That's the second time today I've had the same drummer
Nicola "Travis Barker, he's a legend."
The festival you want to play
Bec "Well the festival I wanted to play was Glastonbury Festival, more than anything else, and I did it this year. I achieved it, it's a tick off my list of things to do so I'm very pleased with that. But, the festival I really want to play now, I'd have to say maybe Reading Festival, because it was the first festival I ever went to. So yeah, Reading Festival, totally."
Jenn "Yeah I reckon Glastonbury, that's still on the to do list."
Nicola "I want to play Download."
Describe your latest album or EP
Bec "Our latest EP is called Pure Joy Of Life and it's got five tracks on it, and they're all 2 minute punk songs I guess, but we're currently working on an album, our debut album. It's going to be a mixture of brand new songs, maybe a couple of the older songs reworked, and that's pretty much the only details so far as it's top secret information. But we are working on it. But it's totally confidential information."
Confidential information, as told to the crowd during the gig
Bec "We've an album. Basically the whole point is it's going to be quite in your face and fun and loud and more of what we have been doing, but our sound will be a bit more developed, and we hope to have it out fairly soon, I don't know, we'll see. A single definitely this year."
Your favourite film, and why
Nicola "A film I saw last night called The Dirt, that was really good."
Jenn "The Dirt? What's that about?"
Nicola "It's about Motley Crue."
Bec "It sucks, I saw that."
Nicola "It's really good."
Bec "It's quite good, but…"
Nicola "Yeah, why are we in a band."
Bec "Anything by Quentin Tarantino for me. Everything. The Hateful Eight is one of my favourite films of his. Kill Bill. Basically, Tarantino is a god. And Toy Story 4 was pretty good."
Jenn "Oh my god."
Bec "It's so good."
Nicola "I've never actually seen it yet."
Bec "It's hilarious."
Describe your ideal festival
Bec "iDestroy would be playing there."
Jenn "We would be headlining. It would be massive, and well organised."
Bec "And 100,000 people would be there. The ideal festival we'd get to pick all of our friends bands, and all of the bands that we love. For example, there's a couple of Bristol bands out at the moment that are fucking awesome. Mother Vulture, we played with them the other day and they're so good, so energetic so we'd definitely put them on. We'd probably put on our friends Kamino, they're like synth punk guys. And we'd just have a big laugh really."
Deal or no deal, would you change your look or sound for a £1 Million deal?
Bec "Deal. Fuck it, so long as they didn't want me to take my clothes off. But then it's quite tempting because it's a £1 Million."
Jenn "What's your price Bec?"
Bec "What music would they make us play, because I like quite a lot of music. Fuck it, we'll play synths, I can do that. Because when we've got the fans, and we've got the £1 Million we can just go off and do what we want to do."
Jenn "Deal."
Nicola "Deal."
Bec "I'd probably take my clothes off for £1 Million."
Who controls the band's van radio?
Jenn "We don't have a van."
The car radio in your case
Jenn "Whoever's driving."
Bec "It's an unwritten rule, whoever has to do the shitty drive can do the music."
Jenn "We've all got similar tastes though so it's never too far off."
Bec "Apart from when I put 90s club classics on."
Jenn "I love 90s club classics."
What's the largest crowd you've played to?
Bec "iDestroy, probably the largest crowd might have been in Spain or Germany, we've played a few festivals over there that have been quite big. And we played Bristol Pride as well, that was awesome. And again when I played Glastonbury Festival that was massive crowds so that was cool. But yeah, I think Bristol Pride for iDestroy. And maybe the German festival Museumsufer Festival is how you say it, that was pretty huge, by the river. Well these guys weren't actually there, funny story, probably about 1000 people I'd say. But then Pride was like just spread out everywhere so it was even bigger. I feel like the more people we play to the better it is, for me like. A better vibe, the more you buzz off the crowd, so we just want to play to everybody."
Nicola "You know what, I'm different. I like small crowds. I like intimate crowds where you can get in the crowd."
Jenn "It's different, it's definitely different, but I love big stages."
Nicola "I like it more. I will do big crowds though."
Jenn "If I have to."
Nicola "If I have to."
Bec "It is nice to be able to look in people's eyes."
Any plans for next year?
Bec "We have many plans. In fact we've got some really cool plans coming up for September, which isn't next year but it is September. We're going to South Korea to play a big showcase festival, which is awesome. We've got a couple of gigs over there so we're very excited as it's the first time we've ever left Europe with iDestroy, so it's going to be good and then we're literally working on the album, recording the album and then next year we're going to be touring it as much as possible and playing it at as many festivals as we can, and as many countries, hopefully all over the world, that's the plan."