The Wildhearts Announce New Mini Album Released October 4th Featuring 5 Brand New Songs & Unveil New Video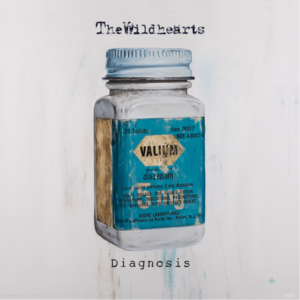 The Wildhearts are proud to announce the release of the Diagnosis mini album on October 4th through Graphite Records. This six track mini album, features five brand new songs and is released as a limited edition special white vinyl with pale blue powder splatter 10'' (to look like a pill) and as a regular black vinyl 10" and CD.  All 3 physical formats will also include an exclusive bespoke inner gatefold comic strip illustrated by the award winning Hunt Emerson, who last worked with the band on the Earth Vs' cover and their classic logo.
The Diagnosis mini album follows the success of Renaissance Men, their first full-length studio album in 10 years, which gave the band's classic line up of Ginger, CJ, Ritchie and Danny, their highest chart entry since 1994's P.H.U.Q, when it debuted at number 11.
To coincide with the Diagnosis announcement The Wildhearts have unveiled a new video for Renaissance Men :  https://youtu.be/9nW8VqQobd0
"Well fuck me we dropped our first new album in 10 years back in May and blow me down if we didn't drop a humdinger of an album full of monster riffs and razor sweet melodies. Well, we've not only gone back in to the studio to record 5 new songs that will be released as the Diagnosis mini album in October, we're hitting the road too. We have some great supports confirmed already, The Professionals and Janus Stark and I know there are some other amazing bands to be added to the rest of the tour.  
You're going to love the new mini album and the surprises we have on there and the tour is going to be one you should not miss. You can't keep a good band down." – C.J Wildheart.
The lead track Diagnosis is about "mental health institutions and the medical health profession in this country, and about how it's letting people down. How the system is broken, and how the suicide rate is not getting any less. 
Depression and mental illness isn't an issue that attacks any one type of person. Whether you're homeless or if you're rich,  this illness is taking people out on a regular basis. The government has pulled most of the funding into mental health research, and as a result people are still ignorant about it.
Education is everything. And the more people talk about depression, the more need there'll be for education, and the more people will want educating about an issue that doesn't just affect the people suffering from it, but it affects everyone around them. 
And when someone is in a desperate position and their hope is taken away, then they're at the mercy of an illness that wants them dead. There's nothing more important in the world than education on mental health issues." – Ginger Wildheart 
Diagnosis track listing
Diagnosis.
God Damn.
A Song About Drinking.
The First Time.
That's My Girl.
LOCAC.
Format
CD
Cat number: GRAPHFAR35CD
Barcode: 5053760053057
10" vinyl
Cat number: GRAPHFAR35LP
Barcode: 5053760053064
10'' ltd edition coloured vinyl
Cat number: GRAPHFAR35LPC
Barcode: 5053760053071
Digital
Cat number: GRAPHFAR35D
Barcode: 5053760053088
To pre-order the Diagnosis mini album go to: https://ffm.to/wildhearts-diagnosis
To coincide with the release of Diagnosis, The Wildhearts' play a10 date UK tour. This tour will start in Brighton at the Concorde 2 on Saturday 5th October and concludes at Booking Hall in Dover on Tuesday 22nd October.
"Can't wait to get back out on tour. I'm one of those people that could live in a tour bus" – Ginger Wildheart
Creatively brilliant, The Wildhearts play a distinctive fusion of hard rock, perfectly complimented by contemporary melodies. With a career spanning 30 years The Wildhearts helped change the landscape of British rock through the 90's, and to this day they haven't shown any sign of slowing down. Miss these shows at your peril.
The Wildhearts Renaissance Men tour part 2
with special guests The Professionals and Janus Stark on the shows marked *
October
Sat      5th         Brighton                   Concorde 2 *
Sun    6th          Reading                    Sub 89 *
Mon    7th         Chester                     Live Rooms *
Tue     8th         Hull                           Welly *
Thu    10th        Holmfirth                Picturedrome
Tue     15th        Cambridge              Junction
Wed    16th       Bath                          Komedia
Thu    17th         Southampton         Engine Room
Mon    21st       Wolverhampton    KK's Steel Mill
Tue     22nd      Dover                        Booking Hall
November
Fri       29th       Buckley                    Tivoli
European shows 
October
Fri       11th     Helsinki                    Virgin Oil and Co.     Finland
Sat      12th     Stockholm                Fryhuset                     Sweden
Sun    13th       Oslo                           Pa Bryn                       Norway          Sold Out
Thu     24th    Amsterdam              Q Factory                    Netherlands
Fri       25th    Essen                         Turock                         Germany
Sat      26th    Paris                           Backstage                   France
Sun    27th     Ooestende                 Manuscript                Belgium
November
Sat      30th     Madrid                      Sala                            Spain
Tickets and ticket bundles with new album pre-orders are available at: https://www.omerch.eu/shop/thewildhearts
http://www.thewildhearts.com/
https://www.facebook.com/TheWildhearts
https://twitter.com/thewildhearts