Fields Of The Nephilim Announce Tour Dates
Gothic rock legends Fields Of The Nephilim return this June with dates in Glasgow, Leeds, Nottingham and Newcastle. This follows their mesmerising tour last year which culminated in them headlining Tomorrow's Ghosts Festival at Whitby. Support for the tour comes from Terminal Gods (Glasgow), Salvation (Leeds), Red Sun Revival (Nottingham) and The Last Cry (Newcastle).
2019 Tour Dates Announced
27th June – Barrowland Glasgow with Terminal Gods
28th June – Stylus, Leeds with Salvation
29th June – Rock City, Nottingham with Red Sun Revival
30th June – O2 Academy, Newcastle with The Last Cry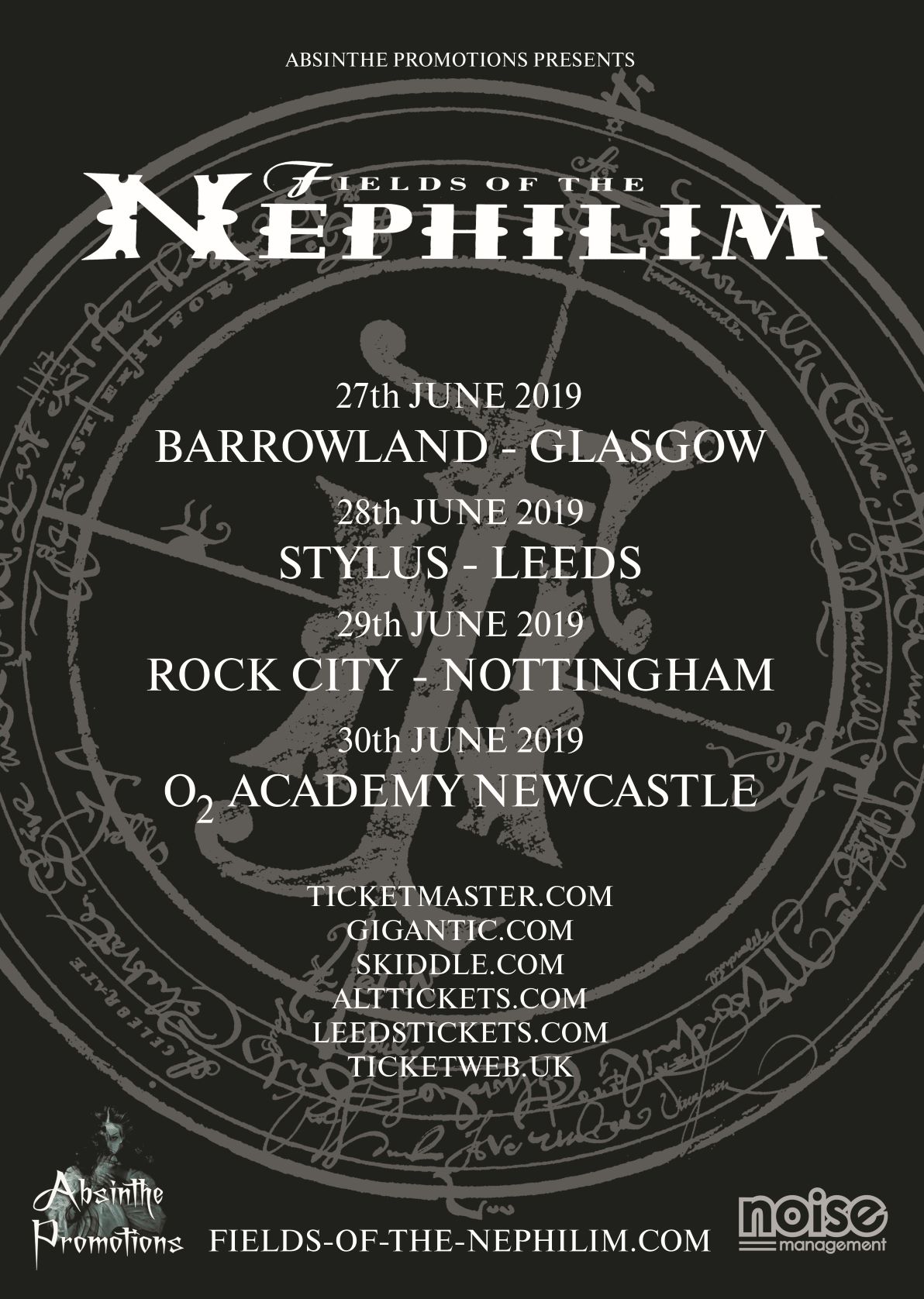 The music of Fields Of The Nephilim incorporates gothic rock, psychedelia and heavy metal. The seminal band draw influence from spiritualism and magic, with songs that conjure imagery from HP Lovecraft's Cthulhu mythos, chaos magic and the mystic arts practised by Aleister Crowley. They draw on hard rock sounds and themes with powerful magical potency, resulting in a band that produces dark and uncompromising music that thrills fans around the world.
Taking their name from the Biblical race of gigantic angel-human hybrids, the band was started by vocalist Carl McCoy. Combining his love of Spaghetti Westerns and his passion for the occult, McCoy forged a band whose image and music was like no other. Due to the band's image and original sound, they easily attracted the interest of the music press and record labels. Debut album Dawnrazor was released in 1987 saw them shoot to the tops of the indie charts.
However, mainstream success came with the release of their second album; The Nephilim, in 1988. Narrowly missing out on topping the indie charts again by coming in at #2, the band enjoyed more mainstream success in reaching #14 in the UK Album Chart.
The Nineties saw the group rise to the status of a major cult rock band. Their diverse creativity saw them develop a distinctive style, adopted by their fans, working in film and illustration. To date they have eight amazing studio albums and continue to entertain those who would dare to adventure onto the fringes of the known.
Official Fields Of The Nephilim website – https://www.fields-of-the-nephilim.com/
Fields Of The Nephilim full history – https://en.wikipedia.org/wiki/Fields_of_the_Nephilim
Tickets are available from:
www.gigantic.com
www.skiddle.com
www.ticketmaster.com
www.alttickets.com
www.ticketweb.uk