HRH Ibiza Road Trip X
So you're going to HRH in Ibiza, what to expect? Well whether you're going as just a couple or you were lucky enough to win 6 tickets in one of the regular HRH giveaways then it's pretty much whatever you want to make of it. This isn't just your regular HRH event, this is Ibiza and everything that comes with it. Sun, sea, sand, and rock and roll. Hard Rock Hell regulars are familiar with the program, a small festival geared towards a particular genre. Hard Rock Hell in Ibiza is taking the best of what is usually a 2 or 3 day event and spreads it out across the week. Including the acoustic sets on the beach there's 6 days (or should that be nights) of music. A word of warning though, the music starts as the sun goes down, so there's plenty of time to play tourist in Ibiza while you wait for the music to start.
Getting to Ibiza
After you get your tickets for the festival itself you need to find some way to get to Ibiza. This is where the Road Trip comes in, for some it's an annual pilgrimage where they ride from Britain across country before grabbing the ferry to Ibiza. For others there's the plane. With a wheelchair to bring along we bought tickets on a British Airways flight, to almost immediately have to cancel them when the flight was rescheduled. Sure we were offered alternative flights, but they would require having to rebook the hotel and sacrificing a day of music. We were also restricted to flying out of Gatwick, which meant only one option. Turns out Easyjet actually do an amazing job of looking after their disabled passengers, and at a fraction of the cost of BA. Every penny saved means more fun when you arrive, so any savings here are welcome.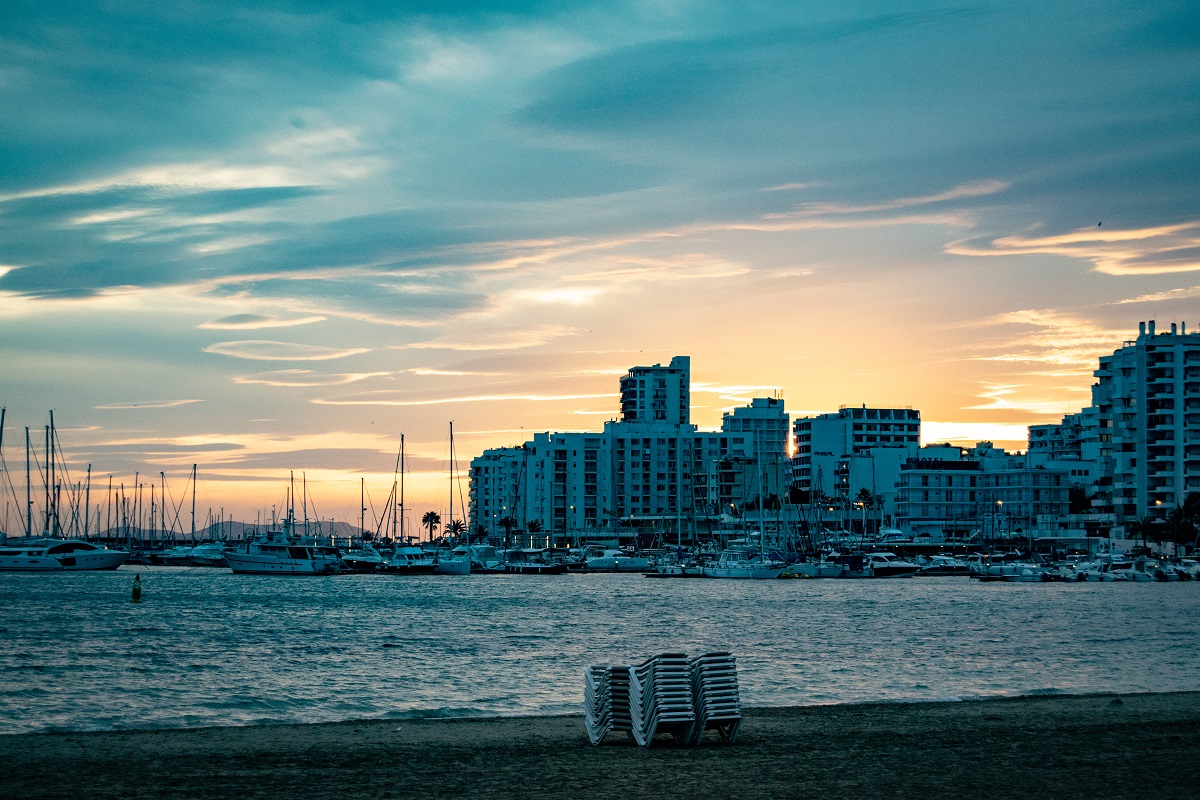 Arriving
Taxis are in abundance once you arrive at Ibiza airport, and roughly every 5th or 6th taxi is wheelchair enabled. With a large party of 6 you'll need to plan for 2 taxis at just over 30 Euros each. Ideally make sure your taxi driver knows the route to your hotel, but if he knows the way expect a breakneck journey across the island. Taxis in Ibiza slow down for only one thing, police speed traps. And here we thought only Luc Besson's Marseille taxi driver was an insane driver. Keep track of the time though, by the time we'd arrived at the hotel we'd missed the opening night's music, despite the later than usual start time. If you managed to get an earlier flight then you had Collateral and Ryders Creed to look forward to, both brilliant live bands. We consoled ourselves with attending the aftershow party at one of Ibiza's many night clubs in the centre of San Antonio. A word of warning though, drinks are expensive, spirits and a mixer are around 8 Euros, but measures are done by eye and you certainly get your money's worth as you won't ever be served a single measure.
Getting around
No need to worry too much about distance, everything is within a half hour walk of the hotel. We stayed in the Hotel Brisa due to fact it was the cheapest that also had a lift to all rooms. It was a tight squeeze with a wheelchair, but doable, and the main thing was that the lift worked. Make sure you take some Euros with you for when you arrive as there's a tourist tax to pay on arrival. All paths from the hotel to the town centre are wheelchair friendly, but you may need to give a helping hand for the small curbs at some crossings. Even the beach is accessible, though you may want to think twice about trying to push a wheelchair on the sand. Not a problem with the venue for the festival though, as so long as you don't go VIP or Rock Royalty the venue is wheelchair accessible, with a pair of viewing platforms either side of the stage.
Food and drink
Being one of the most popular tourist destinations from Britain it's no surprise that there's an abundance of places willing to part you from your Euros in exchange for food and drink. You can plan your budget quite easily with meals anywhere from 5 Euros for a simple omelette with chips to 20 Euros for steak. There are also plenty of fast food options, with Burger King, KFC and Pizza Hut available (although you may wish to avoid the eye watering prices in Pizza Hut by nipping to the beach front restaurants and grabbing pizza for just 7 Euros). Keeping to a budget we ate out in Itaca, next door to the Ibiza Rocks Bar, which was fairly reasonable at around 10 Euros per meal. There was also an excellent Tapas Bar slightly more off the beaten track, hidden behind the beachfront hotels, called Natural Pau. It describes itself as a flexitarian restaurant, and has some excellent vegan options, but the food was excellent and quite reasonable with Tapas options from 13 to 20 Euros for sharing. At first drinks seem expensive, anywhere from 7 or 8 Euros for a JD and coke, but with free pouring bartenders prices quickly seem more reasonable given the measures actually being given. Cocktails though are the order of the day for most and all the clubs and restaurants have an extensive range on offer. Ask for a Screaming Orgasm and your waitress will inevitably ask the follow up question of "and what would you like drink?"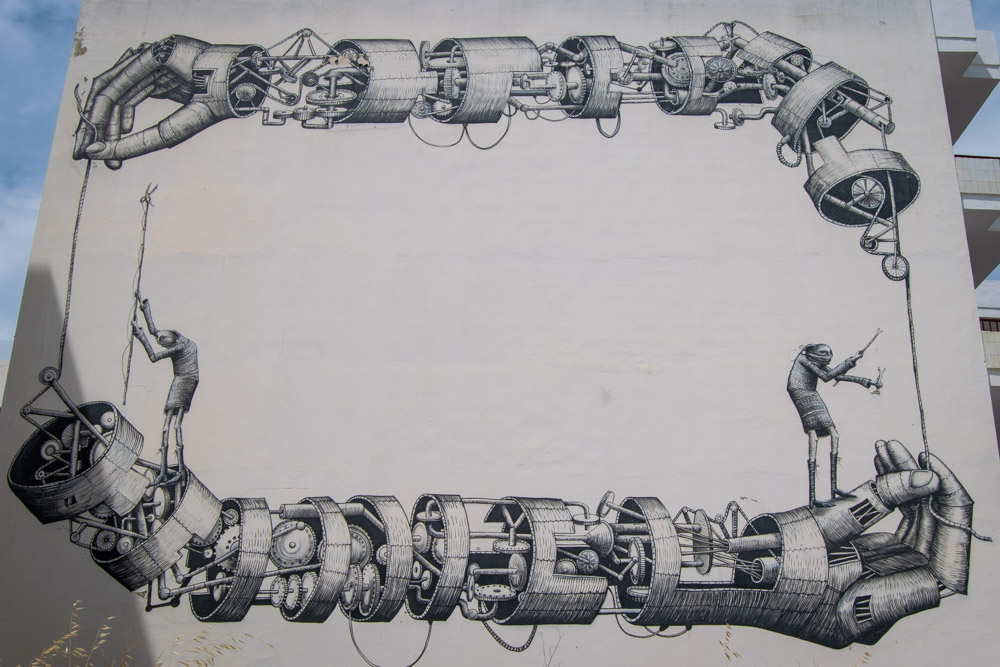 Daytime
With bands not starting till sunset, with the exception of the last day's acoustic sets, you need to fill in a lot of time. This is where you get to play tourist, and there's plenty, or as little, to do as you want. If you're not feeling up to doing much except soak up the sun then you can either lounge by the hotel pool or walk down to the beach. The beach does have sun loungers available, but be aware that these come at a price, so remember to take your beach towel. Also be aware that topless (and occasional nude) sunbathing is common on the beach. For the more adventurous there's a variety of water sport activities, as well as boat trips to see the caves and smaller islands. If you wish to spend some money on souvenirs to bring back there's a market in the old town, as well as plenty of tourist shops along the beach. Those with small children may also wish to visit the aquarium, built into a coastal cave, but be aware that it may not be suitable for disabled visitors as it's inaccessible unless you can walk the 300 yards down the rocky path to the visitor centre. It's also tiny compared to the Sealife Centres we're used to here in the UK, be prepared to duck to get in even if you're of a modest height, and at 5 Euros per adult it may seem a bit expensive for what you get, especially given its location away from the main beach front. There are also events organised by HRH as well, with karting and boat trips. Alternatively you can go searching for San Antonio's numerous street murals that adorn the buildings throughout the town. Part of the Bloop International Proactive Arts Festival a new mural is created every year by artists from around the world. Suntan lotion is the order of the day as the slightest breeze hides what is a deceptively hot sun.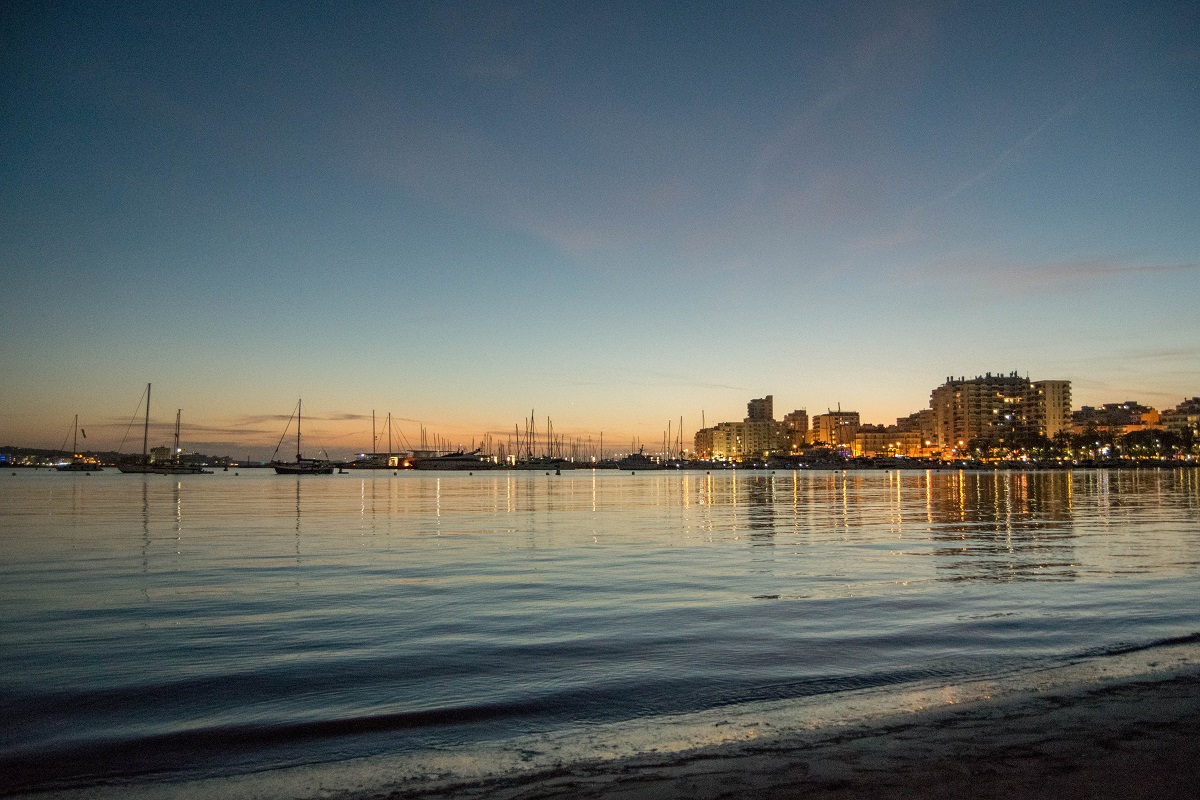 Evening
As already stated, the music starts once the sun sets. If you're lucky to get an earlier flight then there's a couple of bands playing on the Tuesday night, but for most the music starts on the Wednesday night when the first of the official headliners plays. Each night is dedicated to a different genre of music, much in the same way that HRH's UK festivals are done, but on a smaller scale. Each night is made up of 2 opening acts, all well known to HRH regulars, a headliner, and then a closing act to take you into the early hours of the morning. Don't worry about taking a jacket with you for the walk back to the hotel, even in the early hours of the morning temperatures are warm enough for just shorts and a tee shirt. Black, obviously.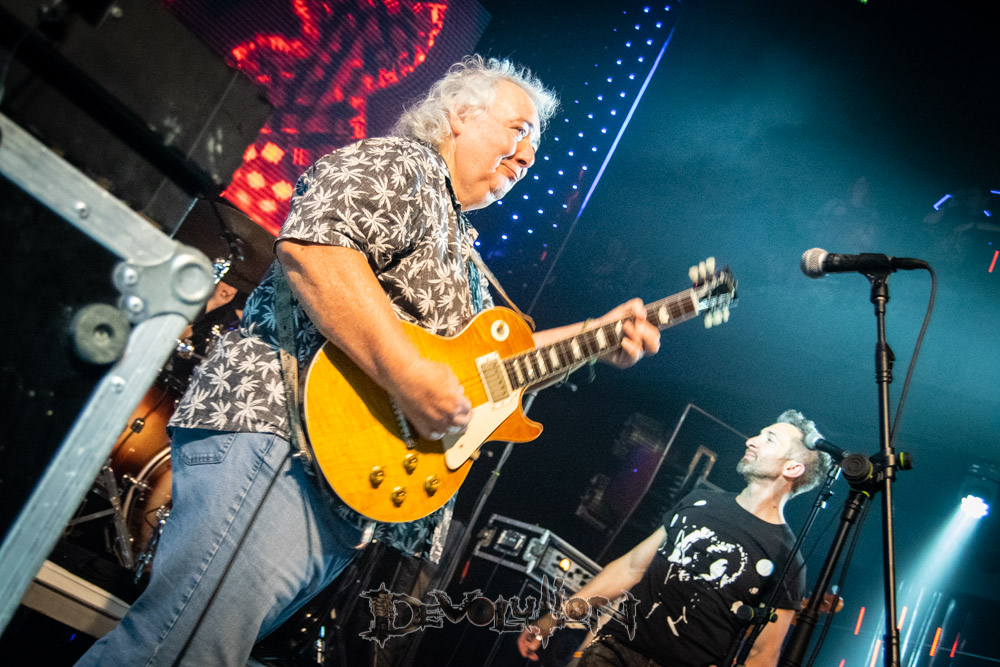 Wednesday this year is AOR night, with Bernie Marsden headlining. It's a set full of classic Whitesnake and Bernie's own blues music. Support comes from Everyday Heroes and fellow Welsh rockers Henry's Funeral Shoe whose guitarist and vocalist can't seem to stay on the ground for longer than 5 minutes at a time. Kee Marcello (of Europe fame) steps in to close the night as Joe Lynn Turner has to pull out at the last minute. No Final Countdown due to set timing issues, but as with Bernie it's a set filled with Europe classics and solo material. Sun factor: lobster.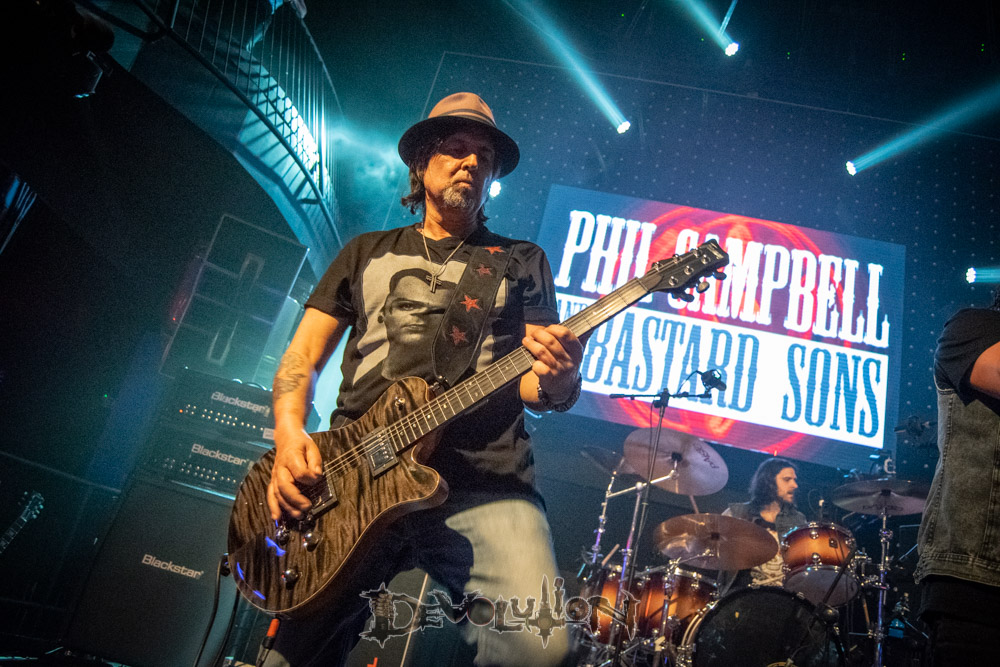 Thursday night is for Metal, with the legendary Phil Campbell and the Bastard Sons. It's a great set that includes the inevitable Motorhead covers. There's no slowing down the Bastard Sons though as they perform a blistering high octane set. Gin Annie and Arthemis fill the opening support slots and the night is closed by the utterly bonkers Footprints in the Custard. Sun factor: 50
Friday night and the music takes a turn towards the twilight zone and Prog legends Hawkwind take to the stage to celebrate 50 years of music. This is clearly the highlight of the week for many and Dave Brock doesn't disappoint. If anything, this is the one night where the HRH formula falls down as an hour and 30 minutes just cannot do justice to a band with 5 decades of music behind them. Support from Falling Red and Pearl Handled Revolver who put on a great show. Closing the night is Devolution's favourite pirate metallers, Red Rum. Sun factor: a nice spaced out red shift.
Saturday night is the last night of music at Eden, which has been the new home of HRH Roadtrip since last year, and again there's a change in genre as we get heavy with Doom and Stoner. Headline band is the amazing Orange Goblin whose frontman seems tall enough to stare the VIP balcony straight in the eyes. Oxford's own Desert Storm open up the night and are followed up by the Corby legends Raging Speedhorn who come out on stage sporting Hawaiian shirts before tearing the stage up with a blistering set. The night is closed by Vain Galen whose singer and guitarist does his best energizer bunny impression by bouncing around the stage as if someone had electrified it. Sun factor: Raging orange.
It's the last day of music on Sunday as HRH Roadtrip moves back to its ancestral home in the Ibiza Rocks café for an afternoon of acoustic rock. Witch Tripper and Dig Lazarus open up with straight sets of acoustic versions of their songs before Red Rum turn up the fun with a set of drunken sea shanties and Disney covers. It's a decision that goes down well as the filled bar join in. As the sun goes down the evening is finished off by Revival Black (previously Black Cat Bones) before the night ends with the HRH Radio DJ's. Sun factor: Red nose day.
Goodbye Ibiza
It's Monday, a time to relax for the last day before heading back home. For those staying for the long haul there's still plenty planned as HRH hosts a cocktail party at Tulp, a short walk around the beach from the Ibiza Rocks Bar. The week is then closed with the second boat trip available, this time a 3 hour sunset trip out to sea, complete with HRH Radio DJ, H. It's non-stop party time at sea, with a playlist starting with Spongebob Squarepants, and including greatest hits by Abba and the Spice Girls, which surprisingly goes down well considering the boat's cargo of metal heads. Maybe it's the Sangria going to everyone's heads? Life jackets are eyed up as the dancing on the top deck makes even the lower deck vibrate. The sun sets over the sea and then it's back to San Antonio to pack ready to leave the hotel in the morning. A few brave souls willing to punish their livers further head off to Ground Zero to finish off the week's partying. One last tip before boarding the flight back to England, get changed into jeans and grab a hoodie, compared to Ibiza England is bloody freezing at 2am.
Words and Photographs: Mark Bestford