Bloodstock Reveal Seven More Bands & Thirteen More Coach Pick-ups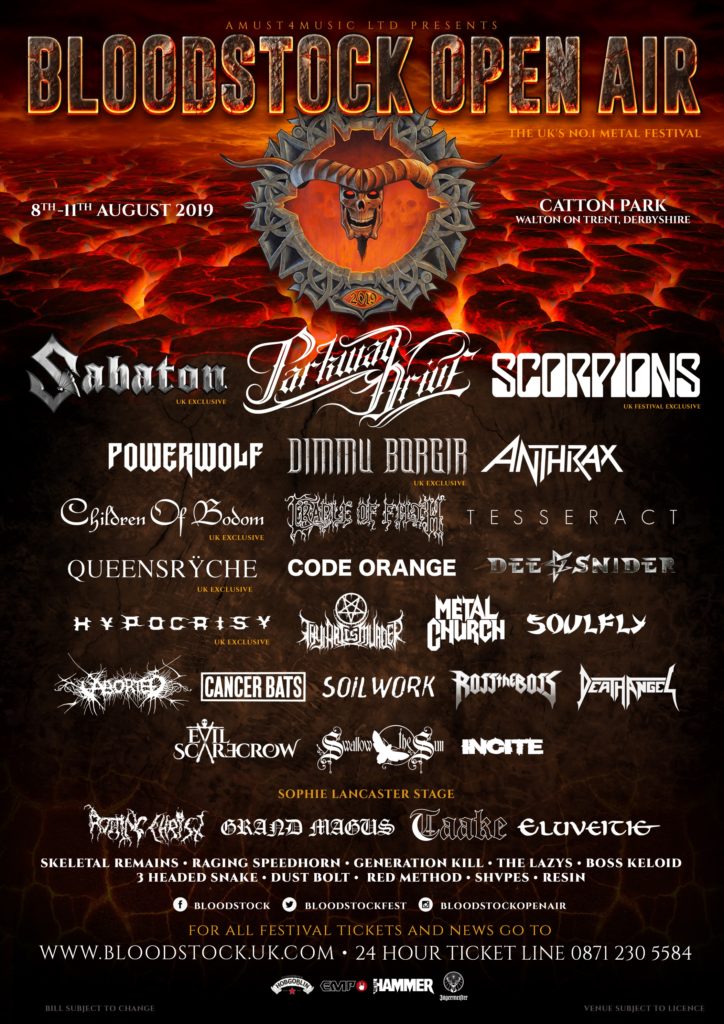 Lucky for some, BLOODSTOCK springs into March with news of seven more bands joining this summer's best metal weekender and a massive thirteen more coach pick-up locations, making it easier than ever to get you, your mates, and all your camping gear to BLOODSTOCK for a very fine metallic time this August.
Belgian death metal kings ABORTED stride onto the Ronnie James Dio main stage on Sunday.  The band tell us, "BLOODSTOCK!  It's been a while!  We couldn't be more thrilled to lay waste to thee in the most offensive of manners this coming summer. Prepare my friends, the blastbeat is coming!"  Their current album 'TerrorVision' is blazing holes in our speakers over at BOA HQ. See what we mean via the video for 'Deep Red', a track taken from that record here – https://youtu.be/ak4oeZwBfJs.
Cali death metallers, SKELETAL REMAINS join Saturday's fray on the Sophie Lancaster stage. The band released their third album 'Devouring Mortality' last April via Dark Descent/Century Media, and returned to the road for extensive touring, which now includes a run of US dates with Hatebreed and Mexican headline shows this spring. Watch the video for that album's earthquake-inspired first single 'Seismic Abyss', at https://youtu.be/jss2oSGJ604.
Aussie rockers THE LAZYS crash into a Sunday spot on the Sophie stage.  If you love a bit of AC/DC-style classic rock n' roll, these boys are definitely worth a watch and are sure to bring the party!  The band's current album, 'Tropical Hazards' came out last year, so crack a cold one and check out the video for their infectious tune 'Nothing But Trouble' – https://youtu.be/K7ngGOlna0A.
3 HEADED SNAKE join the Sophie stage bill on Saturday.  The LA-based classic metal band was put together by current Ministry guitarist Sin Quirin and features the soaring vocals of Johnny Ray.  See their video for 'Wisdom Screams' at https://youtu.be/VsHERp-0LTg and if you like what you hear, go pick up the five piece's eponymous 3-track debut EP from iTunes or Bandcamp.
BOSS KELOID land a Sunday slot on the Sophie stage.  With current album, 'Melted On The Inch' being released last year on Holy Roar Records to vast critical acclaim (Prog Magazine called it "an extraordinary piece of work"), we're excited to welcome the prog metallers back to Catton Park.  Witness their musical mastery via the video for 'Chronosiam' here; https://youtu.be/PbajHpfW3cs.
German crossover thrash squad DUST BOLT snag themselves a Saturday slot on the Sophie stage. Their brand new album, 'Trapped In Chaos' was released last month via Napalm Records.  Check out the video for album opener, 'The Fourth Strike' – https://youtu.be/aKryFh-upx8 and warm up those necks for their thrashtastic set in August!
RED METHOD romp into a Saturday slot on the Sophie stage.  The band, comprising former members of Meta-Stasis and The Defiled, are set to release their debut album, 'For The Sick' sometime this year.  Investigate their sound by watching the video for 'Split' over on their YouTube channel – https://youtu.be/kb_hacCAId0.
Making your travel plans yet and usually come by coach?  We asked you to let the good folks at Big Green Coach know if you wanted a new pick-up point in your town and if there was enough interest, they'd look into it.  They had such great response, they've added an extra 13 pick-up points for their BOA coaches! Travel direct from your town and get dropped off inside the BLOODSTOCK gates, bringing your camping gear and supplies with you!  Say hello to a total of 34 locations, with prices for a return ticket starting at just £32.  The full list now runs as follows; ABERDEEN, BIRKENHEAD, BIRMINGHAM, BRADFORD, BOURNEMOUTH, BRISTOL, CAMBRIDGE, CARDIFF, CARLISLE, CHESTER, DUNDEE, EDINBURGH, EXETER, GLASGOW, GLOUCESTER, LANCASTER, LEEDS, LIVERPOOL, LONDON (Victoria Coach Station), MANCHESTER, MIDDLESBROUGH, NEWCASTLE-UPON-TYNE, NEWPORT, NORWICH, OXFORD, PERTH, PLYMOUTH, PRESTON, SHEFFIELD, SOUTHAMPTON, SUNDERLAND, SWANSEA, TAUNTON and WORCESTER.   Head over to www.biggreencoach.co.uk/events/bloodstock-festival-tickets-coach-travel to book your seat or your coach + ticket bundle!   Big Green Coach's services were hugely popular last year and many routes sold out in advance of the event, so please book early to guarantee your spot!  If you're coming by train instead and need a shuttle ride from Lichfield City rail station to the festival site, Big Green Coach do those too, so click to their site to secure your place for just £10 (it's more expensive on the day) and get ahead of the rush!
The final allocation of VIP tickets, plus Podpads, Luxpads, Bellepads and Octopads are now on sale, plus a limited number of VIP upgrades (for those who've already purchased a standard ticket).  For full details click to http://www.bloodstock.uk.com/pages/vip-camping. Standard weekend tickets are also in the ticket store, priced £145 (+ fees), snap yours up at http://bloodstock.seetickets.com.
Friday night's headliner SABATON, Saturday's top dogs PARKWAY DRIVE and Sunday's bill toppers SCORPIONS, join ANTHRAX, DIMMU BORGIR, CHILDREN OF BODOM, CODE ORANGE, POWERWOLF, SOILWORK, CRADLE OF FILTH, THY ART IS MURDER, TESSERACT, METAL CHURCH, SOULFLY, DEATH ANGEL, DEE SNIDER, QUEENSRYCHE, ELUVEITIE, SWALLOW THE SUN, EVIL SCARECROW, ROSS THE BOSS, GRAND MAGUS, ROTTING CHRIST, INCITE and HYPOCRISY on the Catton Park stages this August.  With more than 80 bands to go, stay tuned for even more artists to be announced soon!
Subscribe to the BLOODSTOCK e-mailout to get band and news announcements as they happen!  Click through to http://eepurl.com/dKZrG-/ to sign up.
BLOODSTOCK will take place at Catton Park, Derbyshire on 8th-11th August 2019.  Get additional information over at www.bloodstock.uk.com.