Irish Rockers ElevationFalls Announce German Dates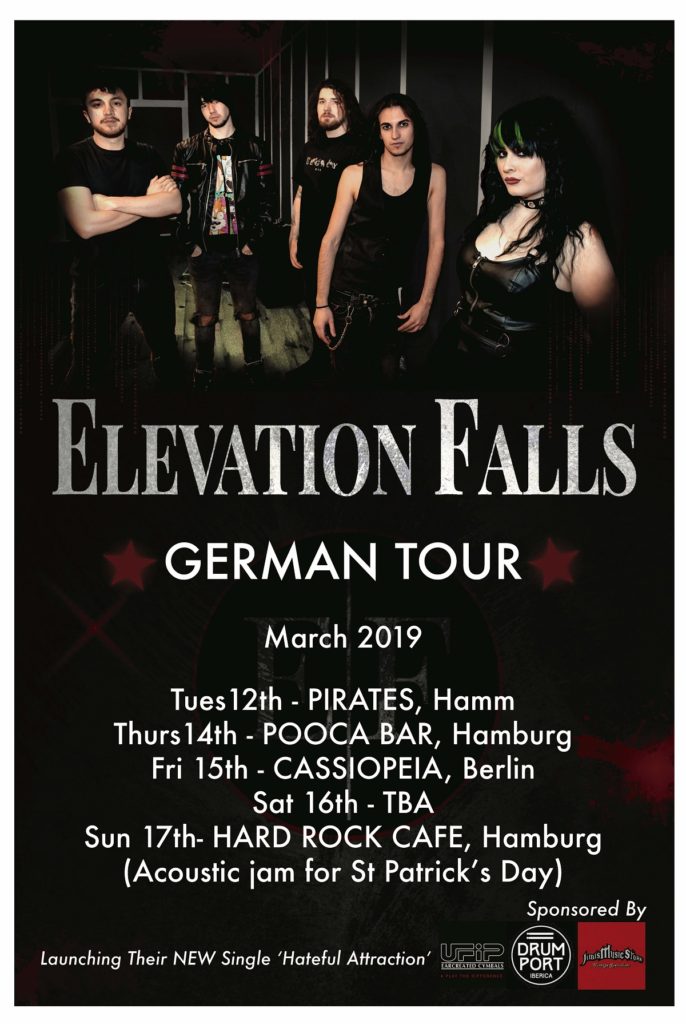 Quintet Set For Four German Shows
Irish rockers ElevationFalls are set to head to Germany in mid-March for a run of dates!
The band will appear in the following cities:
12th TUE: Pirates | Hamm
14th THU: Pooca Bar | Hamburg
15th FRI: Slaughterhouse | Berlin
16th Sat: TBA
17th SUN: Hard Rock Cafe | Hamburg
Formed by vocalist Hazel Jade in late 2012, Elevation Falls has been a rising contender on the flourishing Irish Rock/Metal scene thanks to their captivating live shows and powerhouse Rock song structures.
A slew of live shows and tours followed in the UK and Europe as well as festival appearances including Electric Picnic in 2013 & 2014 (Ireland), Vantastival 2015 (Ireland), Knockanstockan (Ireland) 2015, UFO Festival 2016 (Croatia), Sunflower Festival 2015,2016,2018 (UK) and Hard Rock Rising Ireland winners 2016/2017.
The band's motto 'Love & Roar' perfectly sums up the sound of Elevation Falls. Having released their debut album, "What Will Be" in April 2018, various media platforms quickly picked up on the sprawling hard-rock fury, huge choruses, furious duelling guitar work and brimming energy leading to "Armies Rising' being selected for the June cover mount on Classic Rock Magazine alongside Halestorm and Weezer.
Currently writing/tracking a follow-up EP to 'What Will Be', Elevation Falls will be venturing over to Germany in March 2019 for a string of dates, including Hard Rock Cafe Hamburg for a showcase with their new single 'Hateful Attraction', before gearing up for the release of their EP and more dates which will be announced early 2019.