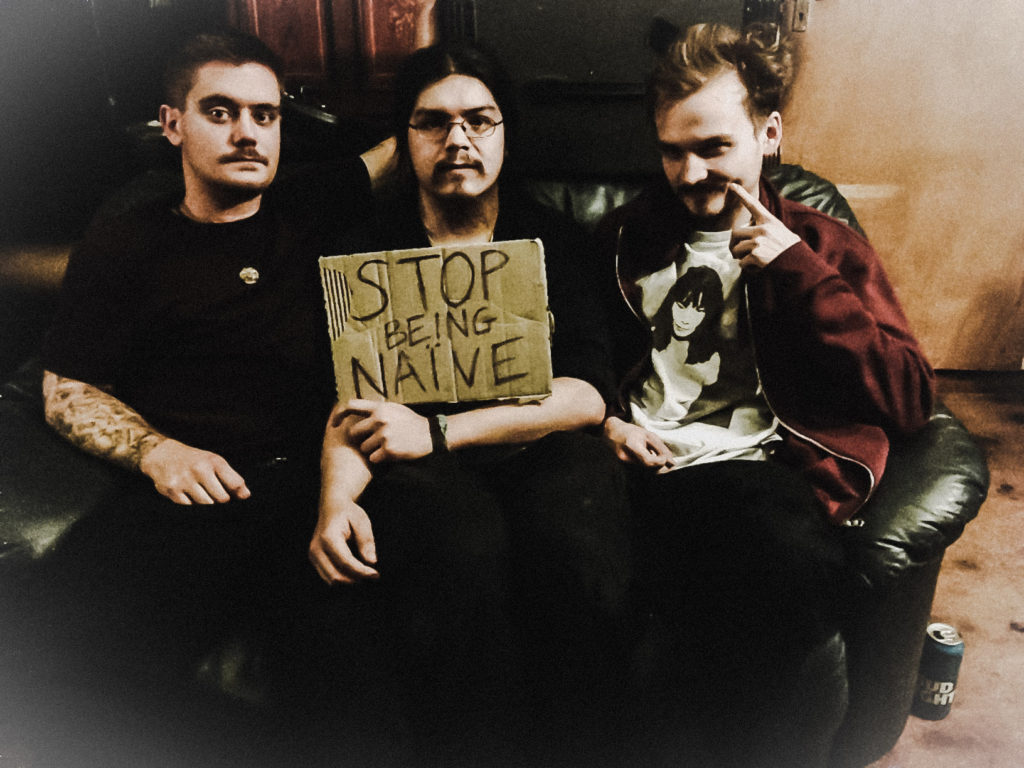 Uneasy Listening Trio Under Release New Video
Band Releases Clip For New Single "Malcontent"
Uneasy listening trio Under have unveiled their new video for latest single "Malcontent"!
When asked on the theme behind the song, the band stated:
"Andy (Preece – drums, vocals) came up with this suitably grinding, droning riff while bored out of his mind waiting outside a changing room. As we arranged the overall tine, adding Mayo's signature noise and our usual uneasy rhythmic approach, we tried to accentuate that feeling of anxious horror and discomfort as much as we could. To reflect this feeling I wrote the lyrics to invoke that sickly desperation apparent in anybody hungry for power."
The new video can be found here: https://www.youtube.com/watch?v=YLosMkzzq24&feature=youtu.be
[youtube width="800″ height="600″ video_id="YLosMkzzq24″]
Their new album, Stop Being Naïve, is available now from APF Records.
Under are a trio from Stockport, Greater Manchester. Formed in 2016. Though rooted in the blueprints of Sludge and Doom Metal, their sound is harder to pin down with elements of Prog, Noise and Avant Garde creeping in. Under play with jagged, slow, off kilter riffs that tease the listener into a false sense of security with dark and abstract lyricism evoking a trippy and sinister unease. The trio cite the likes of Swans, Mr. Bungle, The Melvins and Radiohead as prime influences.
After the success of their debut EP 'First Attempt' in 2015, Under built up a solid reputation playing frequent live shows in and out of Manchester. In 2016 they embarked on a successful UK mini-tour with Kurokuma.
in 2017 Under signed to APF Records and released 'Slick', their highly anticipated debut full length album, completely self-produced and recorded by the band themselves. The trio successfully built on everything they had been working towards, carefully fine-tuning every detail on the record. 'Slick' was an eclectic listen – chock full of crushing riffs, odd time signatures, and a mixture of aggressive screaming vocals and more relaxed tripped out clean sections. All three band members provided vocals, often harmonizing together to create epic melodic textures.
In support of the "Slick" Under played live shows throughout 2017 and early 2018: both as headliner and as support to Whores, King Parrott, Church of the Cosmic Skull, Slabdragger, Elephant Tree, The Hyena Kill, Hundred Year Old Man, Gurt, Part Chimp, Primitive Man and Slomatics. They also played the Dreadfest, Cvltfest and Gizzardfest Festivals and the APF Records Showcase in Manchester.