Under Blue Lights- Durga Usagi Interview
Drowning in colour and oozing creativity, we talk to Durga Usagi, the creator of UNDER BLUE LIGHTS about cartoons, art and her work as one of the most psychedelic and imaginative make up artists around!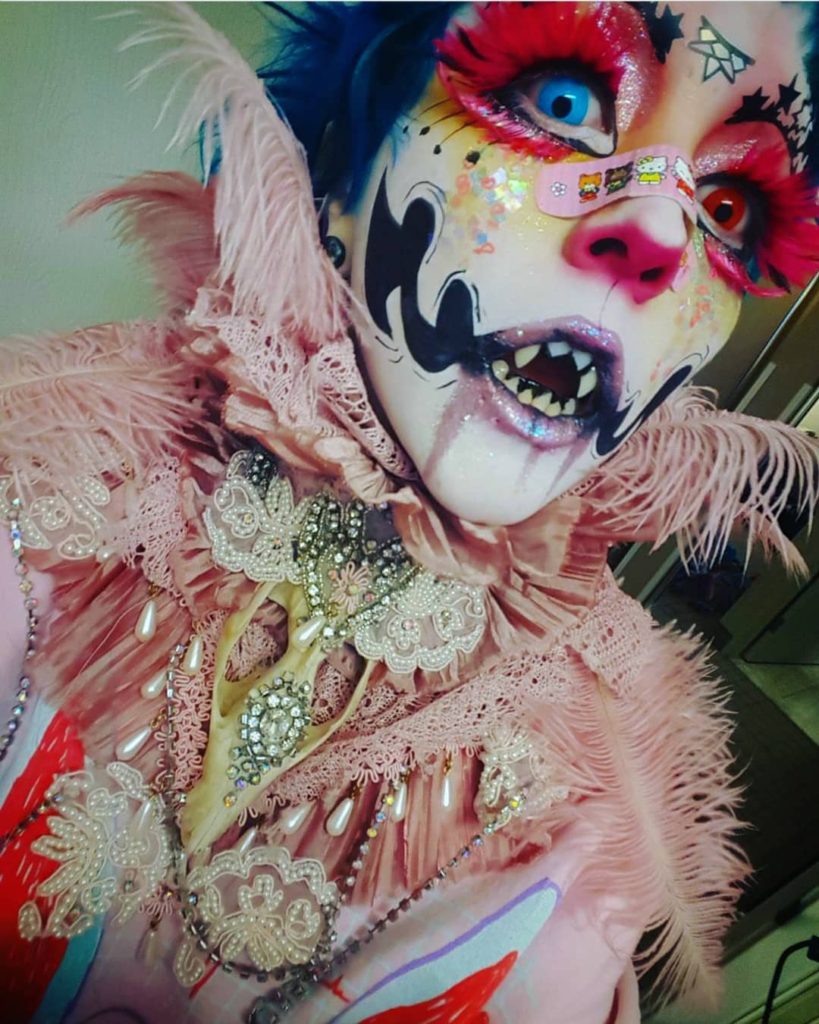 Where will you be writing from today?
"New Jersey!"
You attended M.U.D in Soho NYC, but you did a lot of other jobs prior to becoming a make-up artist. What was it that got you into make-up before attending school?
"I've been a New York City ClubKid since 1997 so it just sort of evolved out of that. It's still evolving always…. I've always been an artist of some kind or another. "
What do you feel was the best thing you learnt at the makeup School?
"Makeup Designory is seriously one of the top-notch makeup and SFX schools you can go to in the world. I went to the NYC campus and they taught me everything about SFX construction, fabrication, and applications. They also majorly focus on the business side of it all, I can't recommend it more."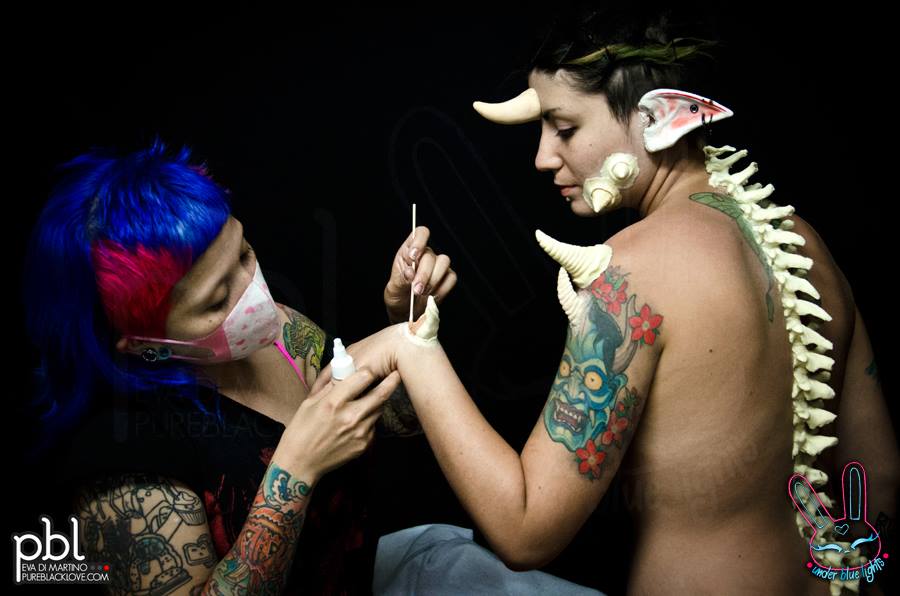 Your characters are bold and cartoonish, like you've stepped out of an 80's videogame or comic book. What are your favourite cartoons and video games –
"ALL I WATCH IS CARTOONS. (Laughs) Mostly anime. I love dramas like 'Chobits' and cutesy anime like Ouran High School Host Club. My favourite games are the Resident Evil series up to part 6…"
Is it fair to say you have a Japanese edge about your work?
"I love anime but I've never been to japan!"
What are your paints/brands of choice when it comes to body art?
"ANYTHING that works like it should and Wolfe FX body paints."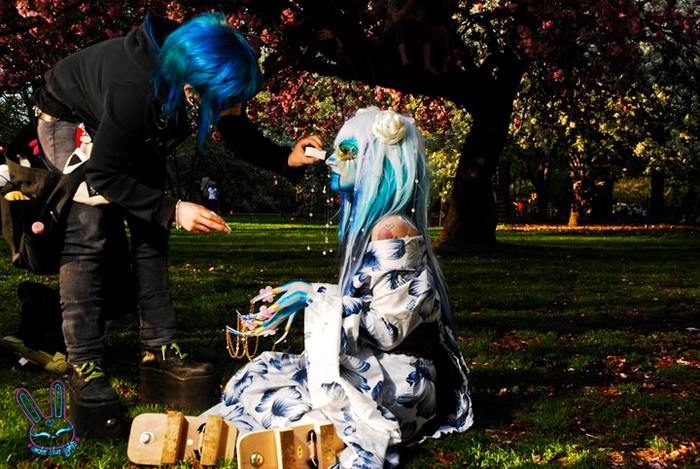 You are also paint and draw some wonderfully imaginative pieces, have you exhibited your work?
"I actually have my first piece on display in a group show right now in Atlanta. It'll be up until August. I'm hoping this is just the first of the art to showcasing much more… And defiantly will incorporate my bodypainting into future exhibitions."
You are also on the Make Up Convention scene, supporting and representing LIT cosmetics. How did this come about? How are you finding all the travel?
"I was their international booth monster for 6 years, I love traveling and the chaos of it all! But I've recently parted ways with LIT."
You have worked a lot with fellow make-up artist Pure Black Love. How did you two meets?
"I found her on Instagram back in 2010 and we've been pals ever since."
You also have a teenage daughter (you don't look old enough!)!! What does she think of your look and work?
"I was 19 when I created her, she's 18 now! Obviously, it's normal to her since she's been living with the madness since day one."
You work and style is very layered and busy, is your home similar?
"YES, it's Peewees Playhouse."
You work with a lot of costume, prosthetics and even false teeth. Who are your go-to people/companies for creating a look?
"Defenz-mechanizm makes all my insane custom outfits that I frequent hard for big events and parties. My list of other designers is massive but I always tag everyone when I post pictures on my social media."
What inspires your work? Are there any artists that that influence or inspire you?
"(laughs) No. Progressing through my life inspires me. Things I experience inspire me. I do admire creativity of others, but I do my best to never pull influence directly from someone else's work. It's also very difficult to impress me honestly…. If you want a specific person who defiantly got my attention this year is 'isshehungry'. For the first time in a long time I got to see some REAL creativity which in these days is nearly impossible if you ask me! She is a breath of fresh air in this current weird world of internet copycats that plague our feeds daily. There is NO ONE else like her doing those looks and fabricating the whole art piece from scratch."
What is in store for UnderBlueLights in the future?
"No solid, solid plans, only to keep doing what I do now."
Figure of 8
Quick fire questions
In your home you will always find… "Pugs"
Your best quality is… "I have a SIQ nose"
As a child, you wanted to be…  "A Vampire"
The last thing to make you laugh was… "My pugs"
Your pet peeves are… "People who don't love pugs"
Something that may surprise us about you… "I'm the most normal weirdo you'll meet"
Your favourite movies are… "Too many to list but mostly sci-fi and horror films"
Dinner with the dead! Who is invited? "That sounds very smelly! No thank you (laughs)"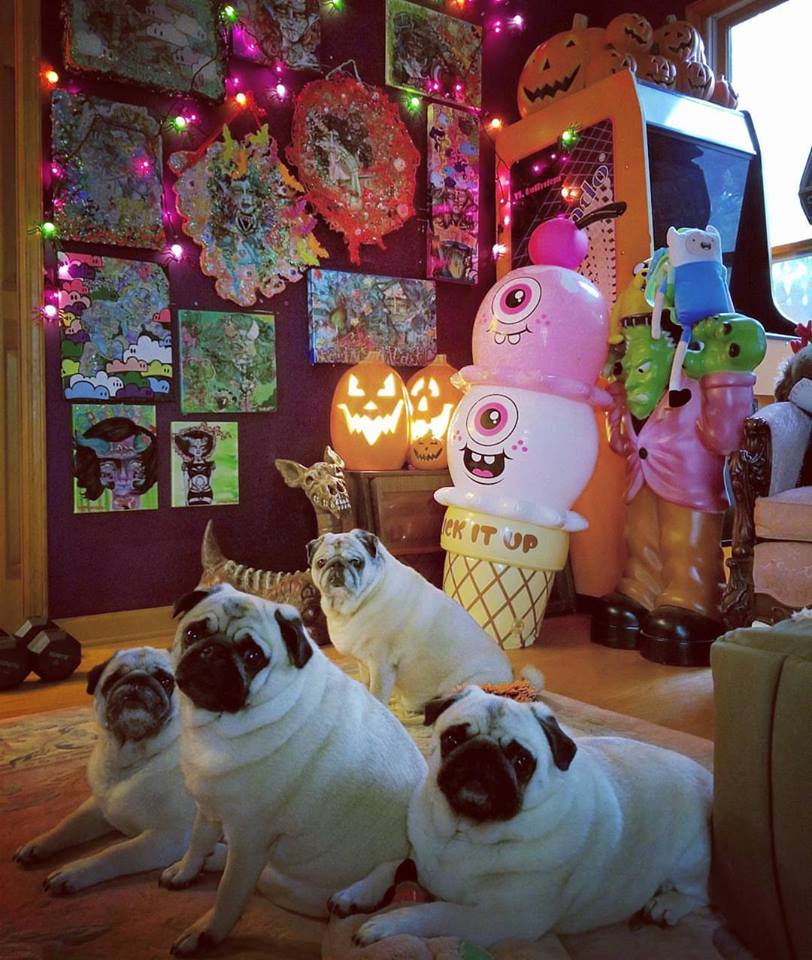 By Alice Bizarre
https://www.facebook.com/alicebizarremakeup/
Alice Bizarre is an SFX make-up artist and film writer, a prop maker and prosthetic sculptor based north of London.Wife of a wolfman and mummy of a baby bat.