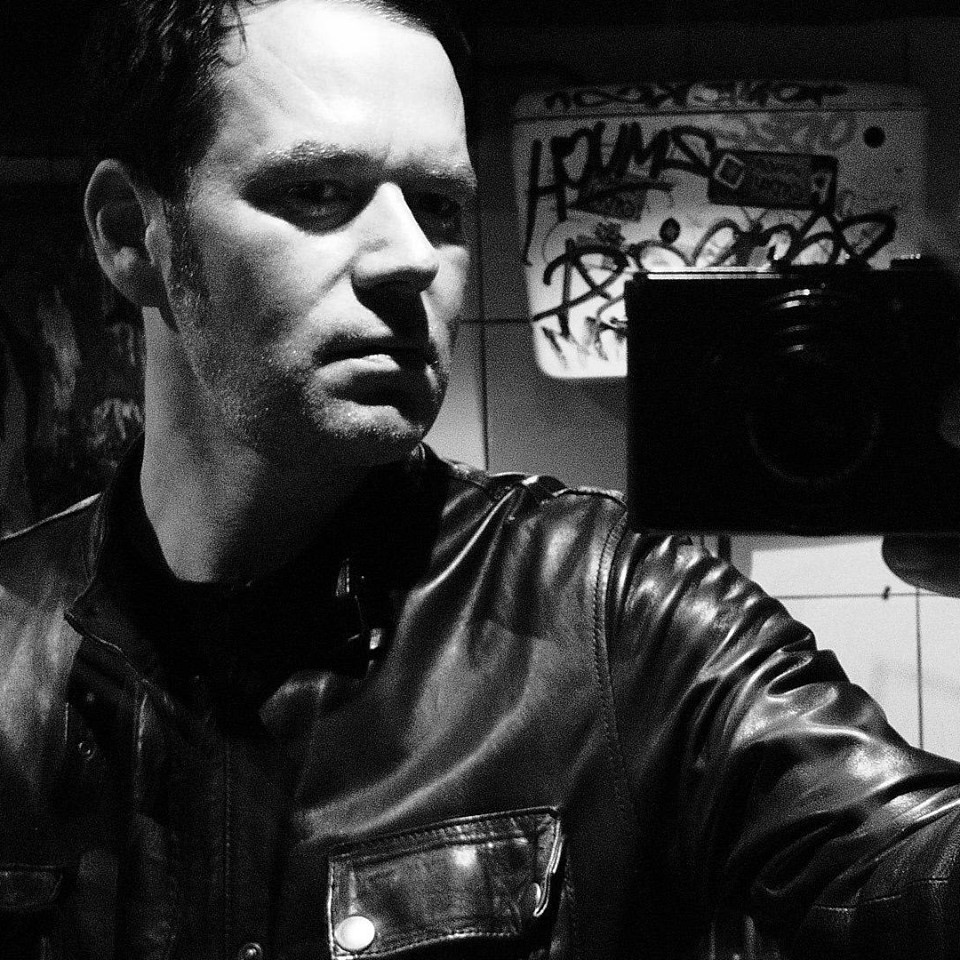 Primal Cinema: A Thomas Eikrem Interview

Every now and then an exceptional artist is thrown into the Cinematic landscape. One such person is Thomas Eikrem; movie Director and creator of Film Rage Magazine. From Transgression cinema to his disinterest in realism, Eikrem's work has a primal quality, reflecting the gritty brutality of life. Sexually charged gorillas, global violence and Flesh eating Apples, Thomas Eikrem discusses with us his art and own visionary world and characters.
Where will you be writing from today?

The George and Vulture, a pub in the City on London that was built in 1748. They do cheap and cheerful steaks and ales. I just screamed at the waiter: "Bring me a live cow. I will tear off what I want and ride the rest home!"
You are a Director, Producer and writer. Was there a specific moment that made you want to be a film maker? How did you get started into directing your own films?

I grew up in Trondheim, Norway – a small town with not a lot going on. We had one television channel. The video revolution changed all of that, so at the age of 12 I started watching all kinds of movies and soon started developing a taste for the weird and wonderful, the eccentric and the extreme, the bold and the bizarre. I made my first movie at the age of 15: "Attack of the Flesh Eating Apple of Horror".
Your films have a Grindhouse, surrealist and even slight German expressionist quality to them. How did you develop your style?

I like mixing things up, so I try to add all kinds of elements from genres I like. I prefer to shoot on film, and I love black and white, but I am flexible and it is important for me that every movie is different. What tends to stay, however, is the rhythm: my editing technique is very structural and mathematical. I have little interest in realism and hence have a soft spot for horror, fantasy and surrealism. I like German expressionism because of the European gloom. Finally, 1970s grindhouse has a relentless energy that I admire.
We heard that your movie "Detroit Rising" was put on hold for a long time, could you tell us a little more about that? 
"Detroit Rising" was a nightmare but will be completed this year. Most of it was shot years ago, in Detroit and starring Jim VanBebber, who is brilliant. So far so good. Shaun Costello, director of "Waterpower" and "Forced Entry", started writing it, but was unable to complete the narrative. I brought Tim Dry, who plays the creature in "Xtro", in to do a rewrite and he did that in a couple of days. However, two of the actors I had lined up, David Hess and Richard Lynch, passed away, so a lot had to be shot again. Eventually, I put it on hold and made "Le Accelerator". But, it is back and I am shooting the few remaining scenes over the summer. In retrospect, I am glad I did. The film is about a shell shocked Iraqi veteran who returns to Detroit and finds the American Nightmare rather than the American Dream. It could not be more relevant. It is a raw movie and some of it will be hard to watch.
You have a lot of short films containing some very surreal characters with uniquely talented people. How much of the narratives do you create around the performers? How do you begin your casting process?

A lot. I like people who bring a lot to the table. 80% are improvised on the day. I like to discuss ideas and am always open for input, ideas, eccentricities and creative madness. Quite a few of them I know through my movie magazine, FILMRAGE, which I have been publishing since 1990. Others are referred via friends. I am very open minded, but I will only work with people I like, because if I do not have fun on the set, it will impact the film. And, sometimes I just come across someone who looks interesting and I yell "Hey, wanna be in a movie?"
Your work has been described as part of underground transgression cinema; do you think this is a fair description?
Very much so. I came across Cinema of Transgression in the late 80s and think it is a hugely influential and neglected part of American cinema. I brought Lydia Lunch to Trondheim to do a performance in 1990 and Nick Zeed in 1993 to show a number of his films; we got more than 500 people to both events. Richard Kern is a friend, and we tend to do breakfast and talk crap when I am in NYC. He is incredibly talented, and I cannot wait to see what he is up to next.
You own a huge collection of films! Who are your Cinematic influences and inspirations?
In no particular order:
Sam Peckinpah: for the violence and no compromise
George A. Romero: for making the best communist zombie film ever: "Dawn of the Dead"
Kenneth Anger: for occult art that's totally unique
Alejandro Jodorowsky: for making what I regard the best movie of all times: "El Topo"
Cinema of Transgression: for making punk cinema
Jim Jarmuch: for being weird and getting away with it
Lasse Braun: anarchist and pornographer, with edge and his heart in the right place
And then a few oddball movies: "Night Flowers", "Born to be Bad", "Werewolves on Wheels", "The Defiance of Good"…

There are some anti-religious/ anti-establishment, fetish and even pornographic themes in your films (especially in Detroit Rising). Do you find it hard to get mainstream funding or output with such controversial content?

Yes, even a movie like "Le Accelerator", which I do not regard as extreme by any stretch of the imagination, is usually rejected, consistently by any big festival. The modern world is strange: on one side you have the increase of sexism, violence and racism. On the other you have an extreme political correctness. It does not make any sense to me. Political correctness has nothing to do with tolerance. I tend to get a lot of play at smaller festivals, especially in Germany and Japan, for obvious reasons. And, I do private screenings, e.g. clubs and parties.
You are the publisher of exploitation movie magazine FILMRAGE. Can you tell us about how it all began?
It all started in 1990. I contacted Buddy Giovinazzo to talk to him about his great movie "Combat Shock", which inspired "Detroit Rising". Our conversation turned into an interview and I published the first 32 page fanzine a few weeks later. It is still going strong, almost 30 years later. It's published in 665 copies now, and the current format is 11 x 12" coffee table book.
You film on Super 8mm or 16mm.  How do you feel your films fit in to today's technological world?
Super 8mm is great, looks great and you can shoot fast and furiously and get away with anything guerrilla style. KODAK will actually release a new Super 8mm camera, the first in decades. That said, I have nothing against digital (except for the fact it makes you lazy) and my next feature "Beasts of the Road", shot in Nevada, will be digital.
How do you feel about distribution of films these days (free streaming vs DVD sales)? Do you miss VHS at all?

Both VHS and DVD were great, because it meant that filmmakers were getting paid. I have yet to find any streaming platform that works for me and until I do, there will be private screenings and festivals only. The problem with digital distribution is that most people do not want to pay for entertainment or art anymore and will be happy to enjoy the films or music pirated on the net.
"Le Accelerator" was filmed in a number of places around the globe. Keeping small crews and mixing cultures, do you feel it translates on screen?

I do indeed. After all, the film is about the only thing all of have together, regardless of race, location, dreams, lives and lifestyles, we are going to die. It was shot in London, Copenhagen, Hong Kong, NYC, Marrakech, Abu Dhabi and Bangkok.
Having created "Le Accelerator", "Detroit Rising", "Vampiras Satanicas' and many other films. What is next for you?

"Vampiras Satanicas III", when you have the time, and a new feature called "Beasts of the Road", about a couple of actresses in a post Weinstein world who has had enough of doucebags, escape Hollywood and hit the road. Shooting in 2019, after the post production of "Detroit Rising".
Figure of 8 Quick Fire Questions
In your home you will always find… Wine!
Your best quality is… Open for new ideas, always.
As a child, you wanted to be… A hamburger!
The last thing to make you laugh was…. a movie called "The Pink Angels" – could not have been made today!
Your pet peeves are… reality TV, rednecks, hipsters
Something that may surprise us about you…I have a Master Degree in Theoretical Physics
Your favourite movies are… "El Topo", "Taxi Driver" and "Body Love"
Dinner with the dead! Who is invited? Jeffrey Dahmer, of course.
By Alice Bizarre
https://www.facebook.com/alicebizarremakeup/
Alice Bizarre is an SFX make-up artist and film writer, a prop maker and prosthetic sculptor based north of London.Wife of a wolfman and mummy of a baby bat.