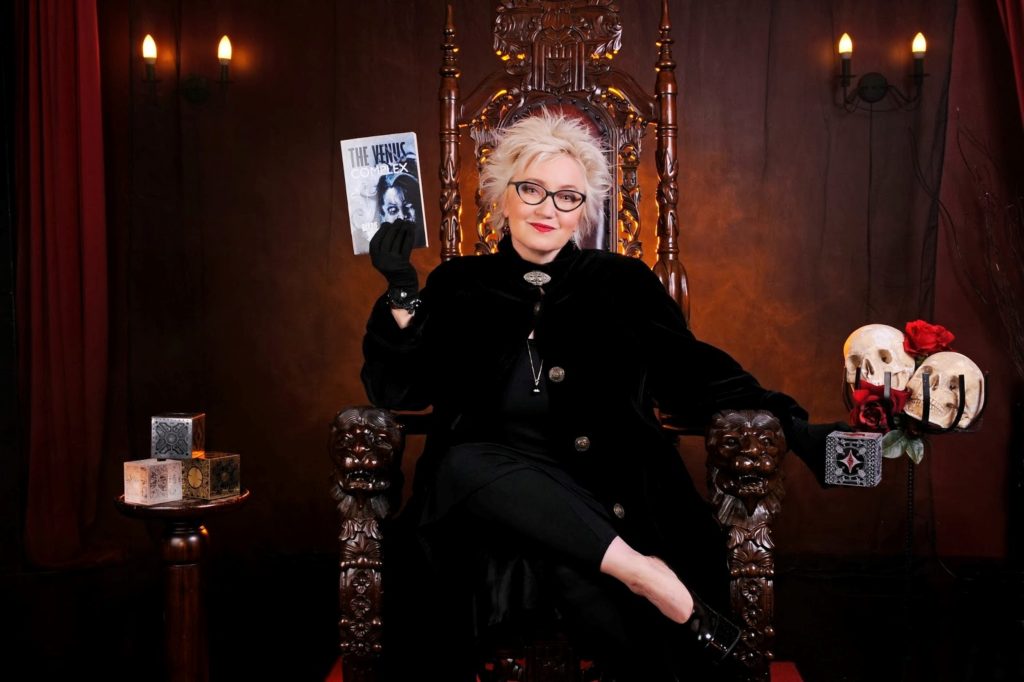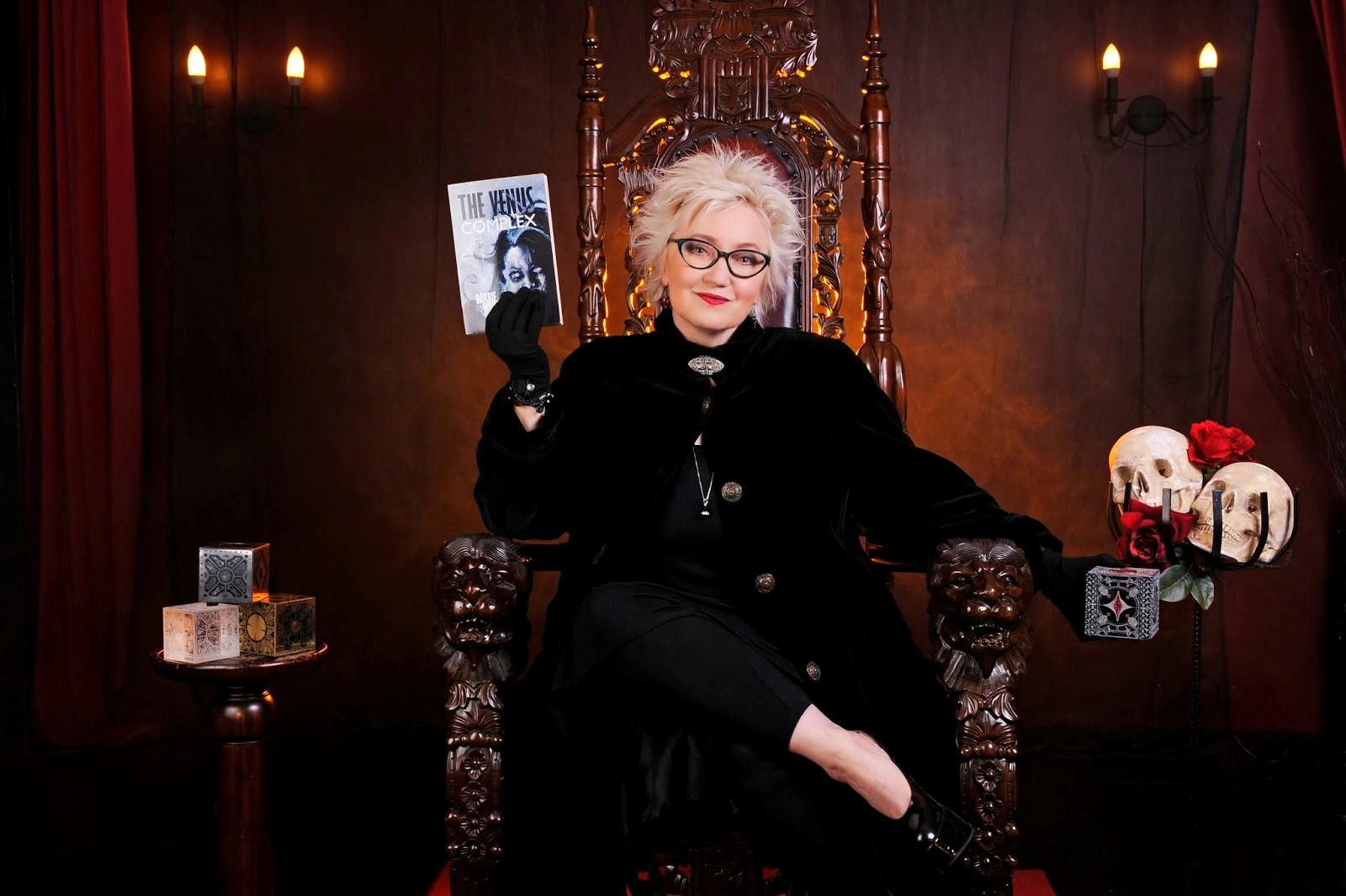 [Barbie Wilde in Women in Horror Calendar photo by Tina Korhonen]
Exquisite Desires: An Interview with Barbie Wilde
Punk Robotic Mime performer to the fearsome Female Cenobite in Clive Barker's Hellbound, Barbie Wilde shares with us her life as a movement artist, horror icon and her twisted approach to literature.
Where will you be writing from today?
My exceedingly cluttered desk…
You have a fascinating background in classical mime and various cabaret and robotic style dance troupes, you're most notable one being SHOCK. Could you tell us a little about how this all started and your experience as a movement artist?
I was studying Drama and Anthropology at the University of Syracuse. I decided to do a semester in the University's London program. A friend of mine has just done the same and she recommended checking out the Dance Centre in Covent Garden. I went there one evening and joined a mime class. The teacher was called Desmond Jones, who had in turn been taught by Étienne Decroux, who was Marcel Marceau's mentor. That evening, I met my partner for the next four years, Tim Dry. He was tall and thin and I was short and thin(ish). We had to do a mime where we played two fat people, which was a lot of fun, so I was hooked.
Tim (and soon I) were part of Desmond's mime troupe SILENTS, then Tim and I branched off to create a mime show called DRAWING IN SPACE. We moved out of Fringe Theatre into the Disco scene when we joined SHOCK and used our classical techniques to do puppet and robotic mime to 80s electronica music.
SHOCK quickly became popular during the New Romantic period in the 80s and we moved from disco to trendy nightclubs to supporting artists like Ultravox, Adam and the Ants, Depeche Mode, and more. Our highlight was supporting Gary Numan at Wembley Arena. We also did a lot of TV shows and appeared at the Ritz Club in New York City. However, although we had a lot of critical acclaim and some club chart action, we didn't have any commercial hits with our singles "Angel Face" and "Dynamo Beat", which were released on RCA Records. Eventually, we all went our separate ways.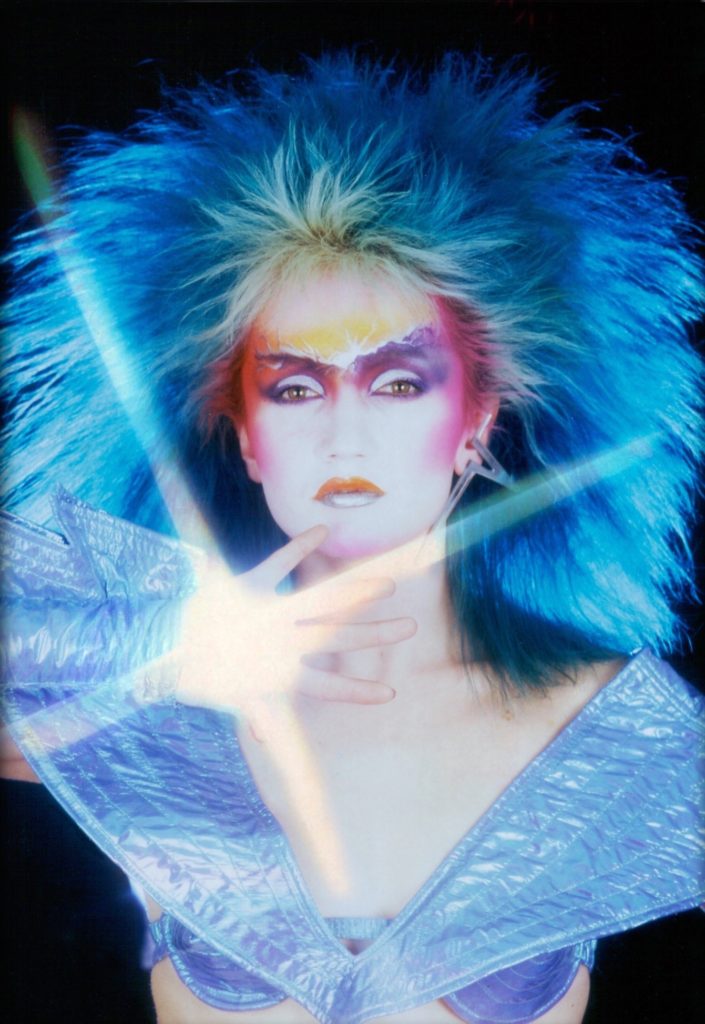 [Image: BW on the cover of Avant Garde Hair 1981]
Having been described as a multi-dimensional artist. A performer, presenter, writer and actress, do you have any preferences?
I'll always love performing in some capacity. It felt very natural for me to be a TV presenter. However, I feel that I've come into my own as a writer. I'm creating my own worlds and mythologies, instead acting out other people's.
Our readers will know you best from your role as the Female Cenobite in Hellbound: Hellraiser II. How did getting the role come about? Had you been a Clive Barker fan prior to filming?
I simply went to the audition, had a chat with the director, Tony Randel, and got the part. It may have been because of my mime training. (Clive Barker is fascinated by mime.) It may have been because I knew what the word "Cenobite" meant. (Tony Randel thought Clive made it up.) Yes, I was very familiar with Hellraiser. It was one of the most unique and disturbing horror films I'd ever seen.
Your look was very striking, especially the neck piece! Had you much experience with prosthetic make-up previously? How did you feel being made up and looking into a mirror for the first time as a cenobite?
I'd never had prosthetic makeup before. The process was an arduous one. Many hours having casts and busts made of my head, makeup and costumes test, etc.  I must admit the first time I looked into the mirror in full Cenobite makeup, I was really taken aback. Where was that big-haired, 80s TV presenter? Where was ME? (And being bald as well was a bit weird.) Then I started to revel in the makeup design. It was empowering to look so extreme. (Of course, I'd always been attracted to extreme looks in the early 1980s with my blue hair and outrageous outfits, so a bit of leather and corpse flesh wasn't that big of a stretch, I suppose!)
[Image: Female Cenobite with Knife]
As an art lover, how do you react to people creating art around your iconic cenobite look, even having your image tattooed on them?
Wow, it's amazing! So many of the artworks and tattoos I've seen are just gore-geous. It's a wonderful tribute to the character, who has obviously piqued people's imagination.
My first experience of your writing was when reading "Sister Cilice" in Hellbound Hearts (an anthology inspired by Clive Barker). It is a beautiful and grotesque rendition of the background to your own cenobite role. How did you find creating this background to a character that is directly connected to you?
Well, the actual idea of the story had to come directly from Clive Barker's original novella, The Hellbound Heart, for legal reasons, and not from the movie. However, I was inspired by the fact that the Lead Cenobite in that tale was female. (For Hellraiser, they changed the Lead Cenobite (as Pinhead was called in the first movie) to a male, because they felt that having three powerful female lead characters was too much.) I'd never written a short story before, but this one popped out in a week. I felt very moved by Sister Veronica's fate and I just loved the idea of her reaching out to the Order of the Gash for release in order to metamorphose into Sister Cilice, the Female Cenobite.
The way you write has an almost poetic quality to such a controversial mix of eroticism and religion.  What is it about paraphilia's and desires that you enjoy writing about?
Well, I'm fascinated by humans, human psychology and motivations. Basically, what makes people tick? And sex and desire is a powerful element of the human psyche. To be honest, I try not to over-think when I write. I just open a tap in my head and let it flow out. I'm dependent on inspiration and my work is very character driven. When that character is as fully formed as possible, then I just let the character go on their merry way, with me chasing after it, recording his or her adventures.
[Image: Voices of the Damned (Cover Artwork by Clive Barker]
You have also written various short stories, including your own collection of short horror stories, Voices of the Damned. How did you find writing your debut novel 'The Venus Complex'? We hear there was a lot of research involved!
Yes, I was lucky enough to be able to interview a homicide detective at the Manhattan North police precinct and a few psychologists. Also, a close friend of mine was a dominatrix — one of the most notorious in NYC. We were both fascinated by serial killers for very different reasons. (I'm interested in them because they are so radically different from me. Her greatest sexual fantasy was to have sex with one!) She also had a Masters-Degree in Human Sexuality and she gave me a lot of insight into paraphilias and the dark side of sexual desire. What I wanted to do in The Venus Complex was to explore the sexual mindscape of someone who decides to become a serial killer. It's written in the first person, in diary form, so we're in Professor Michael Friday's head every step of the way. It was strangely liberating writing from a man's viewpoint.
Do you think writing about such disturbing subject matter you have been able to explore the way people view sexuality and the darker psyche?
Absolutely. As I mentioned previously, sex is part and parcel of what we are as human beings. It's strange how so many of us are embarrassed about something that is so essential to the human race and its continuation.
 Delivering your novel in the first person gives a certain intimacy with the character, was this intentional?
Very much so. I started out writing a police procedural with a plucky female forensic psychologist as the heroine, but I got bored halfway through. It was just like so many other books that I'd read before. I wanted to do something different. Something that didn't focus necessarily on the violence of the acts, but the motivations and the sexual fantasies of the killer. It's not a whodunit, it's a whydunnit.
[Image: Doug Bradley,  The Venus Complex (Cover Artwork by Daniele Serra) and Barbie Wilde]
We heard you are getting fellow cenobite Doug Bradley to voice the audio book! Was this a natural progression/choice?
I am so thrilled that Doug is narrating the audio book. I'd given the book to Doug's partner and he read to her while she was sculpting. When they mentioned this to me, I replied, "Wow, I would love to hear Doug reading my book out loud," and he said, "Well, let's talk about that." Doug has done many audio books, including Doug Bradley's Spinechillers, which was hailed by Audible as "the world's biggest and best classic horror collection" and by Guillermo del Toro as "remarkable." In 2017, he recorded Clive's collection of tales, poems and fragments, Tonight Again, so Doug is very familiar with the anatomy of the audio book world.
Would you like 'The Venus Complex' to someday be made into a film or do you think there would just be far too much censored out?
I'd love to see it as a film. Re: censorship. I seem to recall that Basic Instinct was pretty racy and it came out way back in 1992, so I don't see that many barriers to a movie adaptation of The Venus Complex. A clever director can film scenes that don't reveal too much – that would suggest sex and violence in an intriguing way.
What is coming up next in the world of Barbie Wilde?
I'm working on a new novel that is a real-life ghost story. I'm finishing up a couple of screenplays. I'll soon be going into pre-production for a film project called Blue Eyes, based on my short horror story, co-written and directed by Chris Alexander and starring Nivek Ogre.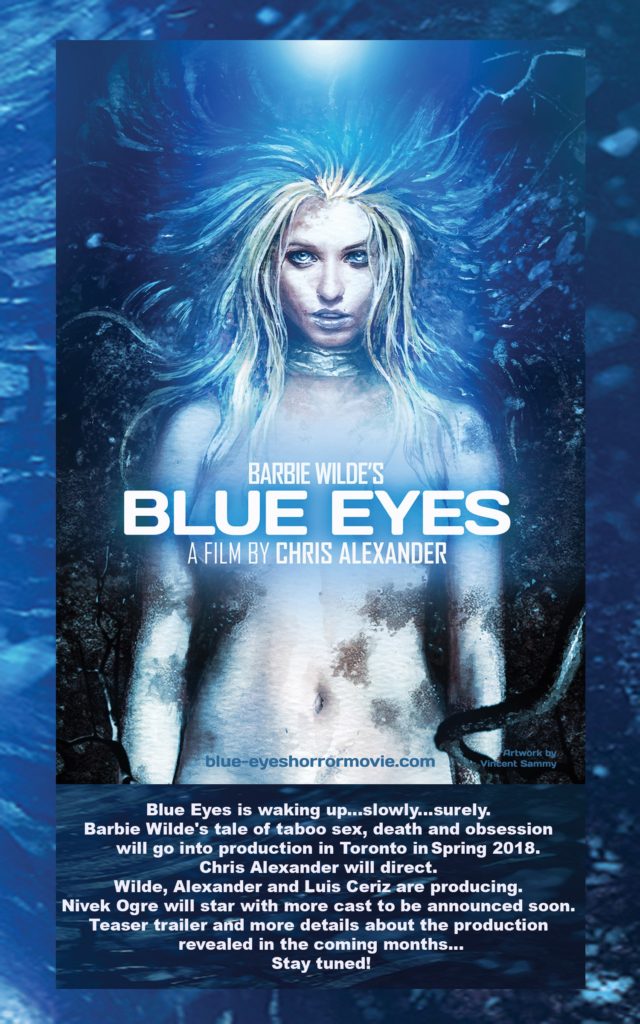 [Blue Eyes Poster – Artwork by Vincent Sammy]
Figure of 8 – Quick Fire Questions
In your home you will always find…
Books, art, movies and too much tech!
Your best quality is…
I have a very sunny nature, considering that I write some dark and twisted stuff.
As a child, you wanted to be…
Please don't laugh: an international assassin. Yes, when other little girls were dreaming of their Barbie dolls, I was dreaming of assassinating people. I blame TV shows like The Man from UNCLE, The Girl from UNCLE, The Avengers, etc.
The last thing to make you laugh was…
My partner. He has the most unusual and wonderful way of looking at things.
Your pet peeves are:
Rudeness, people masturbating with their mobile phones, religious fanatics of any persuasion, extreme political thought of any persuasion. As someone once said: "I can't stand intolerant people!"
Something that may surprise us about you…
I sometime get a little bit embarrassed by what I write. My partner can always tell when I'm writing sex scenes because when he comes into my room, my face is bright pink.
Your favourite movies are…
Too many to choose from!
Favorite serial killer films: Psycho, American Psycho, Se7en.
Favourite horror: Hellraiser (of course), The Innocents, The Haunting (1963), Invasion of the Body Snatchers (1956), Audition, The Ring (2002).
Favourite Sci Fi: Alien, The Thing From Another World (1953), Blade Runner, Under The Skin, Arrival (2016).
Favourite film that I could watch any time because it's so perversely wonderful and probably the best thing that Johnny Depp has ever done: The Ninth Gate.
Favourite recent film: Shape of Water. Actually, anything by Guillermo Del Toro, as long as it doesn't have enormous robots in it.
Favourite Vampire: Only Lovers Left Alive, The Horror of Dracula.
Honorable mention must go to the TV show The Twilight Zone, which really made an impression on me when I was a kid. Rod Serling is one of my favorite writers, along with Patricia Highsmith, Clive Barker, Hemingway, Dashiell Hammett, Raymond Chandler and Shirley Jackson.
Dinner with the dead! Who is invited?
Peter Cushing, Orson Welles, Oscar Wilde, a handcuffed Ted Bundy (for the safety of the other guests), Mary Shelley, Mata Hari, Mae West and Artemisia Gentileschi (a female artist from the Baroque period who painted the deliciously violent Judith Beheading Holofernes, one of Professor Michael Friday's favourite paintings).
[Image: Barbie and F Cenobite (Artwork by Andrew Tong, based on a BW photo by Robin Chaphekar]
By Alice Bizarre
https://www.facebook.com/alicebizarremakeup/
Alice Bizarre is an SFX make-up artist and film writer, a prop maker and prosthetic sculptor based north of London.Wife of a wolfman and mummy of a baby bat.