An Interview with Little Miss Risk
Talent actress, Burlesque freak, writer, foodie and around troublemaker Tristan Risk A.K.A Little Miss Risk is with us today answering questions about her colourful life, work in the horror scene and life after American Mary.
Where will you be writing from today?
I am currently typing this from my home in East Vancouver, Canada. Nestled in between the North Shore Mountains and the Pacific Ocean, this little patch of Lotus Land heaven has been my home my whole life.
Being a burlesque performer, was there a show you saw or performed in that made you want to pursue it as a career?
Actually, there was no burlesque shows in Vancouver when I started performing. There had been two neo-burlesque troupes prior, that started as Empire Burlesque, and later had a splinter division, The Fluffgirls. Politics waxed and waned and the former relocated to Seattle, and the latter moved to Toronto. I learned about burlesque by finding out about Bettie Page and later Tempest Storm. The most well-known burlesque act that anyone knew about was Dita Von Teese, whom I only knew of from the fetish community. It wasn't until after I started doing it that I saw a troupe perform in Seattle, Glitzkrieg that really blew my socks off. Keep in mind, this was well before Facebook or Myspace, so it was harder to find out about each other because it was still an underground art at that point. I wanted to pursue it because it combined my love of theatrics and comedy with nudity. It had a great empowering message, and it was fun to craft visual ideas for stage that used my sexuality.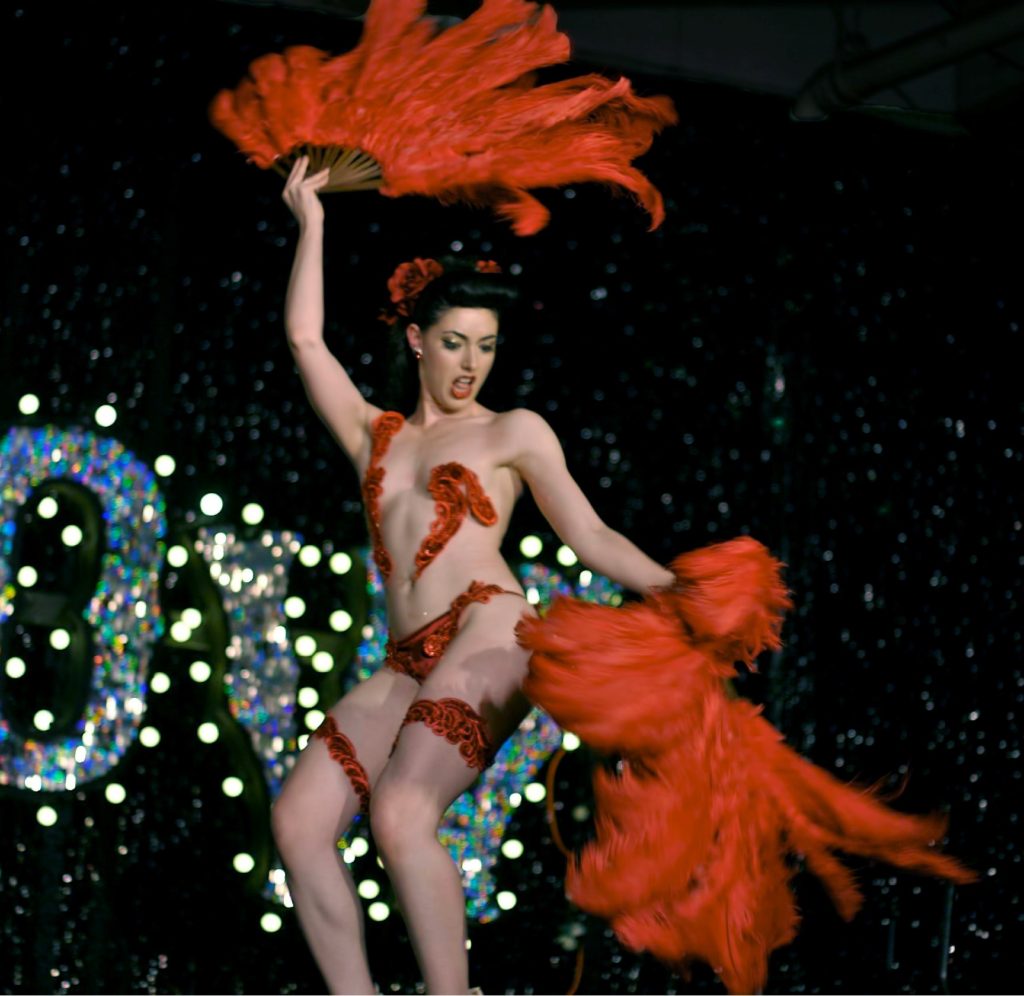 Your acts are so diverse, ranging from classic bohemian and pin up burlesque to horror and cyberlesque! Do you change the style of act depending on burlesque troupe you are part of (Voodoo Dollz etc.) or is it more your own creative development?
I like to explore different genres, different styles. I started as more tradition burlesque to begin with, and quickly reverted to my horror loving self and did zombie burlesque 16 years ago. With the Voodoo Dollz, I was able to bring some ideas to the table, but a lot of it was between collaboration with our performing partners in Big John Bates and the limitations of the stages we performed on. I think its all part of my creative process and growth as an artist.
We hear you are a lover of snakes, what's your favourite type? (I personally like a good hog nose)
We mostly have boas in our home, with a few pythons. I don't have a favourite, but there are some aspects I admire – a cobra's aggression, an anaconda's size and strength. But when it comes down to pretty colours, the Californian Garter Snake is pretty lovely, blood red morph corn snakes are stunning, and I love green tree pythons.
Our readers will probably know you best as Beatress Johnson in American Mary and Val in Frankenstein created Bikers. Tell us a little about how you went from dancer to actress?
I was originally brought onto Mary to be the dance coordinator for the show. In the original script, there was a number of elaborate dance sequences, but budget and constraints what they were, they were scaled back (such is life for independent films). I met with the Soska's and after talking with them, they asked if I was interested in auditioning for the role of Beatress, which I was. I had read the script, and I had been delighted with that quirky character. I auditioned and wound up with the role. After that, I was stripping, and part of stripping is spending a lot of time on the road, going from place to place to work. Which is fine, but remember, being from Canada, it's big and there are lot gaps between clubs. If they had the same numbers a Starbucks, I could have worked around the city, but such was not the case. During that time, Mary was gaining more traction, and I was getting offered more roles. Which interfered with my stripper bookings, so I wound up quitting working in the clubs. So, I tell people I'm a failed stripper, but a successful actress.
Modelling, you are no stranger to makeup and have experienced body painting too! How did you find wearing the number of prosthetic pieces and amount of SFX make-up you did in American Mary?
I loved it. LOVED it. First of all, as a performer, the transformation is such a change. It helps to keep you in character, and it deeply unsettles everyone around you, since no one really knows what your face is doing under there. I will always happily take a role that is mask work, and if mask and suit work come up, I'll nab it. Doug Jones and Camden Toy are two of the legends I look up to, and I want to be representative of women in film by doing more of that type of performing.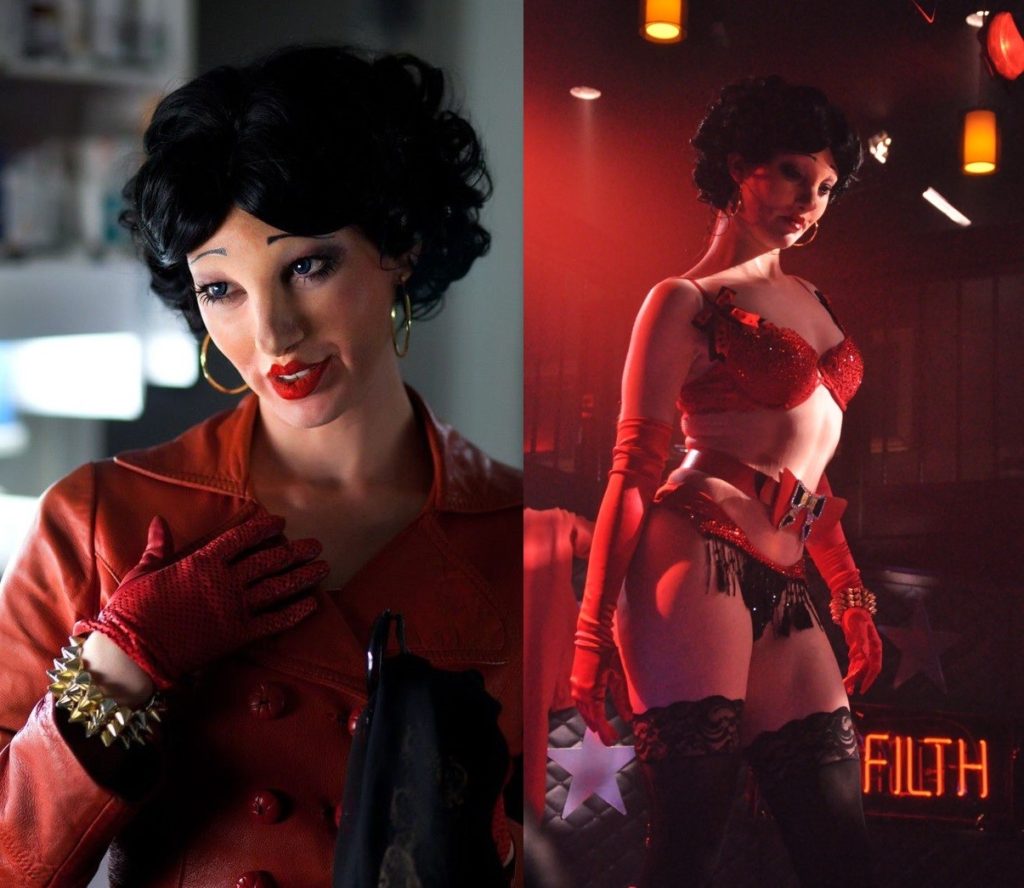 Did you relate to any of the themes of the film, such as body modification or even Beatress' obsessive love for Betty Boop?
Body modification, totally. I can understand how much if you feel one way on the inside that you want your flesh cage to reflect that. For some it's breast augmentation, Botox, split tongue, tattoos, and more. As for the obsessive love thing, I totally understand it. Would I go to those extremes myself, though? Maybe….
After American Mary, you seem to have exploded onto film! Was there anything specifically about acting that got you hooked?
I've always been a performer and a ham supreme. You know the family photo where everyone is looking respectable and that ONE kid is making a face, or sticking spaghetti up their nose and out their mouths… that was me. So, trying to entertain people seems to be a natural instinct for me. I love acting for wearing someone else's skin, thinking different thoughts, and telling a story. It's very addictive to be someone else for a little while.
Have there been roles you have particularly enjoyed playing?
LOTS! I'd say I've thoroughly enjoyed 85% of the characters I've played. A Few favourites are Beatress (American Mary), Yumi (T Is for Torture Porn), Val (Frankenstein Created Bikers), Mitzy (Call Girl), Helena (Mother of Beauty) and my newest favourite, and Madame Pong from Aliens Ate My Homework. I'd love to play more creatures and hopefully a mermaid, so I can show off my swimming skills.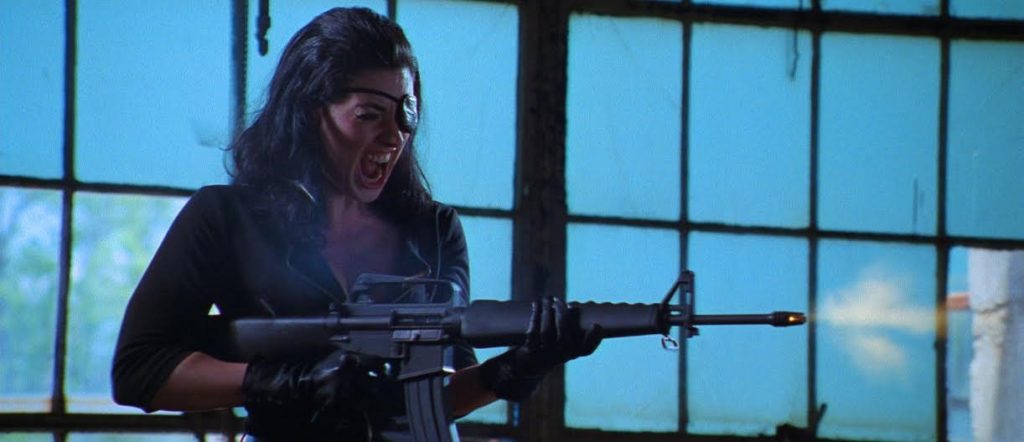 You have also stepped behind the camera writing and producing. How have you found that in comparison to performance?
I've been writing all my life, and I wrote my first scripts in high school. One was even performed by the Drama Class, and I won't lie, I was pretty darn proud of that! I love crafting stories, so it's a lot of fun to write my strange thoughts out for others. I like behind the camera, the more time I spend there, but I have yet to make the leap from being both in front of and behind the camera at the same time. I'm not yet at the point of walking and drinking coffee, so I don't want to over complicate things for myself, but then again, what is being an artist, if not for always being complicated?
You have recently acted in a number of films that are now in post-production, can you tell us a little about any of them that isn't too hush hush?
Well the cat is out of the box about James Bickert's Amazon Hot Box, so I can tell you about that. A quick little shoot down in Georgia last autumn. Jimmy and Brian decided to do a novel thing where we film the movie first, and then when it's ready for release, promote it, rather than talk about pre-production, production, post-production. I think in an effort to generate excitement in the indie film community, we can be guilty of getting too distracted by trying to create hype rather than good art. This was a refreshing approach, and it slaked my Scorpio thirst for keeping a secret. Going to Atlanta and Savannah was awesome, and regardless of a few cold days, I think we all made a homage to the 'women in prison' genre of grindhouse (a la The Big Birdhouse) but with lots of great points for feminist dogma snuck in. You thought you were watching a grindhouse flick – and surprise – you're watching these bad ass chicks shatter stereotypes and be funny as hell. My first directorial debut is nearing completion in post. As soon as Parlour Tricks is ready to launch, I'll be sending it to the festivals to see who'll screen this weird little thing we've made. I'm starting a few more projects from things that I've authored too, but they are still in their infancy at this point. But here's a hint: I was really inspired by Dan Savage's HUMP! Fest.
Figure of 8 – Quick fire questions for you to answer!
In your home you will always find…
Reptiles and Earl Grey tea.
Your best quality is…
My ethics.
As a child, you wanted to be…
A mermaid.
The last thing to make you laugh was….
The noises my cat makes as he busily cleans his butthole.
Your pet peeves are…
Shallow humans, being told I'm a feminazi, and existential crises.
Something that may surprise us about you…
I used to ride horses and am pretty good at keeping my seat bareback.
Your favourite movies are…
Labyrinth, The Great Outdoors, The Shape Of Water and Freaks.
Dinner with the dead! Who is invited?
Socrates, David Bowie, Prince, Winston Churchill, and Frieda Kalho.
TRISTAN RISK /LITTLE MISS RISK
Sweet Soul Burlesque/Caravan Of Creeps Circus Sideshow
BLOG: http://www.littlemissrisk.ca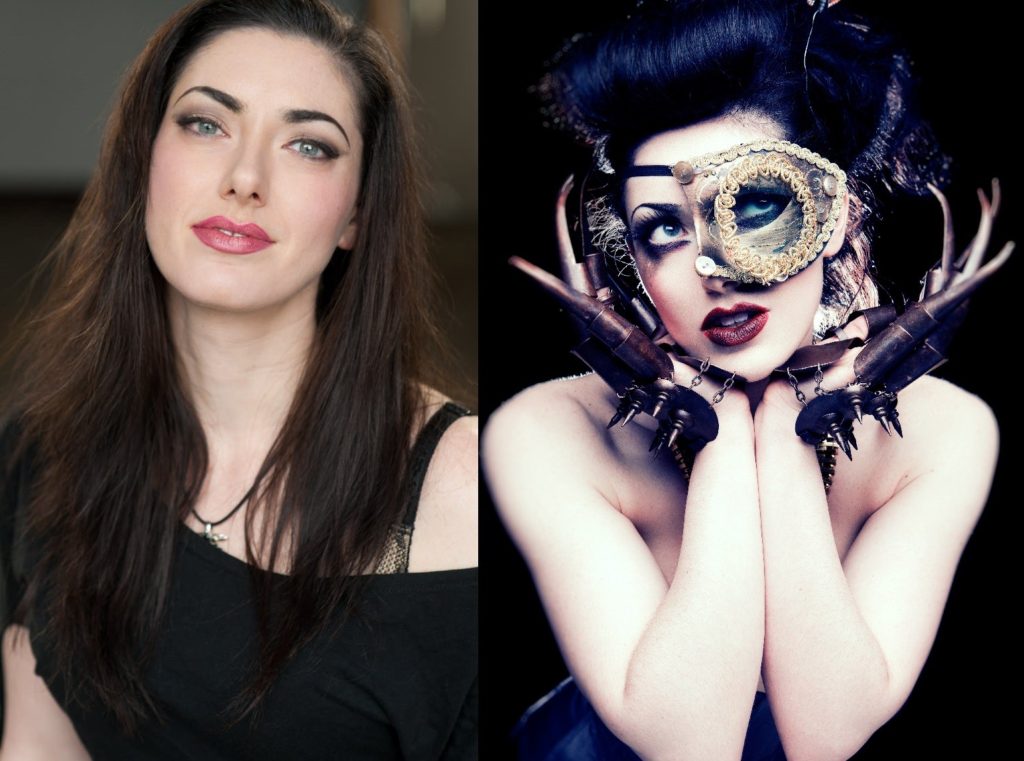 By Alice Bizarre
https://www.facebook.com/alicebizarremakeup/
Alice Bizarre is an SFX make-up artist and film writer, a prop maker and prosthetic sculptor based north of London.Wife of a wolfman and mummy of a baby bat.