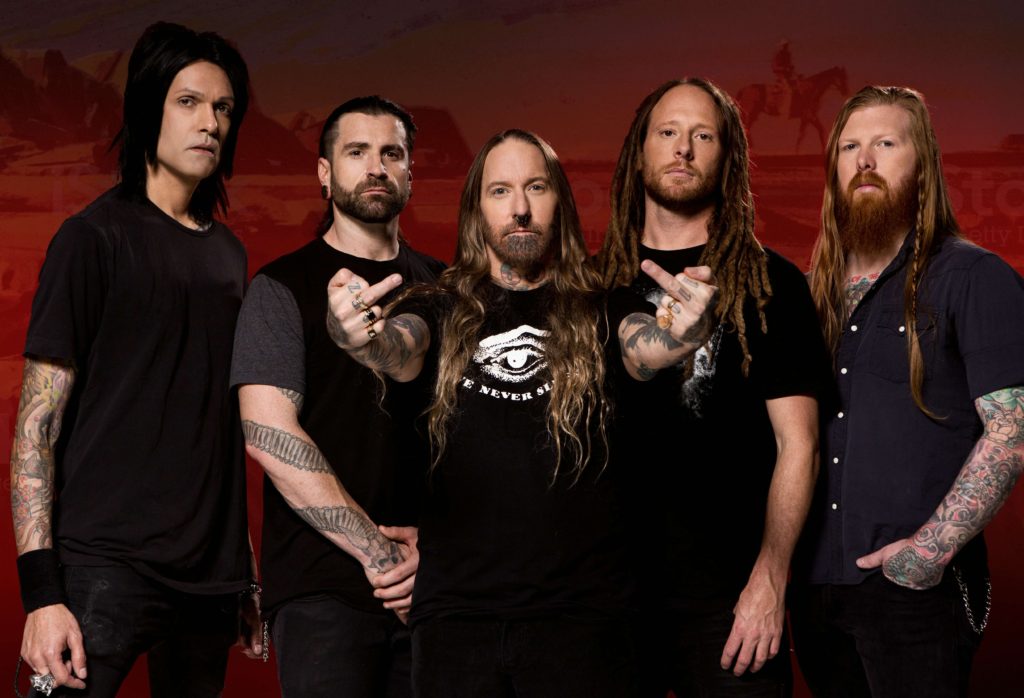 DEVILDRIVER announce Outlaws 'Til The End album
DEVILDRIVER, led by iconic vocalist Dez Fafara, are firmly established as one of the most consistent, best loved bands in modern metal. Yet their personal tastes reach far beyond the genre and in 2018, all expectations of who and what DEVILDRIVER are, are set to be torched.
As first teased by Fafara last year, the band's collection of outlaw country-gone-metal anthems, Outlaws 'Til The End, will finally see its day, set for release via Napalm Records on 6th July 2018.  Pre-orders are available now in multiple formats via http://smarturl.it/OutlawsTilTheEnd-NPR with additional format options coming soon.
Check out a teaser clip of DEVILDRIVER's cover of Hank3's Country Heroes, featuring Hank3 himself over at https://youtu.be/yMhYYKSBQQU.
Outlaws 'Til The End is a ferocious statement of individuality from a band who have been a constant force for almost two decades.  "I think real music has always gotten to me, whether it's the blues or even real Goth music like Bauhaus and Sisters Of Mercy, as well as outlaw country greats like Johnny Cash, Wayne "The Train" Hancock, and Willie Nelson," Fafara explains. "That stuff has always attracted me, and this is absolutely the real McCoy. The blues and outlaw country are what made rock n' roll. They were around before rock n' roll… and in my head, I've always heard these songs heavy."
From the opening seconds of Hank3's 'Country Heroes' onward, Outlaws 'Til The End is one of the most invigorating records the band have made to date. More importantly, these evocative songs have been wholly rebuilt from the ground up, powered by the classic DEVILDRIVER sound and embellished with Fafara's unmistakable roar. Outlaws 'Til The End was produced, mixed and recorded with Steve Evetts (Dillinger Escape Plan, Every Time I Die, The Cure), with DEVILDRIVER guitarist Mike Sprietzer also lending recording skills. The album was mastered by renowned engineer, Alan Douches.
Completing the project are a host of metal and country luminaries providing unforgettable cameos: horror metal icon Wednesday 13 lends his rasp to George Jones' 'If Drinking Don't Kill Me', 36 Crazyfists frontman Brock Lindow brings fire to Steve Earle's, 'Copperhead Road', and Fear Factory's Burton C. Bell helps to turn Richard Thompson's anti-war classic, 'Dad's Gonna Kill Me', into a brooding gothic metal extravaganza.  Meanwhile, Lamb of God members Randy Blythe and Mark Morton contribute to an exhilarating decimation of Willie Nelson's 'Whiskey River' before Randy makes a second appearance on DEVILDRIVER's version of cowboy standard 'Ghost Riders In The Sky'; the latter featuring the son of Johnny Cash himself.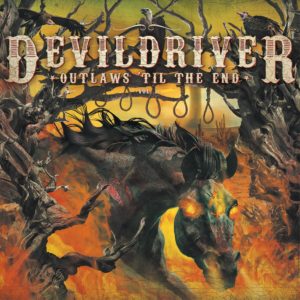 DEVILDRIVER Outlaws 'Til The End track listing:
Country Heroes – Written by Hank3
Performed by Hank3 & Dez Fafara
Whiskey River – Written by Willie Nelson
Performed by Randy Blythe, Mark Morton of Lamb of God & Dez Fafara
Outlaw Man – Written by The Eagles
Performed by Dez Fafara & Neal Tiemann of DEVILDRIVER
Ghost Riders in the Sky – Written by Stan Jones
Performed by John Carter Cash, Ana Cristina Cash, Randy Blythe & Dez Fafara
I'm the Only Hell Mama Ever Raised – Written by Johnny Paycheck
Performed by Dez Fafara & DEVILDRIVER
If Drinking Don't Kill Me – Written by George Jones
Performed by Wednesday 13 & Dez Fafara
The Man Comes Around – Written by Johnny Cash
Performed by Lee Ving of FEAR & Dez Fafara
A Thousand Miles from Nowhere – Written by Dwight Yoakam
Performed by Dez Fafara & Neal Tiemann of DEVILDRIVER
Copperhead Road – Written by Steve Earle
Performed by Brock Lindow of 36 Crazyfists & Dez Fafara
Dads Gonna Kill Me – Written by Richard Thompson
Performed by Burton C. Bell of Fear Factory & Dez Fafara
A Country Boy Can Survive – Written by Hank Jr.
Performed by Dez Fafara & DEVILDRIVER
The Ride – Written by David Allan Coe
Performed by Lee Ving of FEAR & Dez Fafara
"I knew right away that I wanted to have guests on this record, and the first guest I wanted was John Carter Cash," Fafara recalls. "I didn't want this thing to exist without John, without Hank3 or without Randy [Blythe]. Basically, there were a certain amount of guests that I definitely wanted on it, but as I kept asking people, everyone kept saying yes! Randy and Mark [Morton] are both from the country and they were immediately on board. With John, we wound up talking for two hours when we first met, all about his love of heavy metal and my love of outlaw country and my love of his dad's music. All he wanted to do was talk about metal and all I wanted to do was talk about outlaw country. It was the craziest thing."
Not only just content with a collaboration with John Carter Cash, the album also features the iconic voice of FEAR, US punk rock legend Lee Ving.  "Lee has a country band called Range War and when he first started in music, his mother gave him her mandolin to play, so he played country music before he ever did punk rock," Fafara notes. "I've been fortunate enough in my career to do songs with Ozzy and some of the greats, but doing a song with Lee Ving? What can I say… he's my ultimate hero in life. I had a FEAR shirt on the first time I ran away from home, you know?"
Still charging forward, proudly against the grain and on the form of their lives, DEVILDRIVER have never made a record like Outlaws 'Til The End before. But then, nor has anyone else. The perfect marriage of badass country grit and neck-wrecking groove metal supremacy, it's a pistol-packing game-changer delivered by true heavy metal outlaws.
Stay tuned for more new music and videos coming soon in anticipation of Outlaws 'Til The End.
DEVILDRIVER will play the UK's Bloodstock Festival (www.bloodstock.uk.com) on Sunday 12th August.
For more info on DEVILDRIVER point your mouse at any of the following social media:
DEVILDRIVER online: