Shine For Me, Highlighter, Shine!
By Alice Bizarre
Contouring has quickly become the make-up trend of the decade and one item that has spilt critics and make up addicts is Highlighters. Not everyone wants shiny cheek bones and noses but for the highlighter fans out there, here are 3 products with varying prices that we compared for you. Each has a blue tone for the best comparison but don't worry if you are not into cool shades, each company sell a variety of other colours too.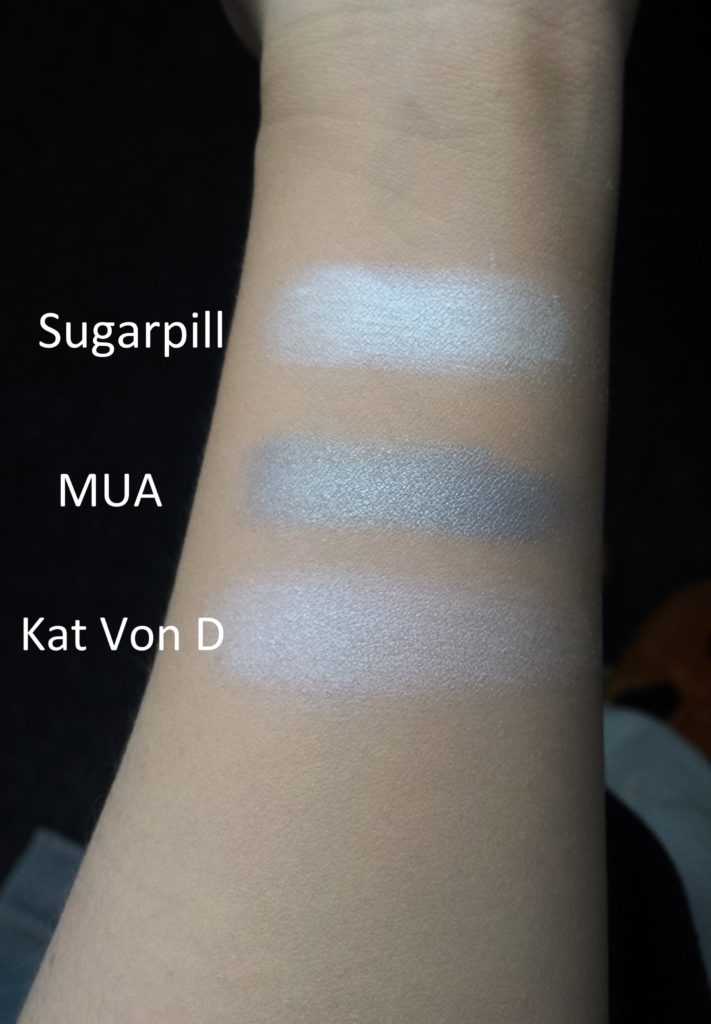 MUA Undress Your Skin Highlighter Ice Sparkle
£3 from Superdrug
Ice Sparkle is the cheapest and darkest highlighter on this list. It is the biggest of the three so brush application is easy, though it may be a bit bulky for those with small makeup bags. It crumbles quite easily yet can feel a little heavy on. It does however give a very strong colour which you can use lightly or cake it on for a metallic shine. This is perfect for people on a budget but best pick a different shade for a more natural look.
Sugarpill Ice Angel
$13 from sugarpill.co.uk (or £10 from Beauty Bay)
Ice Angel is, in fact, sold as an eyeshadow but can be easily used as a highlighter. White on appearance, it has a blue glow when it catches the light. It is big enough for your highlighter brush to grab a good amount of powder but compact enough for your make-up bag. For a pressed powder, it transfers to the brush well, blends smoothly and feels light on the skin.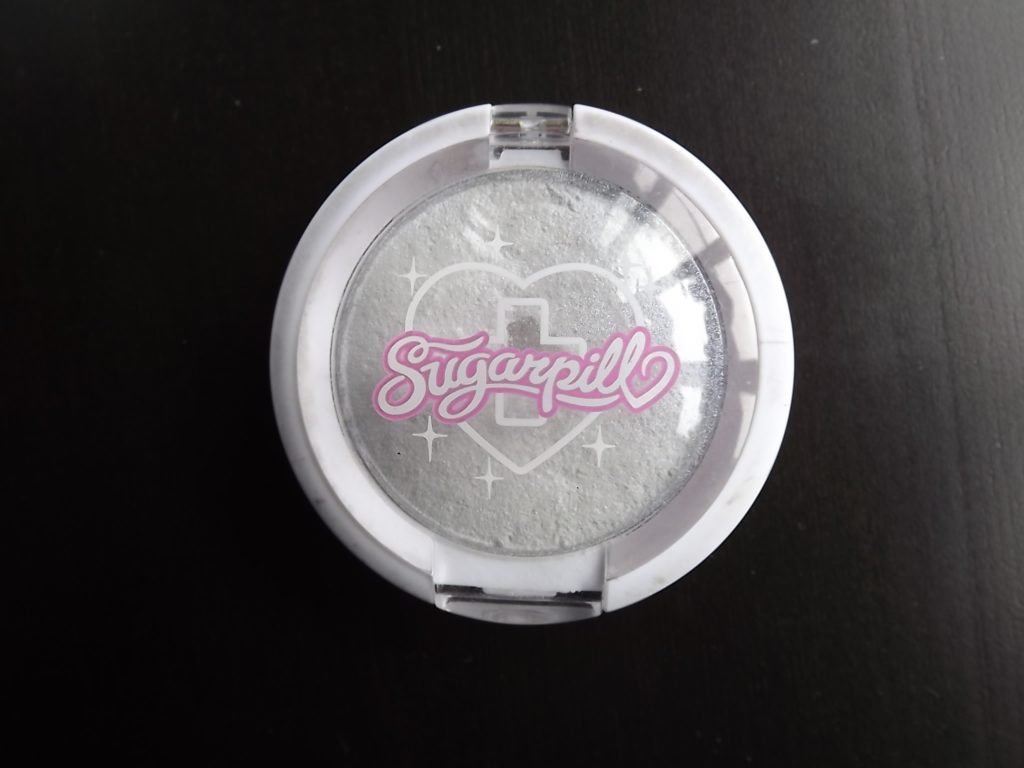 Kat Von D Alchemist Holographic Palette – Blue Saphyre
£25 from Debenhams
Blue Saphyre is one of 4 toned highlighters in the Alchemist Holographic palette; including green, pink and violet shades. This also means that each product is very small, making it difficult to really get a decent amount of product onto the brush (defiantly one for the make-up addicts out there). It is a lot creamier than the others and feels very soft on the skin. The swatch in the image is a lot stronger than if you just use a brush and is the subtlest of the 3 highlighters' so you may have to use several layers to obtain the desired effect. This is also good to use as an eyeshadow highlight and to use over darker colours, including a lip highlighter over dark lipsticks.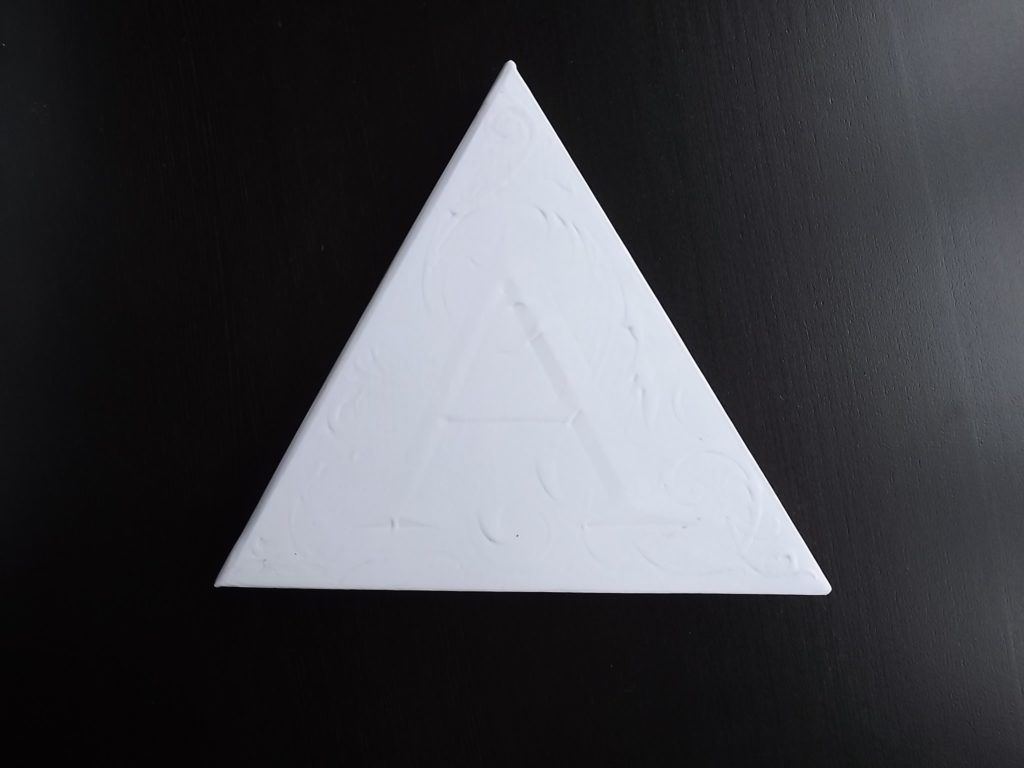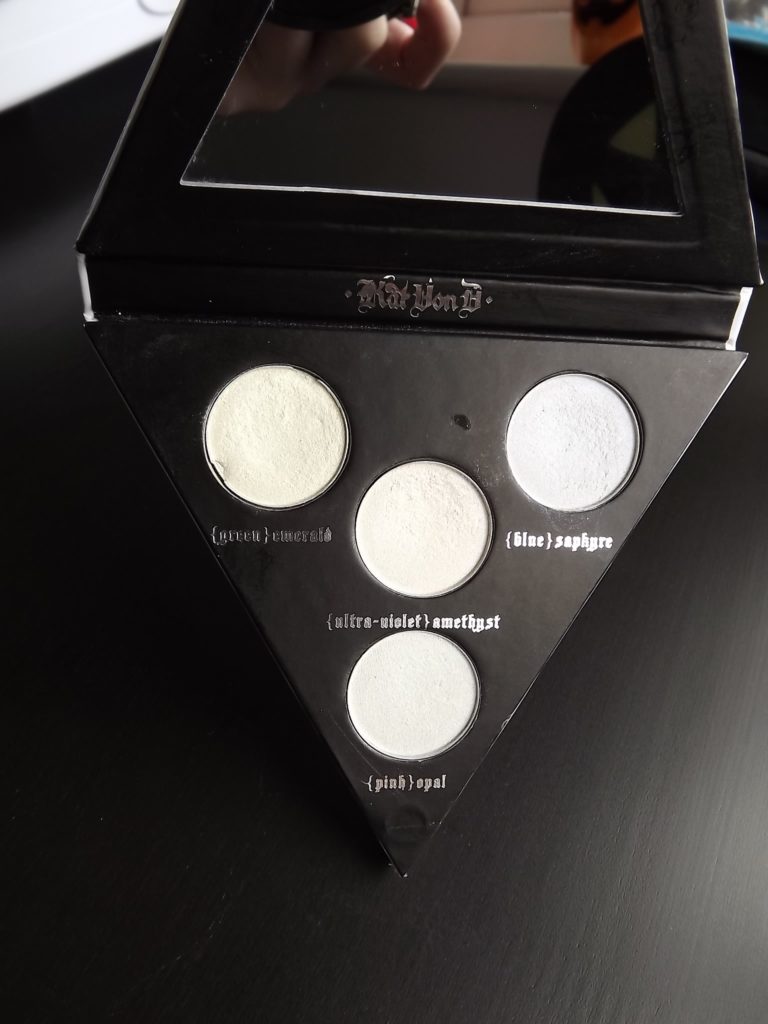 Overall my personal favourite would have to be Sugarpills' Ice Angel. Can be used as both eyeshadow and highlighter, it is a happy medium between the other two products. Only available online, the cost can shoot up with the postage so try a Beauty Bay to avoid the import chargers.
By Alice Bizarre
https://www.facebook.com/alicebizarremakeup/
Alice Bizarre is an SFX make-up artist and film writer, a prop maker and prosthetic sculptor based north of London. Wife of a wolfman and mummy of a baby bat.