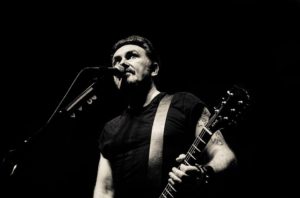 Therapy? Have been a band that have endured where others have fallen.  Their angst rock saw them hit the big time back in 1994 with the legendary Troublegum album.  The Irish trio have been resurgent of late and have a new album planned for release later this year.  Gary Trueman spoke to front man and all round nice guy Andy Cairns about the new record, living in England and his beloved Chelsea football club.
You brought out Disquiet in 2015 and an acoustic album in 2017 so are we likely to hear some new Therapy? Soon?
"You are.  Our new album was finished last week, 12 brand new tracks.  It's produced by Chris Sheldon who produced our work in the 90s.  He did Troublegum and Semi-Detached.  We should be releasing it in September."
Do you have a title for the album?
"We don't, that's always the last thing that arrives.  We have song titles and we put two tracks out over the summer so people can get to hear them and give them a taste of what's to come.  We don't have a title though, It's like the opening line of a novel, something memorable.  Even since the very first album it's been the bloomin album title that's the last thing to come along."
You said it's the same producer that did Troublegum which was a watershed album for you early on.  That sound has stayed with you, it's something you're obviously comfortable with and you write to that certain style.  Do you think that by keeping that core sound you've kept a strong fan base, that fans have stayed with you?  And have you found that younger Therapy? Fans also go back and listen to earlier records such as Troublegum?
"I think we do have a very distinct sound which is just in our DNA I think.  It's a mixture of everything we listen to and it's stayed with us.  Also I'm not the most dextrous guitarist in the world but I do have a certain style.  Our drummer Neil is very much like our original drummer influenced by different things like punk, metal and rock.  Michael is one of the best bass players in the country and has that fat, thick sound.  That's something that Therapy? Fans identify with and our lyrics are always kind of dark, absurd and twisted.  There's a section of the music community out there that really resonates with that.  When Troublegum came out in 1994 it was our fourth album and at that point we had crossed over into the rock mainstream and were on the cover of Kerrang and NME.  We got that fan base and that fan base grew old with the band.  With the last two albums, especially Disquiet, younger people started coming along to the gigs again.  I think some people are bringing their kids along to shows."
You do cross over and you do have a punk following as well as metal and rock.  Punk music seems to come around when people are unhappy socially and they need music as a protest.  Your music is quite hard hitting and deals with dark subjects.  So do you think there's a cycle socially with music which allows bands to come around again?
"That's a really good point.  When the band started it was just before the whole Nirvana explosion and there had just been an economic crash and a war in the middle east.  So when Troublegum hit there was a great deal of anger, we had the Poll Tax riots.  Now post Brexit there's a country divided again, and we have Trump in power.  There seems to be something about agitated guitar music that resonates a lot more with people in times like these.  People just want something that means something to them.  We do have quite a big punk following and a lot of fans from metal too but there's still a bit of suspicion from some metal fans because we don't look like the majority of the bands.  We don't  have fast shredding solos and we don't sing in death metal growls.  But people do like intense."
Do you think that bands are mixing up genres a lot more now and as a result fans are listening to a wider range of music?
"Well yeah, you mentioned the term watershed and when we released Troublegum in 1994 the editor of Kerrang at the time Phil Alexander was an early champion of the band, he put us on the cover and we got alternatve album of the year.  We got asked tom play Castle Donington and we asked Phil how would we go down because Donington was famous for bottles of piss.  He said it could go horribly wrong because you've all got short hair but when we did the gig it was amazing and we went down really well.  Now if you flick through Kerrang or Metal Hammer I'd say most of the bands have short hair, bands like Panic At The Disco and Don Broco.  If you go to Download festival now you'll see bands like Panic At The Disco who are a pop band with pianos but you'll get kids in Slayer t-shirts going nuts to it.  You.ve got bands like Code Orange who have a mixture of kids with short hair and long hair.  That would have been so out of place in 1992 or 93."
You're touring with The Stranglers.  That's an interesting one for you to do.  It's interesting to that a few people have said that it should be billed as a co-headliner.
"That's really kind.  I grew up in Northern Ireland in the 70s and 80s so when I was 11, 12, 13 The Stranglers, The Buzzcocks and Joy Division were my favourite bands and I used to be a bass guitarist as well.  John Jack Burnell  and Peter Hook were my heroes.  The Stranglers were one of the few punk bands that actually made the effort to come to Belfast at the height of the troubles.  I remember going to see them at Ulster hall and they were incredible.  Their first for albums to me are in my DNA, I can play all the bass lines.  We met them at a festival last year, they were staying in the same hotel and we got chatting and had a drink with them and got on really well with them.  Then we got an offer for the tour."
Will you be out supporting the album later this year?
"I think we'll be looking to tour around September and October extensively because the album should be out around then."
You now live in Cambridgeshire but you're from Northern Ireland.  What do you miss most about Ireland and what are the best and worst things about living in England?
"I love it here.  My brother was here long before I was.  My uncle was over in Boston long before I moved here.  I've never had any problems.  I think growing up in Ireland with the troubles our generation grew up to hate politics and we grew up to hate sectarianism.  I really wanted out of the place.  The minute we moved out it improved.  We go back quite regularly to visit my parents who still live there and it's amazing now.  There's a whole infrastructure for the music business and the night life is incredible.  The only bad thing I can find that's specific to England is road rage.  I've travelled all over the world and I don't think I've ever seen road rage so bad and so violent as I have done in England."
That's bizarre!
"I know.  I've driven all over the world, I've done acoustic shows where I've driven myself and I've driven all round America and I've never seen anything as bad as the roads over here."
You're a big Chelsea fan, so if you were offered a massive headline show with a dream line up but it's on the same day that Chelsea are playing in the FA Cup final and you have a ticket.  What do you do?
"Let me put it this way, when I got married I moved my wedding day to the next week son I could go to the FA Cup final."
Haha!  So you'd go to the match and move the gig?
"Yep.  I've been a season ticket holder for 24 years.  Everyone in Northern Ireland follows English clubs.  When we signed to A&M Records they used to be in New Kings Road which is just down the road from Stanford Bridge.   So whenever we were over there doing interviews the guys in the PR department were mad Chelsea fans so we used to go to games with them."
Look out for a Therapy? tour announcement later this year.