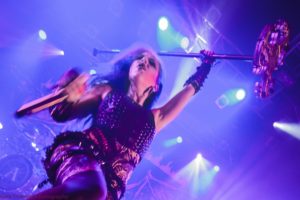 Arch Enemy/Wintersun/Tribulation
London Koko – 11/2/2018
One of London's most beautiful venues The Koko has managed to take it's Victorian splendour well into the twenty first century proving age is no barrier.  Just what its builders would make of tonight's bill is anyone's guess but the sell out crowd are just pleased to be there.  You can tell this by their reaction to the opening act.
Normally the first band on play to a few fans and the inquisitive while the bulk of ticket holders finish a pint or a meal before heading to a show.  Sweden's Tribulation play to a very nearly full house.  Testimony to the strength of the line up tonight and possibly the nature of the audience members.  The band are a curious mix of black metal visuals and doom tempo at times but their heart is death metal and they play their music with panache.  No one could ever acuse Tribulation of at least making sure they put on a show.
Wintersun, and just how many metal bands feature winter or sun in their moniker ? are something of an enigma.  You're expecting them to be all deathy and grim and then they go and throw in clean vocals and grins.  The vocals of Jari Mäenpää need a special mention too because his voice is quite fantastic.  Not only does he have an impressive range but he does the lot, clean, growls and spoken, all with real conviction.  Belying what you expect Wintersun have power, precision and are almost cheery.  They impress greatly.
With new album Will To Power proving to be a catalyst for the melodic metal of Arch Enemy to step up into the big league any lingering thoughts about Alissa and Angela  are now very much in the distant past.  Tonight the band pull no punches performing a blistering set with great skill and passion.  White-Gluz is magnificent, leading the line with flying hair and perfectly menacing vocals.  The sound is spot on, a revised set list demolishes the old Koko, all is well with the world.  Every once in a while you see an act that are very ready for bigger and better things.  Tonight Arch Enemy show they are very ready.
Review and photography by Gary Trueman