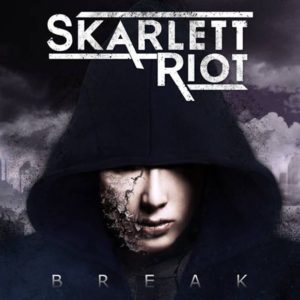 'Break' is the first single from highly regarded UK rockers Skarlett Riot. Taken from their upcoming second album 'Regenerate',  the song shows the bold and heavier new direction the band have recently taken.  Devolution magazine is proud to exclusively launch the video for 'Break'.
After the success of their 'Sentience' EP, hard-hitting UK quartet Skarlett Riot soon began to attract interest from far and wide. Signing deals with TKO Agency and The Artery Foundation management were just the beginning for this highly rated act.  They have now signed a world-wide record deal with the Swedish label Despotz Records.  With the ink still drying on their contracts the four-piece headed back in to the studio to begin work on their hugely anticipated second album.
The band had this to say about the release of the first single from the new album – "We are stoked to be releasing the first video single 'Break',  from our new album 'Regenerate'.  Break is definitely one of the heavier tracks on the album, and demonstrates the raw aggression, anger and power to come from 'Regenerate."
Look out for Skarlett Riot bringing their heavier sound out on tour very soon.