WEDNESDAY 13 is making a return to the UK this October with his electric set in support of brand new studio album, 'Condolences', which was released last Friday 2nd June 2017.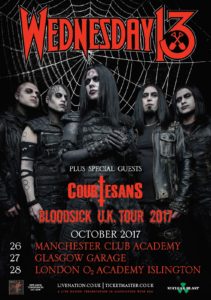 WEDNESDAY tells us "We can't wait to return to the UK again this October just in time for Halloween.  The past few years we've been doing two nights in London on Halloween to celebrate the anniversary of past releases.  This year, I wanted to change it up, and do 3 bigger shows in three different places.  These will be the ultimate Halloween Wednesday 13 shows, so expect the unexpected!"
Dates line up as follows;
Thu 26th Oct – MANCHESTER Club Academy
Fri 27th Oct – GLASGOW Garage
Sat 28th Oct – LONDON O2 Islington Academy
Tickets go on sale at 10am Friday 16th June over at https://www.livenation.co.uk/artist/wednesday-13-tickets.
Last week WEDNESDAY unveiled a new video for 'Condolences', featuring a faux funeral – his own! – https://youtu.be/oPK8tunmNRc.   He tells how David Bowie's passing was his inspiration; "[Condolences] is one of the first songs I wrote for the record.  The title came from when David Bowie passed away; I kept seeing 'Condolences, sorry for your loss.'  I realised how powerful that word was, so I picked my guitar up and started writing the riff for it; I had the chorus instantly."
'Condolences' is now available for download at iTunes, Amazon and all good DSPs.  The release is available in an array of different digital and physical formats, including a number of limited run coloured gatefold double vinyl editions and signed editions.  Check out the options at http://nblast.de/W13Condolences
The album was produced, mixed and mastered by Chris 'Zeuss' Harris (Rob Zombie, Hatebreed) and the sleeve artwork was created by Travis Smith (Opeth, Katatonia).
You can also check out the video for 'Blood Sick' here –  Check it out here – https://youtu.be/Avtk3Z1UXvQ
For further information point your mouse at www.officialwednesday13.com or www.facebook.com/officialwednesday13.