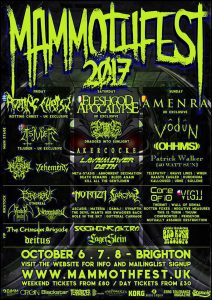 Mammothfest Announce Final Line-up Including Sunday Headliners Amenra (UK EXCLUSIVE), Akercoke, Vodun and More!
Mammothfest is thrilled to announce that Belgian doom act, Amenra will UK exclusively headline the Sunday stoner doom main stage at this year's festival. That's right, ALL THREE of the main stage headline acts across the weekend including also Fleshgod Apocalypse and Rotting Christ can only be found performing at Mammothfest in the UK in 2017!
Not only that, previously announced black metal act Tsjuder are also confirmed for a UK exclusive performance at Mammothfest 2017!
As if that wasn't exciting enough, Mammothfest are proud to announce the complete line-up that will perform at The Arch in Brighton between the 6th and 8th of October. Including the likes of Akercocke, Vodun, Abhorrent Decimation, Vigil (Poland), Confronted and more as a total of 16 bands have been added to the final line-up. Check out the full poster or head over to the website for the full info on each band, stage times and what to expect from this mega event!
https://mammothfest.uk/
https://www.facebook.com/MammothfestUK/