London Tattoo Convention – Tobacco Dock – 23/24/25 – 9 – 2016
With over 400 tattoo artists set to be present along with various other traders, exhibitions and entertainers the London Tattoo Convention has become a world leader renowned for attracting the best of the best.  Some of the work being shown or carried out is quite breath taking and the pieces featuring in the competitions and around the venue are true visual delights.  It's great to see people from all over the globe gathered in one place to celebrate body art.
There's a real sense of community at Tobacco Dock, the venue is massive but it somehow allows for a feeling that you are among family.  The way the rooms are divided up make sure visitors don't get overwhelmed and having the entertainment and food areas central to things gives the event structure.  If you love ink or are just curious then this is the place to come and immerse yourself.  There's every conceivable style of tattoo from black and grey to full colour, from traditional to progressive, you name it you'll see it at the London Tattoo Convention.
The entertainment is pretty fine too with Raging Speedhorn, Orange Goblin and King Kurt all playing blinding sets during the weekend.  Booking music to suit the wide range of music tastes that people coming to the convention will like must be a bit of a headache but with other acts such as Urban Voodoo Machine, Willie And The Bandits and The Broken Chords also putting on great shows it's hard to imagine anyone taking time to watch coming away disappointed.  It has to be said the sound quality here puts a lot of regular venues to shame too so I have to doff my hat to the sound technicians, top job, well done.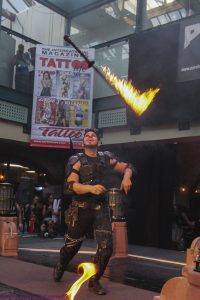 For me the real stars of the show in terms of entertainment were Pyrohex, the Fuel Girls and Circus of Men.  Fire, burlesque, silks and hoops all combining to take the convention to another level and give it a real edge.  Both Cervena Fox and Elegy Ellen provided vibrant and well thought out solo routines while Circus of Men gave the girls in the audience some gender balancing eye candy.  We had a very real and very large snake courtesy of one of the Fuel Girls (Don't panic animal lovers, it was obviously well cared for and much loved).  No one really does fire better than Pyrohex and performing two divergent acts each day gave them the perfect opportunity to show just how good they are.  From fiery sword juggling to flaming headdresses they are a world class act.
It was amazing to see so many tattooed people in one place but more interesting in a way to see the ink curious coming along to find out more.  With much of the media and big business yet to truly accept those of us with tattoos it was heartening to come to such a warm and friendly environment where barriers of suspicion are easy to break down.  Maybe this is the most important thing about the London Tattoo convention along with all the others around the UK and abroad.  They may be for people within a community but they also help to promote positivity to those outside of it.  I for one will be back and won't hesitate to suggest that this is an ideal place to come to if you're thinking about getting a tattoo and want to check out the best artists and get some advice.  London Tattoo Convention, I salute you.
Review by: Gary Trueman