Frank Carter is in his prime making headlines and touring the world with memorable outstanding and unpredictable performances. Currently airing the incredible 'Modern Ruin' album that was unleashed earlier this year the aptly coined 'Punk Godfather' is setting the scene on fire and branding it his very own. It is in the small office above The Bullingdon venue in Oxford that I get to sit face to face and have an honest intimate conversation with the legend who is suffering from a small case of vertigo today…not that this will stop him from pulling off another high octane and explosive punk rock show tonight of course….
How's the current tour been?
It's been amazing. We didn't expect it to be like this. There was an excitement in the air because the shows were selling out. You could tell that something was happening!
Every show is sheer energy and adrenaline. How have you been able to keep up the momentum?
I don't know. We just have a passion for music and we're all incredibly appreciative and respectful of the position we're in. We love music, we love playing music for a career. We've wanted to do it our whole lives since we were kids. When you get to that point when you can do it for a living you just feel really lucky. So when we get the opportunity to go on stage we give it everything we have because it's all we have to give back. There have been times when I've been so ill I've had to cancel shows.
You've been seen vomiting on stage a couple of years ago. Here in fact at Oxford O2 during the Grey Britain tour!
Yeah. That was a bad one. That's only happened a couple of times to me. I'm getting much better at that now. It's rare that I get ill but we put so much in. It's not a case of keeping up it's more a case of staying ahead of getting sick. It's so easy to get run down.
You update your social media constantly. Some people choose not to. Does it bother you letting people have that window into your life?
I think it's where we are now. It's the world we live in. I still find it weird that people can see my kid. She's two and she has her own Instagram. As soon as she was born we got her a handle because she's going to use it one day. I put things on Instagram I'm proud of. I'm proud of my daughter and the little girl she's becoming. I'm not scared of it. Any time someone has been inappropriate and said a shitty remark I've just blocked them. I don't even get into an argument; I just eliminate them from the arena. For me it's the future. It's the way it's going. I don't use Facebook that much, just Instagram and Twitter. For me it just makes sense and I try to keep it to a minimum but it's hard. She does really cute shit every day.
How's the trademark Gucci suit holding up on tour?
It's doing really well. It took a beating in London but it's doing really really well. It shows you get what you pay for.
You've played the main stage at Reading which was a massive achievement within itself. That must have been on the bucket list so what's next?
Ooh, headlining it surly. That's up there for sure. I want to play Wembley and headline Reading/Leeds. I want to play Glastonbury, I've never played Glastonbury. That's one I'd like to tick off the list. I've been doing this for ten years and never had an invite but I'm in a band now that could go. My focus is more about the album and touring.
You say about regularly pushing boundaries when asked about your place in music. Can you tell us more about those boundaries and are you achieving what you've set out to do?
For me it's all about challenging yourself. I'm a song writer, a player, a musician. I don't like to follow rules I like to set new ones. I would prefer to be the person who is defining how things are done rather than follow the best way it's been done in the past. I don't really know that much about music. I know a lot about the industry and I know how to play an instrument so I can play guitar a little bit. Sometimes I'll come along with an idea for a song and people will say that won't work technically and I'm like what's technically? What does that mean? And they say well these two chords shouldn't go together or that bit of music shouldn't go there. I'm like who says it shouldn't? Let's do it anyway and we do and it either sounds good or it sounds bad. If it sounds good everyone thinks you're a genius and if it sounds bad you just try something else. I think now a lot of bands have seen there's a career possibility in alternative music and there isn't really. It's really hard to extract any kind of money out of this especially when there are five of you. What I want to do is write great songs and play it with as much passion and intensity as I can muster. I want to be the most authentic version of me there is.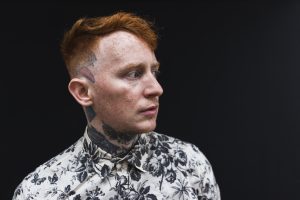 So you don't seem to have a persona, you just are…?
There's a little bit of character I delve into that's much more confident than me. I'm quite a shy person; I'd rather keep myself to myself. My on stage persona has a lot more strength than I'd like to think I have. And he's a bit more arrogant, but I've been trying to rein that in a bit.
What has been the worst injury you've sustained whilst being in this band?
I don't know what I've done to my head but it's not stopping me conversing, walking around or playing. But I'm in pain and I'm dizzy all the time. The worst injury so far was when we were playing in Berlin. I twisted funny on stage and felt something pop in my back. It all froze up but I carried on playing. We finished the set and I could barely walk upstairs to the dressing room. I got there and then I couldn't walk back downstairs to get out of the venue. It was agony. I went straight in to see this paramedic who did some massage on my back and he told me he thought I might have fractured a vertebrae. The next morning I woke up and couldn't walk and flew home. That's been the most harrowing for me because one day I was mobile and doing flips into the crowd and the next day I couldn't walk. It was a clear reminder to me that you need to chill out. You're getting older. I was an idiot because I hadn't been warming up. I'd been drinking a lot. You've got kids and a wife that depends on you and you need to keep yourself in check. So I did since then and I've been a bit better. It's hard, and the adrenaline takes over sometimes and I just want to rush the crowd. I also want to do this for a long time so I don't want to sustain an injury that's so bad it takes me out and then people forget about me.
How does the album 'Modern Ruin' compare to 'Blossom'?
It doesn't compare to Blossom. I try to make all my records such bold steps forward that people can feel the progression in me as an artist rather than is this as good as that? I think they're all important records but they're different, not better. 'Modern Ruin' is the best album I've ever made as far as how it sounds and the technical ability of my singing is better. I have a lot more control.
Are you using a vocal coach?
No, I've just been practicing. It's surprising what that will do. I had it with Pure Love. I'd been touring so much with that band that I had more control of my voice than I did when we recorded the album. When we recorded 'Blossom' it just didn't call for it. It was more aggressive to make that first impact really vibrant. Then we stepped into this. We wrote 'Blossom' and 'Modern Ruin' in the same year. We just held off on recording 'Modern Ruin'. We wrote 'Blossom' in February of 2015 and then released it in the August. We started writing 'Modern Ruin' in September and finished it in December. We recorded it in January 2016. We've been sat on it playing the songs live every day. The songs have changed from how they are on the record. The record has a concept behind it. It's about relationships. I found a lot of parallels in my behaviour and what I was seeing on the news. I was watching countries carrying out incessant bombing of innocent civilians and then when they wanted refuge the same countries that had bombed them were then turning them away. I was kind of doing that with my family. It made me check everything I was doing and I started to make amends to the people I had hurt. It's about our relationships with our friend and family and our enemies. And also strangers, people we don't know and how we relate to everything around us.
You've got really involved in the last few videos you've put out. Do you find being in front of a camera in that way is very different to a live stage?
I used to find it ridiculous. Now I find it ridiculous and I love it. When you commit to it, then it doesn't matter what you're doing in front of the camera and how it looks. I never get to see that until it's too late.
'I Hate You' is obviously an incredibly raw song. The person it was written about, do you still feel the same way about them now?
No. No I don't. It's been a little while. They're still a dickhead but I'm a bit further along now.
The band you have right now at this time of interview are incredible, so tight. What do each of them mean to you personally and currently?
So, Tank (Tom Barclay) is our new bass player. He used to be our tour manager and guitar tech. When our previous bass player said he was going to leave Tank was the natural person to turn to. He's an amazing musician. Gareth Grover, I've wanted Gaz in my band since I was eighteen but it just never worked out. This time I said listen you've got to be in this band, it was made for you, you were made for this music. And he said yes. Dean (Richardson) is like my best friend and has properly saved me through a lot of stuff. We're like creative partners on a whole other level. This band has my name on it but we're fifty fifty partners.
https://www.facebook.com/frankcarterandtherattlesnakes/