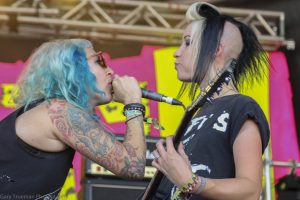 Rebellion Festival – Blackpool Winter Gardens – 4th to 7th August 2016
Celebrating the 20th anniversary of any festival is a major milestone and in the case of Rebellion it's a triumph laid on the foundations not of money or corporate power but one of the love of music and sheer hard work.  It might have had a few changes of address and moniker over the years but the festival known and loved by punks has grown from quite humble roots in to a world famous brand without losing its sense of family.  Being in Blackpool's Winter Gardens, home of Rebellion during the festival is a real eye opener as to what true togetherness, tolerance and acceptance looks like.  The bands are a bit good too. 
This year saw over 250 bands perform over four full days on seven stages.  There was an introducing stage for the entire festival for the first time and also an outdoor stage which was blessed with sunny weather for all but an hour on the Sunday.  So to the music.  As it's an Olympic year here are my three gold medal winners from each day plus those that also made the podium.
Striking gold on Thursday
Screech Bats:  Half of Screech Bats were at Rebellion last year as part of the impressive Hearts Under Fire, the other half were not.  You'd never know though, you'd think they'd been together for years not months.  Solid rhythms, lovely nimble guitar work and Esme up front on the mic sounding crystal clear make this a band to look out for already.  They have the songs, a singer with an expressive nature and real verve.  With momentum building 2017 could well be the year of the bat.
Svetlanas:  We all love a bonkers front person don't we, one that can't resist taking the music to the crowd by being in the crowd.  That's exactly what Olga Svetlana does.  The feisty frontwoman is highly entertaining getting up close and personal with audience members and taking on the guise of a demented rubber ball the rest of the time.  Remarkably her vocals stay crisp and clear throughout helped by the musicians left on stage who are drum head tight.  While the largest country in the world might be getting viewed with a bit of apprehension by the west right now this is one export clearly sent from Russia with love.
Youth Man:  Punk may not be well known for its ethnic diversity but it has developed a solid reputation for openness and pricking the conscience of society over inequality.  Youth Man are not only a fantastic band they are also a sledgehammer pummelling the pigeon holing boxes that people like to put both acts and genres into.  With their music a combination of alt rock, funk rhythms and true punk ethic they are a standard bearer for the next generation.  The London three piece aren't only a sensation in Blackpool this weekend, they are possibly one of the most important young bands in the UK right now showing where music is going not where it's been.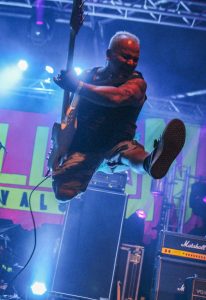 Also on the podium: Last year Headstone Horrors emerged from the pack as a fully fledged act capable of mixing with the best.  This year they're back and look like true professionals.  The Duel put in a classy performance on the Arena stage.  The Tuts rather sweet aggro pop rightly sees them pull in a huge crowd even if a few people find them a bit twee.  The Dickies lost their front man Leonard to illness a few hours before they were due to go on stage.  The addition of a medley of guest vocalists turned what could have been a real disappointment into a one off triumph.  The Bona Vista hotel provided me with a sea view room and they now have an all you can eat buffet breakfast.  Guess where I'll be staying next year.
Friday's Mo Farrahs
Sophie Sparham:  Talk is cheap so the saying goes but when Sophie Sparham is at the mic then it becomes a very valuable commodity.  Standing alone on a stage the size they have at the Opera house armed with nothing more than your feelings put into words must be a palpitation inducing experience.  Add to that the fact that you are dyslexic and most people would run a mile.  Not Sophie though, her eloquent, thoughtful and passionately delivered set resonates in the auditorium like a battle cry for those who traditionally have no voice.  A lioness with long red dreadlocks, a girl both humble and inspirational, Sophie Sparham is the new age definition of wordsmith.
Maid Of Ace:  At one twenty in the afternoon with a crowd you normally expect to see only for headline acts Maid Of Ace take their place as one of punk rocks new breed of elite bands.  They've been making tsunami sized waves for a while now but this is different, it's a special moment where momentum labels you as a 'must see' at a festival.  With a brand new second album launching to coincide with Rebellion the Hastings mob now have a full range of tunes to slay with.  The afternoon is made even more of an event with a guest appearance of Dee from A Pretty Mess adding to the sense of occasion.  For Maid Of Ace even the sky might not be the limit.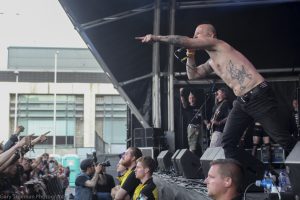 Discharge:  Punk to the core like a stick of Blackpool rock Discharge take no prisoners.  Their set is a blinding testimony to just how exhilarating and yes, fun, an extreme band can be in the flesh.  With the intensely focussed JJ bounding around the stage like he's had one too many caffeine bombs today it's no wonder the pit crew are busy pulling crowd surfers over the barrier.  The wonderful sound on Tower Street helps too, making Discharge come across as slide rule precise, but still lethal.  This is open heart surgery hard core rather than blunt force trauma.  Discharge may be turning 40 next year but they're still as fresh as a very angry daisy.
Also on the podium: The dynamic duo known as Bratakus who make more than enough splendid noise to need any more band mates.  Kiss My Acid use Green Day as a basis for their music but bring it bang up to date by adding some gaelic feistiness.  Singer Freda could actually be the unhinged love child of Lena Lovich and Tre Cool.  The Anti Nowhere League prove they still have what it takes with a wonderfully controlled (just) set of songs.  The Ramonas pull the graveyard shift starting well after midnight but still triumph – Pet Semetary anyone?  Once again the seaside town's seagull chip thieves merit a mention.  Not satisfied with one the feathered felons can be seen trying to take whole bag fulls.  It's a wonder they can fly.
Saturday's Olympic heroes
Hands Off Gretel:  Yes we love this band at Devolution.  Yes we might be a bit biased.  No we don't care.  The thing is once again the Barnsley quartet put in such a staggeringly high quality show that it would be wrong to ignore them.  Lauren Tate of course has that voice, the one you hear once and are hooked.  Today though Sam (drums) and Joe ( bass) shine like a super nova by playing the most incredibly driving rhythms.  The understanding these two have allows both Tate and Sean McAvinue the freedom they need to really go to town.  The very large crowd loves Hands Off Gretel, and a lot of them are musicians who have come along to watch.  HOG for Rebellion 2017.  I think so.
The Kut:  Following Hands Off Gretel takes some doing and The Kut are more than up to the task.  Their alt rock/grunge hybrid has an easy pace to it but it doesn't come with a soft centre.  Drummer Diana Bartman hits the drums in a way that makes you think she broke all her toys as a child. Lord she's good.  Up front Hannah Cooper proves to be a talented bass player and her backing vocals compliment Princess Maha's beautifully.  It's Maha's guitar work that steals the show particularly on their newer material where jaw dropping passages of six string sublimity are given just the right amount of spotlight for The Kut to prove to be a cut above.
Sem Futuro: Proving that the introducing stage is full of huge amounts of talent and making all three of our Saturday top choices from this stage are Sem Futuro from Brazil.  Imagine what would have happened if the original Sepultura had decided to go down the punk road.  That's what these guys sound like.  Fast, frenetic and pretty brutal they keep everything in check by clever use of melody and an ability to not let things run out of control.  Much like the Brazil football team of the seventies they play at a high tempo but make it all look so easy and natural.  One thing's for sure, the boys from Brazil scored themselves a lot of new fans.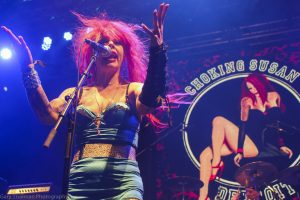 Also on the podium:  Sleazy Detroit rockers Choking Susan put on a mesmerising late lunchtime show in the Empress Ballroom.  Cracked Up prove to be yet another young band full of potential.  The Psychords from Milan arrive looking immaculate.  Their punk rock chic makes them one of the most stylish groups of the weekend, their music makes them one of the best.  Louise Distras plays the almost acoustic stage which is almost not big enough for the massive crowd she pulls.  While The Damned are rocking the Tower Street stage The Kut are at local watering hole The Hop playing their second set of the day and fourth in two days.  That's impressive, as is my late night kebab which is described as medium but is the size of a canoe.
Sunday's closing ceremony flag bearers.
Louise Distras:  This time playing with her full band in the Empress Ballroom Louise Distras sounds fantastic.  Where her acoustic shows are an intimate buffet of delights the electric plugged in ones like this are a full roast dinner with all the trimmings.  There's no need for gimmicks or running around like lunatics, this is a class act where the words have real meaning and the music is a rather fine parchment for them to sit on.  Less protest and more observational guidance the beauty of Distras' work is that it allows you to come to your own conclusions about various social topics.  The lack of being preachy gives Louise Distras wide appeal, her ability to write great songs makes it even wider.
Agnostic Front:  Along with Discharge and The Exploited Agnostic Front led a revolution in extreme music which was the starting gun for thrash metal and the genres that followed on from it.  The New York hard core stalwarts might be a bit older now but they can still put on a hell of a show.  Experience is the key word here, the knowledge of knowing what the fans want, how to progress a show so that the impetus is ramped up gradually and knowing how to play.  The latter is self evident here as Roger and the gang change smoothly through the gears to produce a stunning live performance.
Pussycat And The Dirty Johnsons:  In a full feline bodysuit complete with tail Puss Johnson climbs on top of an audience member purring at him before screaming in his face.  That is something you don't see everyday, not anywhere.  The punkabilly trio aren't a gimmick band either, other than the obvious pussycat apparel.  They play great tunes that you want to dance to and they play them exceptionally well.  With a visual impact that will mean once seen never forgotten it's a bit surprising Pussycat And The Dirty Johnsons aren't a lot bigger.  Give them time though and that might change.  I just wonder if their rider includes a saucer of milk.
Also on the podium:  Headsticks are a sort of angsty Levellers without the violin.  They have a lovely free flowing style that nearly fills the introducing stage.  There's a great resemblance to Nina Hagen in Bonsai Kitten.  Maybe it's the German accent, maybe it's the artistic movement.  Whatever it is they look and sound fantastic.  Stiff Little Fingers roll back the years with a great closing set out on Tower Street.  In the early hours one of Blackpool's best known rock venues the Tache play host to the Healthy Junkies.  The Londoners nail it much as they had done earlier in the day in the Winter Gardens Pavillion.  This year I went by train which meant changing twice there and back.  Everything ran like clockwork and even my tea and pasty in Leeds was very nice.  Thank you what was British Rail.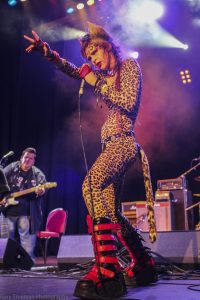 Rebellion festival isn't a big money highly sponsored event.  It is essentially a very big well run DIY festival with professionals brought in to do certain jobs such as security.  So I have to mention Jennie and Darren Russell-Smith at this point.  They have managed, against the odds, to create something massive, something that is loved by many and something that has a warmth and friendliness you just don't get elsewhere.  Holding the event in the Winter Gardens has given the punk movement a spiritual home, it's cemented the sense of family that sets it apart.  This year Rebellion was celebrating its 20th birthday and the the 40th anniversary of punk itself.  There's every reason to hope it'll be around in another twenty years.  Let's hope so.
Review by: Gary Trueman