We often see talented creatives shining at more than one thing in the alternative community. Models combining their craft with performing on stage, performers that play an instrument and musicians that design clothes. What makes Sophie Aurelia Young a bit special is that she pretty much does it all. She has her own fashion brand Bloodlust Clothing, she plays in a band (bass guitar), she models and she also performs on stage too. Gary Trueman chatted to Sophie about her brand, her look and her love of classic rock.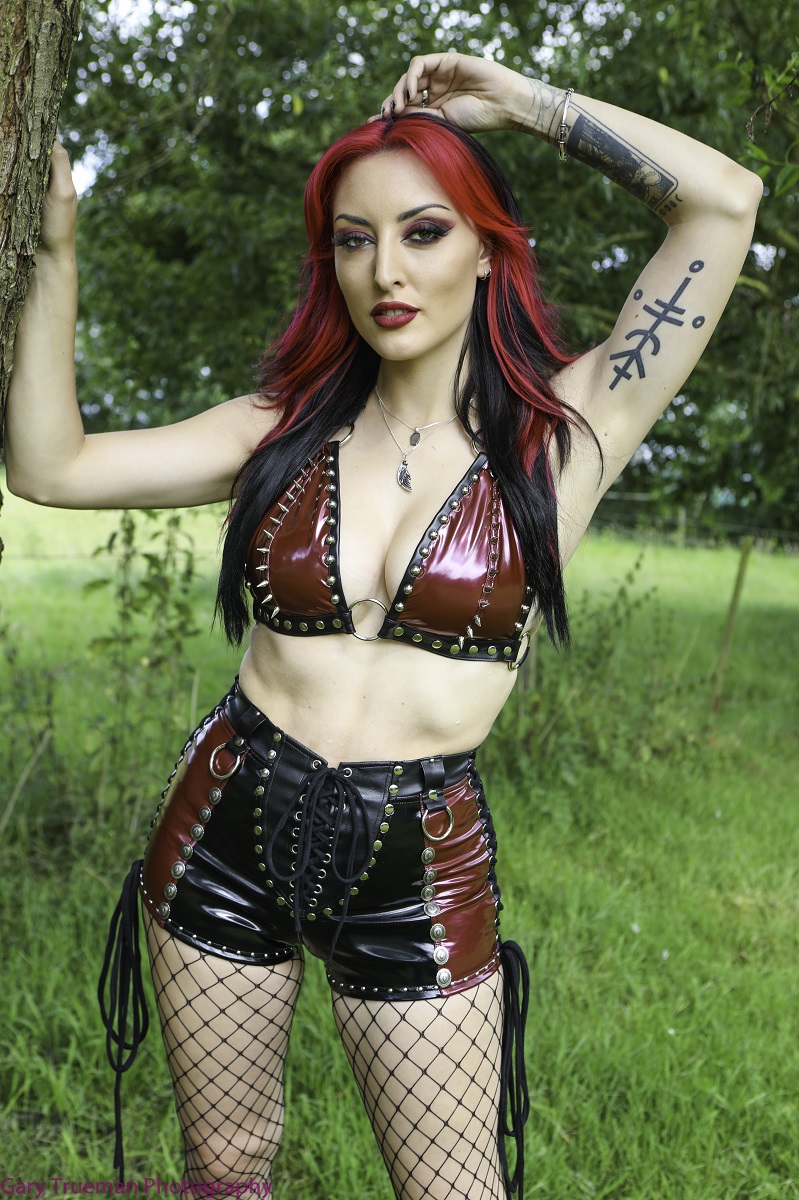 .
Quite a lot of people will know you from the alternative scene, particularly the London scene where you live. How and when did you first get interested in the alternative lifestyle?
"My parents were always into rock music. Although there weren't many alternative people at my school that was the music I'd been raised on and I was into. Then when I turned 18 and started going out clubbing I was more drawn to the rock scene and was trying to find people with more common ground, then at uni I found more people that I had that in common with. At school there weren't that many people I could talk to about the music I was in to and I wasn't really experimenting with fashion that much at that point either. I was wary of drawing too much attention to myself at school. But as soon as you turn 18 and go to university you start to find yourself there."
You went to university in Nottingham which is a bit of a hotbed for the alt scene and creatives. Did that spark your interest in pursuing things more actively?
"Yes, definitely. That's when I started getting into the goth scene. I was living with a friend who really got me into that 80s trad goth music. At the time we were going to as club night called Spellbound which was really cool and the first goth club I'd been to. And there's some really good music venues like Rock City and the Rescue Rooms. Exploring those and meeting people was really refreshing because I didn't really have that growing up in Berkshire. It was a bit of a culture shock but in the best possible way."
Have you noticed the alternative community has become much more unified over the last decade or so?
"I think so especially from what some of my older friends have told me. It's now more acceptable to be into various different branches of the alternative scene. I'll happily go to a goth club and also a metal night. No one really bats an eyelid if you're into lots of different genres. Some of my friends who grew up in the 80s and were old enough to go clubbing have said you were either into one or the other. You're an outlier if you still judge people that way now."
We're finally getting rid of those old gatekeepers aren't we?
"Yes, and it's a good thing. It's a good thing for all these sub cultures to mix, especially now all the music genres are crossing over."
You're a person of many talents so let's start with modelling and performing, particularly fire. How did you first get into doing modelling and how did you first get into doing performing too. Did they come hand in hand or completely separately?
"The modelling came first but I did start quite late. I think I was 22 when I did my first shoot which is probably about four years later than most. With being on the alternative scene I knew a few people that were doing it and I reached out to a photographer and did a shoot for fun. A couple of months later I started to get paid work. So I thought it was something I could do on the side to get a bit of extra money. Now it's something I really enjoy and I've met a lot of really cool people through doing it. With the performing, I knew a lot of alternative models were doing it, either podium dancing or burlesque. My boyfriend introduced me to Hayley Leggs and she got me into fire dancing. She was my first mentor when it came to the alternative performance stuff. I continued doing that with a couple of groups. At the moment I'm with Necro Dancers and we do a few mostly London based events."
You have a striking look. You hair is black and a kind of cerise and long. Is that something you have as a part of your signature look or do you change the colours up regularly? Do you use specific brands on your hair?
"A couple of years ago I was still experimenting with different things but now I kind of feel like I've settled on a look. I am the sort of person who gets bored with stuff quite easily so I'm not going to say I'm going to keep it forever. Right now I feel it works for my style. Brand wise I am vegan so I do look for cruelty free but other than that I'm quite open to trying different things."
So presumably you also use cruelty free make up. Any particular favourite brands?
"I do like KVD Vegan Beauty. But there are so many brands now. Most shops will pride themselves on mostly stocking vegan stuff."
Have you found that more recently the supermarkets and places like Superdrug have started to latch on to retailing vegan cruelty free make up?
"I think so. Even if you're not doing the whole vegan life style thing I think people like to know that they're able to make that conscious choice to do something good. I don't think anyone is super pro animal testing to the point they'll go out of their way for a brand that is testing on animals. Anyone who is running a make up brand they'd be silly not to focus their attentions on that (cruelty free), then you're not alienating anyone."
.
We're going to talk about your clothing brand separately so outside of that are there any other brands that you particularly like and what do you wear for shoots compared to a night out and at home off duty?
"I tend to be not I'm just going to shop one brand and I'll often get thrifted stuff. Often when I'm looking for more of a gothic look you will just find really good stuff that's thrifted. Living quite near Camden there are amazing shops there like my friend's shop called FAB London. They stock amazing designers. And working at La Boutique Bazaar I just admire the other designers. I don't have one particular designer in my wardrobe I like to mix it up and by second hand as well. With my day job being making my clothes and sewing a night is going to be about comfort, so it's going to be leggings and a band t-shirt. My comfiest t-shirt is probably my Rainbow one."
Let's talk about your clothing brand now – Bloodlust Clothing. It is vegan and cruelty free obviously. Where do you get your ideas from for your clothing, it tends to be tops and shorts?
"My hot pants are my best sellers as well as the lace up bustier tops. I tend to lean more into those because that's what my customers like. I am always trying to branch out into different things like dresses etc. My inspiration comes from allsorts really. Just being on the alternative London scene you see amazing outfits people are wearing out on club nights or at gigs. And a lot of music I'm into, 70s and 80s and looking at what people wore on stage back then. So many designers but always a lot of studs."
So you're channelling Kiss, Judas Priest and Motley Crue, that sort of thing?
"Yeah kind of but trying to make it a feminine version of that."
What about the actual material you use because that'll be vegan material too?
"I've got a few favourite suppliers that do really good quality spandex and PVC and faux leather that's got a bit of stretch to it. I don't do any latex because that's a totally different way of making clothes, they like glue things. When I did my fashion degree I never did any latex. I do like to work with materials that have a bit of stretch and give. Naturally people are all different shapes so I like to make my clothes adjustable with the lacing. Everyone's proportions are different."
You are able to bespoke make a piece for someone to aren't you?
"Yes absolutely. I'll ask people for their measurements. Sometimes I'll ask for weird specific measurements and I'll take a picture of myself showing me with a tape measure saying this is where I want you to measure. It's quite mathematical when you're drawing up the pattern."
Moving on to another talent you have, you play bass in a band called Star Circus. So tell us about that.
"We are a London based band. We are a five piece. We've just recently finished a tour where we were supporting a glam metal band called Midnight City who have been on the scene for a while. Star Circus was originally my partner Dave's solo project but in the last year or so it has become more of a band thing. We're working on the second album now which will be a group effort. Influences range from 70s to 90s. Some songs do sound a bit like Thin Lizzy and some more Cheap Trick and some more indie 90s stuff. We pride ourselves on being quite eclectic."
We're seeing a heavy influence of classic rock in your personal music taste. Are there any older bands you particularly like and any newer ones too?
"I'm a really big fan of the classic 70s and 80s bands. Rainbow and Deep Purple are among my favourites. I do love Guns N Roses, and some 80s goth too. Being a musician myself and playing lots of venues and having done a few festivals I see so much new talent, it's quite hard to keep track. When we played Call Of The Wild recently we saw The Karma Effect and they really stood out for me. I went to Sweden Rock this year and Mammoth WVH they stood out too, everything is live, they're really amazing musicians, nothing is on a track – it's authentic rock and roll."
By doing all these different things do you find you're able to cross promote yourself by for instance wearing Bloodlust Clothing on stage? It must be a help?
"I do find it's a help. Especially when there are girls at our gigs and they ask where I get my outfits from. It's quite cool to say here's my business card. I guess it's quite a unique thing to be able to design my own outfits and wear something I've created for myself."
Where would you like to see yourself say ten years from now? What would be your priority out of modelling, the clothing brand and being a musician?
"That's a really hard question. I don't think I would ever totally give up fashion even if let's say my music career really took off. That's something I've spent my life studying and I always knew I wanted to go in that direction. Who knows though maybe one day I'll expand my brand and end up employing other people. That is something I would consider if I did get more busy with music. I am really passionate about the music as is everyone else in the band. Modelling has always been something I started on the side for fun and it ended up becoming a part time career. I'm always happy to do it but it's something you can jump in and out of."
If you could go back in time and give a 16 year old you one piece of advice what would you say?
"I'd say if you have a gut instinct just go with it. Don't waste your time in one place and if you feel you need to move on then do it and move to the next thing. Follow your instinct and go for it.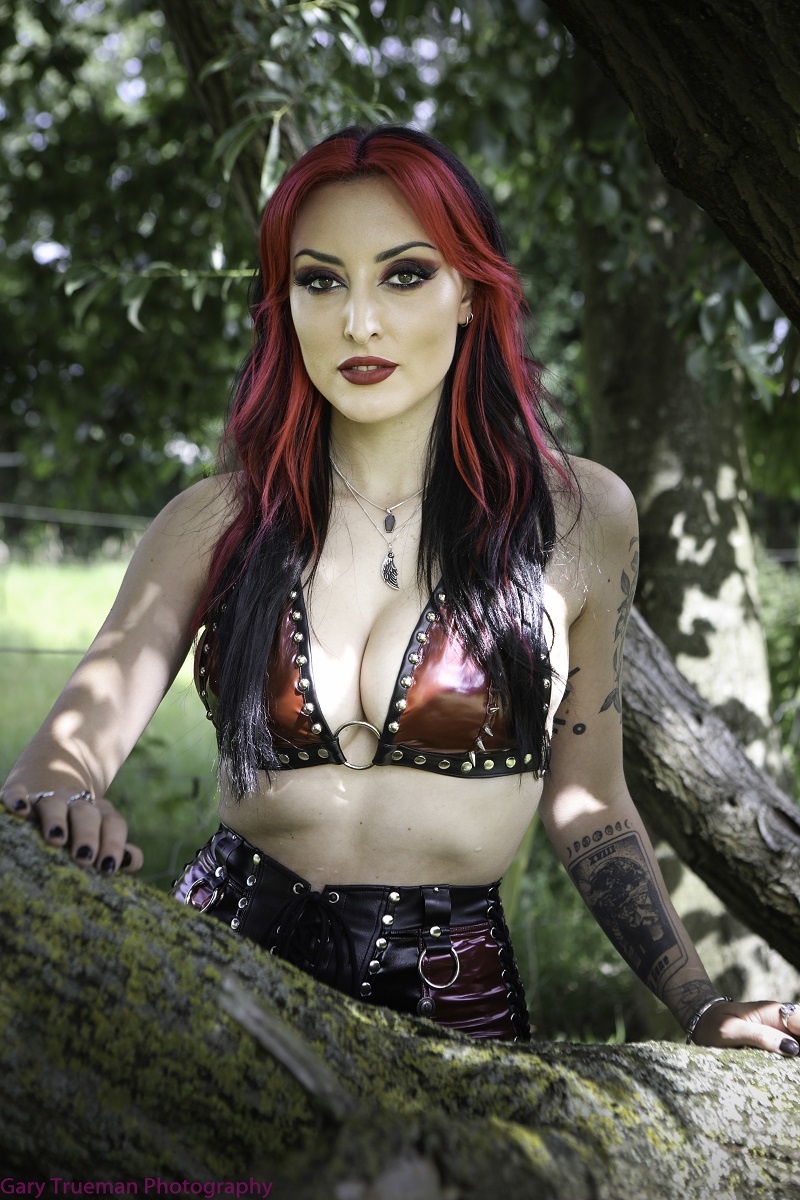 .
Sophie Aurelia Young – Facebook
Interview and photos by Gary Trueman