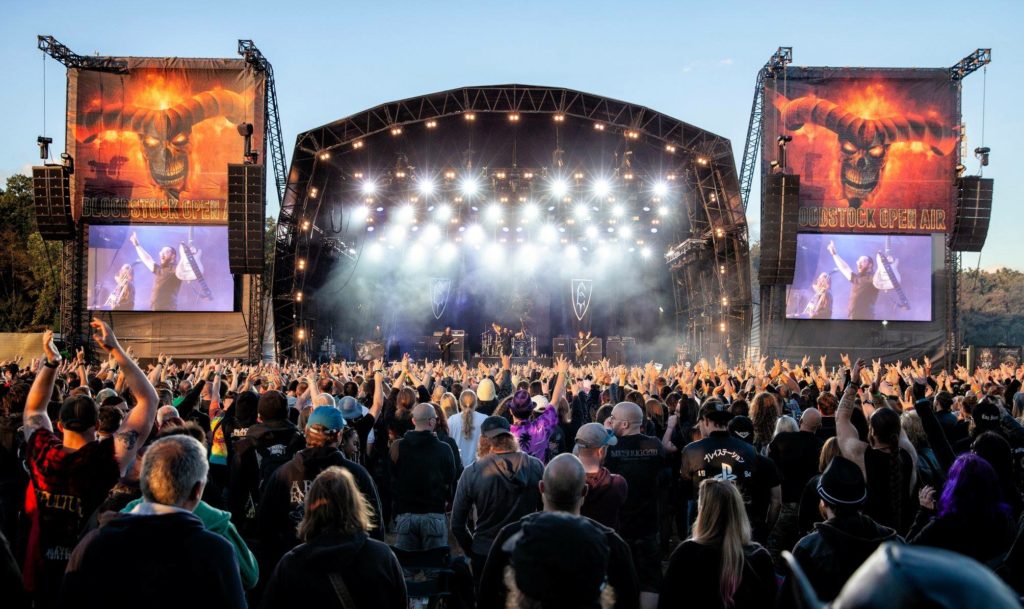 The Final Countdown To BLOODSTOCK 2019!
There are only 7 days left 'til you and your metal brethren descend on to Catton Park's hallowed turf for the UK's biggest metal weekender!
Hangin' on 'til the last minute to buy your ticket?  You can do so right up to and during the festival weekend.  However, tickets purchased after 9.00am Friday 2nd August will not be posted, they will be couriered to the BLOODSTOCK box office for collection on site.  If you purchased your tickets before 9.00am Friday 2nd August, you should receive them by Wednesday 7th August at the very latest.  If you've not received your ticket by this date, then please contact SEE Tickets customer service directly.
Weekend tickets with camping are £145 (+ booking fee) with children's weekend tickets only £35 (+ bkg fee).  Kids under 4 go free!  Adult one day tickets are £65 (+ bkg fee) and child day tickets £20 (+ bkg fee), available at http://bloodstock.seetickets.com.  If you prefer to buy on the gate, weekend tickets will increase from £145 to £155 for adults and from £35 to £40 for children.  Adult Day tickets increase from £65 to £70 on the day and Child Day tickets will increase from £20 to £25. Car parking can be pre-booked (full weekend parking £16, day £12) or paid for on arrival (weekend £20, day £15), and for the first time this year, motorbikes have their own designated free parking (over by the VIP car park).
BLOODSTOCK's pleased to announce a brand new BLOODSTOCK APP launched this week, to help you get the most out of your festival experience.  The app will feature all the stage times (from Monday) and lots more besides.  Head over to your appropriate App Store to download it free, via http://bit.ly/BloodstockiOS or http://bit.ly/BloodstockAndroid.

Don't forget you can also pre-book a charging/storage locker in the main arena with CHARGE CANDY before you arrive!  Lockers are also available throughout the weekend, just wander over and see what suits your needs.  To pre-book or for more info, visit https://chargecandy.com/festivals/bloodstock/.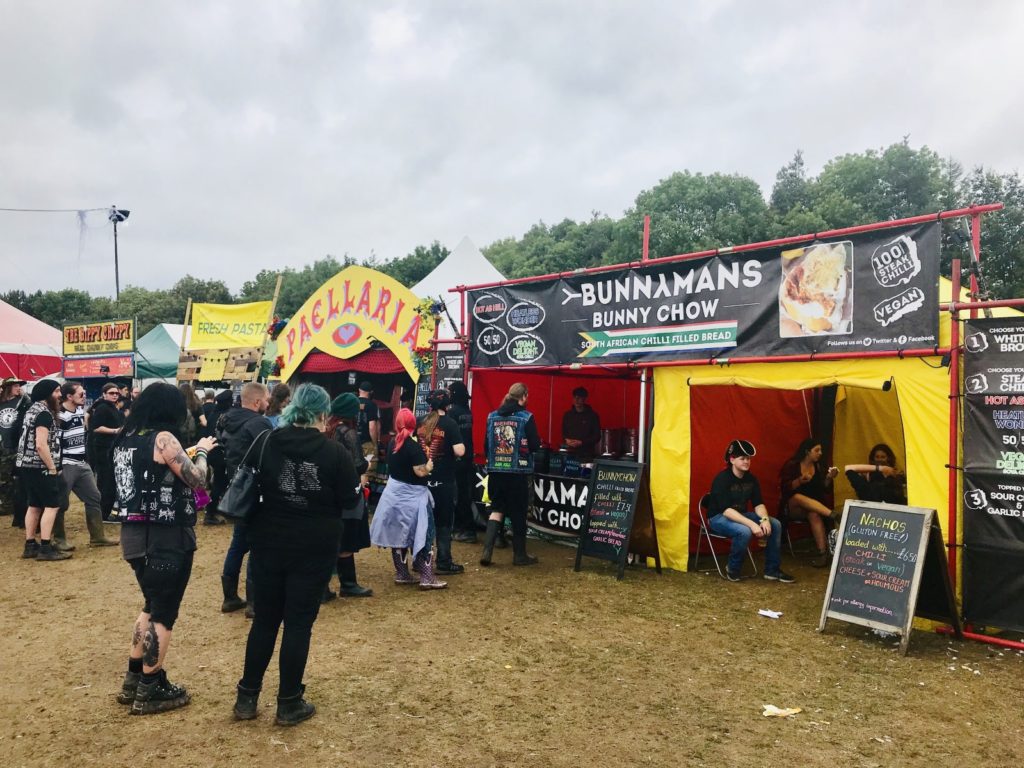 There's an array of food available at BLOODSTOCK, so whether you're a carnivore, vegetarian, vegan, or gluten-free, you're sure to find something to tuck into.  We hope you're hungry, because there's all this on offer… burgers, pizza, tacos, burritos & quesadillas, Belgian waffles, smoked meats, chicken, ostrich (all hail the Jack Daniels' onions & stilton mayo), pie & mash with mushy peas, giant Yorkshire puds, gourmet ravioli, chips (including curly and sweet potato fries, or wedges), mac n' cheese (in a wrap, if you want max carbs!), cakes, nachos (even with vegan cheese), hot dogs, paella (Paellaria tell us everything is gluten-free too), not to mention the return of Bunnyman's Bunnychow (try the steak or vegan chilli in a hollowed-out loaf, with a garlic bread dipper), and a new halloumi & falafel stand (not just for vegans and veggies)!  Many of BLOODSTOCK's food vendors pride themselves on being locally sourced and sustainable, and as part of BLOODSTOCK's Be Greener drive you'll see all food packaging is biodegradable, so please recycle in the appropriate bins! Wash it all down with a nice cuppa from Motley Brew (why not try Megadeth man David Ellefson's 'Roast In Peace'), a milkshake from Shaken Udder, all types of coffee, a hot choc with all the trimmings (see the waffle folks), a cocktail, a chilled pint from Lemmy's Bar, or several shots of Jagermeister!  There's also free drinking water at designated water points in the campsites and main arena, so remember to bring a refillable non-glass bottle with you or grab a reusable souvenir cup from the bar.  Don't forget that you can pick up other essentials at the onsite 24-hr supermarket.  You can even get a massage to go with your cuppa at Theatre of Pain, if you've overdone the headbanging. Check out all the details at: https://www.bloodstock.uk.com/events/boa-2019/traders.
If the ales and ciders on site don't appeal to you, perhaps CAPTAIN MORGAN's pirate bar serving up rum cocktails is more your thing! Or if you're a bourbon fan, don't miss the BULLEIT stand – perfectly accompanied this year by some lip-smackin' RED'S TRUE BBQ!
When you're not watching bands, peruse the BLOODSTOCK MARKETPLACE, where traders will be offering everything from band merch, alternative clothing (with Offend My Eyes offering up to size 8XL), drinking horns, leatherwear, shisha, flags, patches, badges, army surplus gear, hats, shoes, homeware, CDs, vinyl, posters, jewellery, fancy dress, dreadlocks, face painting, and even some Norse-God inspired leisure wear!  Plus BLOODSTOCK's own merch stall!  Do also swing by the popular T-SHIRT AMNESTY stall to donate or pick up a bargain, this year benefiting the YOUNGMINDS charity.
Up for a bit more fun? Why not challenge your mates to a bit of AXE-THROWING, being hosted by the nice Vikings from Descended By Odin near the Ronnie James Dio stage, or even a ZORB BALL BATTLE in the battle arena (watch the Harlem Globetrotters show you how that's done here: https://youtu.be/Kw1QkdSc1nE)?  Plus there's FAIRGROUND shenanigans to be had, and also new this year, HARLEY-DAVIDSON will not only be showing off several spectacular bikes (including the Road King® Special, a Fat Bob® 114, and the latest Breakout® 114), but you can take part in their innovative 'Jumpstart' rider experience, which combines a road-ready Harley-Davidson motorcycle and a specially-designed, stationary stand to give even the least experienced a safe and exciting "ride" on an iconic Harley-Davidson, without the need for a licence!
Don't have all your camping gear yet? Our campsite partner this year is FAT FRANK'S CAMPING STORE, so if you don't want to tow it all with you, order online and collect it from Fat Frank's stall in the Midgard campsite. They'll even blow up your own air bed while you wait for a couple of quid. See what's available and/or place your order via their 'click & collect' service here – http://fatfrankscampingshop.com/.  If you arrive and discover you've forgotten something essential, Fat Frank's will do their best to help!  On Monday morning, if you can't be bothered to drag your tent/camping gear home, don't just leave it behind, help Bloodstock's Be Greener initiative and join in by taking it to Fat Frank's and they'll donate it to charity.
Also based in the Midgard campsite are our festival SAMARITANS. These guys are available 24hrs a day, from Thursday night through to Monday morning.  If at any time you're feeling low or need some mental health support, please stop by their tent for a non-judgemental and confidential chat with someone trained to listen. Learn more about the Samaritans at: http://www.samaritans.org/. You can also stop by the Welfare tent in the main arena.
If you're driving to the festival and have car space, or are seeking to hitch a ride from your area, post your trip on GOCARSHARE's website to match with a friendly metaller and help each other get to BLOODSTOCK!  You'll even be in with a chance of winning a pair of tickets to 2020's event just by participating in the GoCarShare scheme.  Full details over at http://gocarshare.com/festival/bloodstock. For coach travel from 34 pick-up locations, visit BIG GREEN COACH at: https://www.biggreencoach.co.uk/events/bloodstock-festival-tickets-coach-travel. They also run a shuttle to site from Lichfield City train station for those coming by rail.
For those super early planners, please note that 2020 Early Bird tickets will be available at the box office on site at the very cheapest price (ie: with no online booking fee)!
Friday night's headliner SABATON, Saturday's top dogs PARKWAY DRIVE and Sunday's bill toppers SCORPIONS, join ANTHRAX, DIMMU BORGIR, CHILDREN OF BODOM, THE WILDHEARTS, CANCER BATS, POWERWOLF, SOILWORK, CRADLE OF FILTH, THY ART IS MURDER, TESSERACT, METAL CHURCH, SOULFLY, DEATH ANGEL, DEE SNIDER, QUEENSRYCHE, ELUVEITIE, SWALLOW THE SUN, EVIL SCARECROW, ROSS THE BOSS, GRAND MAGUS, KRYSTHLA, ROTTING CHRIST, ABORTED, SKELETAL REMAINS, ALL HAIL THE YETI, LOTUS EATER,  INCITE, HYPOCRISY, TAAKE, THE LAZYS, XENTRIX, and many more on the Catton Park stages this August.  
BLOODSTOCK will take place at Catton Park, Derbyshire on 8th-11th August 2019. 
Get additional information over at www.bloodstock.uk.com