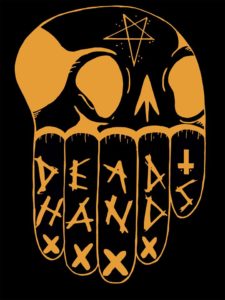 Hey guys that was one hell of a show you played tonight, can you tell the readers a little bit about yourselves.
Thank you very much! We're a 5 piece band hailing from Birmingham, (4 permanent members, 1 fill in drummer). We've been going for the best part of 12 months out of the ashes of other bands with a couple of members leaving and being replaced from the original line-up. We just love to play shows anywhere and we worship the riff.
This is a pretty metal/hardcore line-up how do you think you guys fit on the bill between such different bands? did you do anything extra to make you stand out?
Darkest hour in particular have a pretty big reputation for killer live shows! We're pretty much the odd ones out on most bills we're on so we don't really think about how we fit on the bill, we just want to be a band that stands out for a live performance. I'm starting to notice how varied bills are becoming a thing now and I 100% support it – I love seeing tours with bands who you wouldn't think would be touring together because it breaks the mould of this expectation for a same genre line-up. There are shows like Deafheaven opening for Slipknot and the recent Dillinger Escape Plan tour with O Brother, Car Bomb and Cult Leader in the US and Ho9909 in the UK that shows you don't have to be the same for it to be a great line-up. Plus, we played with Cattle Decapitation a while ago – who would have thought that to be a thing?
Who would you say are your biggest influences as a band?
Dillinger Escape Plan, Every Time I Die and Cancer Bats are three huge influences on our band as a whole – performance wise and sound wise. We don't really stick to one sound throughout because we like to surprise people. I've always based my band ethos and my approach to writing off a quote that Phil Anselmo said in a university lecture a few years ago – "Back in the day people were ripping off 11 or 12 of their favourite bands and creating their own unique sound, whereas people nowadays are ripping off 1 or 2 bands and just creating the same thing you've heard a million times before" (not the exact quote but along those lines). Since I heard that, that's exactly what we've done, used a hell of a lot of my influences personally to create a sound that will turn people's heads because that's exactly how it needs to be. Where's the fun in being pretty much a cover band of someone 100 times bigger than you and better at what you do?
So I'm currently writing something about local scenes and venues. How would you describe the scene at the moment from your experience And how was your experience with the venue/promoter?
The scene in Birmingham is thriving right now thanks to SYD. We're seeing the shows we expect to come to big cities finally. Some of the best shows we've played have been in Birmingham, the Darkest Hour show being one of them! The great thing about SYD is that they're giving younger and smaller bands opportunities' to play with the greats and their favourites. It's really nice to see, especially when the music scene is so competitive now with the over saturation of the same genre bands popping up. We're not too fussy about our shows – a gig in front of 3 people is the same as a gig in front of 3000 people, we still have a fun time because that's what we're all about. The only bummer about the scene recently is that the Rainbow has closed – that really sucks. We absolutely love that venue. R.I.P
As a smaller band what are your main drives/goals to keep doing what you're doing?
Honestly? Our goal is to just play shows, write music that we love and have as much fun as we can doing so. A band should never have to be a chore so we treat it like it's our little excitable child.
Do you have any recommendations about bands you have played with that are worth checking out? Or just some smaller bands who you think people should go and see live?
We love the guys in Heriot and Sharkteeth Grinder. They are real good friends of ours, killer live bands. Abandonment, who were on the Darkest Hour show, they really impressed us. Other than that, just check out as much music as you can. It's as easily accessible as ever now!
Lastly have you guys got anything significant lined up and do you have an ep or album out at the moment or in the works?
Music wise, we have an EP called Nobody Exists On Purpose out now, and we're writing right now. It's very different to our EP, with the member changes we have more influences now and there's a teaser of it on our social media right now to show you what direction we're going in. It's gonna get real weird. Miserable mathcore forever! Catch you soon!
https://www.facebook.com/DEADHANDSmusic%20/
By Mike Thomas