The Kut, JoanOvArc, Syteria & Screech Bats – Club 85, Hitchin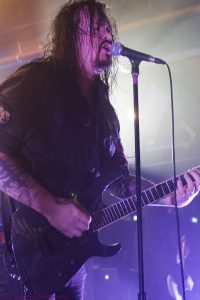 Billing this four band line up as a women in rock event might have been mildly eyebrow raising to some but Club 85 in Hitchin is a fantastic venue that has a layout and sound quality most places don't come close to. First up and playing to an already decent sized crowd are punksters Screech Bats whose polished performance belies their opening slot positioning. This is a band with all the right ingredients to make a rapid rise through the ranks. Their brand of intelligent but fun rock is well written and performed with real passion and tonight's set marks them out as very much ones to watch.
Syteria might not be a band many have heard of but they do sport the legendary Jax Chambers on guitar. While the Girlschool six stringer adds a touch of class to the act she in no way overshadows what is a tight and well organised classic metal quartet. In many ways Syteria are a reminder of where modern metal came from, the beauty of this band though is that they are still up to date too. You get the whole package too, not just the songs. The performance, stage presence and image are all spot on which makes them a highly enjoyable act.
I'd not heard much about JoanOvArc before tonight which given their level of support was a bit surprising. As it turns out they're a punchy mix of classic and alt rock that gives them a crisply modern sound while still allowing them to indulge in a bit of good old guitar play. The results are quite brilliant particularly on an astoundingly ballsy cover of Lynyrd Skynyrd's Freebird which justifiably almost brings the house down. You can add me to JoanOvArc's ever growing list of fans after that display.
It takes a special act to follow such a barnstorming performance and fortunately The Kut are well up to the task. Their rock tinged grunge smacks of class in the same way that bands such as Pearl Jam did when they first started to break. Showing that you can rock out without totally losing it the London trio fold their music around you in waves rather than smack you in the face with it. Even with a last minute stand in on bass the set is tight and the musicianship accomplished. How long I wonder before the big labels come for a look. Not long I suspect.
Four bands on one bill all worthy of their own headline shows in a venue perfect for the occasion is about as good as it gets. Even my kebab I ate on the train journey home tasted just that bit special. I wonder if it was the chili sauce….or the music I'd heard earlier.
Review & Photos By Gary Trueman