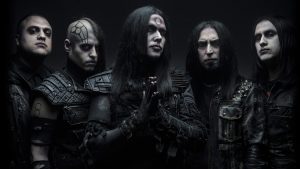 Horror punk ringleader Wednesday 13 releases his new album, 'Condolences' today (Friday 2nd June) via Nuclear Blast Entertainment. 
Wednesday tells how David Bowie's passing was the inspiration for the title track; "[Condolences] is one of the first songs I wrote for the record.  The title came from when David Bowie passed away; I kept seeing 'Condolences, sorry for your loss.'  I realised how powerful that word was, so I picked my guitar up and started writing the riff for it; I had the chorus instantly."
His new video for the title track features a faux funeral – his own!
Check it out here – https://youtu.be/oPK8tunmNRc.
He continues, "We shortened the song for the video, we cut two minutes off it, but it's still a really, really dark song and I think we captured that vibe in the video. It's definitely the strangest thing I've ever done – I filmed my fake funeral.  I had all my friends there, putting flowers on a casket; it was really weird!  I had a wreath that said, 'In Memory of Wednesday 13.'  I'm the priest in it, doing my eulogy, and I'm also inside the casket, like I'm being buried alive.  When we filmed the video, the director, Matt Zane, said, 'This reminds me of Twisted Sister – 'Burn In Hell' or 'Captain Howdy.'  And I was like, 'Holy shit, it does!  I didn't even realise it."
'Condolences' is now available for download at iTunes, Amazon and all good DSPs.  The release is available in an array of different digital and physical formats, including a number of limited run coloured gatefold double vinyl editions and signed editions.  Check out the options at http://nblast.de/W13Condolences.

The album was produced, mixed and mastered by Chris 'Zeuss' Harris (Rob Zombie, Hatebreed) and the sleeve artwork was created by Travis Smith (Opeth, Katatonia).  You can also check out the video for 'Blood Sick' here –  Check it out here –  https://youtu.be/Avtk3Z1UXvQ. 
Wednesday 13 headlines the Dogtooth Stage at Download Festival on Saturday 10th June with his full electric set, as well as two additional shows in Dublin (Thu 8th Jun at Voodoo Lounge) and Belfast (Fri 9th June at Limelight 2).  Download tickets are available from  http://downloadfestival.co.uk/tickets and Irish tickets from 

www.ticketmaster.ie

.